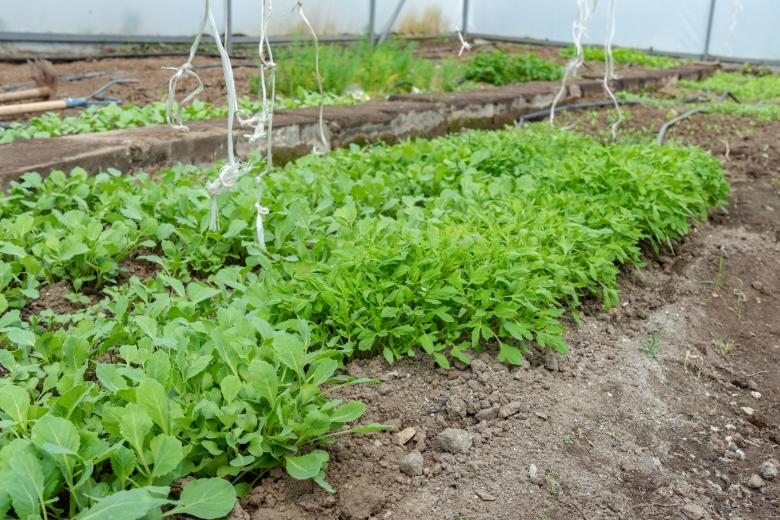 Family in desperate situation is back on their feet
Friday, July 16, 2021
When you meet Khanum, you will not even guess about the difficulties she overcomes, because she is always smiling and optimistic. Optimistic, because she believes that hope is the most powerful driving force for human being. She is sure that hope, diligence, and people, who spread cheer, can help move forward. There are five people in the family: Khanum, her husband, two children and their grandmother. Before her husband's health deteriorated, they lived in ordinary but not extremely difficult conditions. The husband was a taxi driver while Khanum was a tailor. But…
"My husband's health deteriorated and he became bedridden. He was very depressed at that time. We had very difficult times. We couldn't make both ends meet to buy medicines. I do not want to remember those days. My son, Davit has been registered in World Vision for about six years, and after he spent a week in a summer camp in Hankavan, representatives of World Vision visited us and saw our difficult social conditions. We filled out a questionnaire and mentioned what we needed, and they immediately started supporting us," she recalls.
At first, the family was offered to start keeping cows, but since they had no experience, they preferred to have a greenhouse. After a short time, Khanum's husband was back on his feet again and started to work little by little.
"Then he was even able to do hard work, because he saw how I was getting a plant from seed and he started to believe in future. The children got excited and started helping us. Now we have elite garlic seeds, which are more productive. In spring, during Easter days, we sold greenery, and with the earned money we bought building materials to make a new greenhouse. We also bought bags and stationery sets for children from last year's cucumber harvest. The specialists of World Vision provided us with the necessary knowledge on how to sow bean and tomato seeds. We like to work in the greenhouse very much, as it is a splendid opportunity for our family. We saw that we were able to save money and sent the children to college. They study well, we are happy," she says without hurry. 
David is a very cheerful boy and was impatient to express his thoughts: "I was very happy to have a new greenhouse, and I was helping to move the bags."
Changes in this family happened thanks to World Vision's Poverty Reduction Program which is a series of multi-sectoral interventions to help the extremely poor families to combat poverty. The support includes: social work with families, financial assistance to meet the most urgent needs, vocational training for family members, training in the field of parenting skills, provision of knowledge on healthy nutrition and hygiene of children, assistance in the solution of the employment issues.
"I was lucky to participate in courses on financial literacy conducted by World Vision. We had an agricultural loan, and even in case of a short delay, they used to confiscate money from my husband's disability pension. We paid for three months. Then I was told about the Office of the Financial Mediator. I called and it turned out that they had no right to confiscate from the pension," Khanum tells proudly.
"Khanum was called to the bank, given a new payment schedule, and the interest rate was not counted," said Hasmik Arakelyan, World Vision's social worker.
"World Vision helped protect my family. They supported us with food, hygiene items. You should never lose faith, World Vision proves that with knowledge, diligence we can move forward," says Khanum.
The effectiveness of the program is sustainable and evolving. 48% of the participating families have overcome extreme poverty, 90% have increased their annual income, 77% of their children have improved their health and 82% of the families have had a significant change in their quality of life.