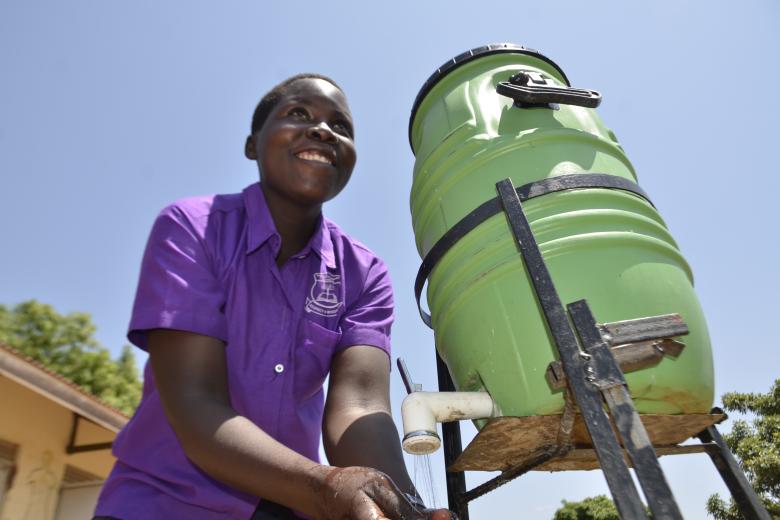 Bright days at Pacer Primary school—water worries are gone
Tuesday, April 27, 2021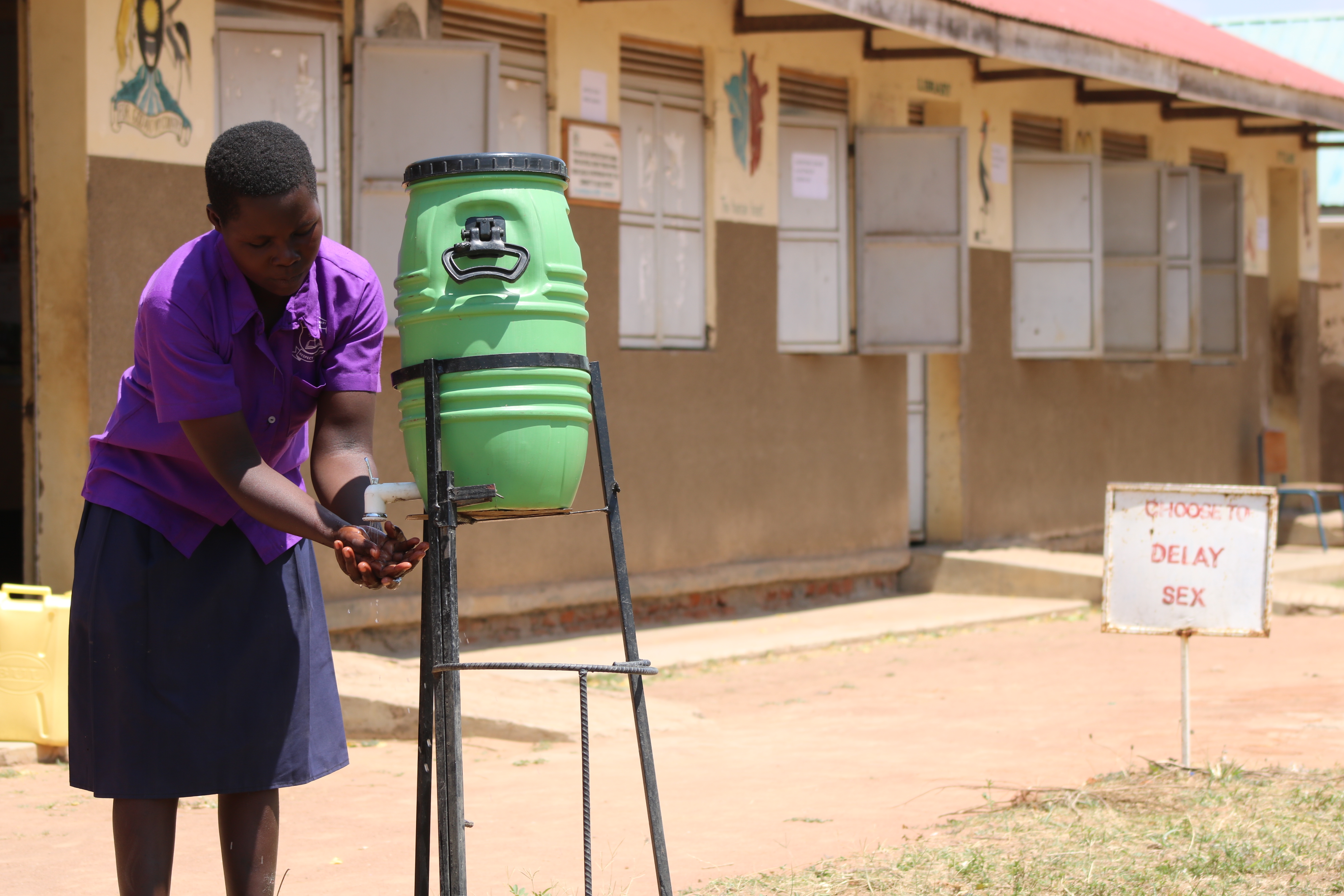 Twenty-litre green plastic containers, each affixed with a white spigot, sit on firm metal stands placed strategically in front of every classroom block, including the teachers' office.
These are not decorative flower pots. They are hand-washing facilities at Pacer Primary School in Agago District in Northern Uganda. You cannot enter the school without first washing your hands. Everyone – both pupils and teachers – is a wearing mask as well. When you are here, you cannot help but appreciate the high standard of sanitation and hygiene.
It is break time and pupils in their crisp purple uniforms laugh as they gracefully walk around a campus dotted with behaviour change messages. During breaks, pupils are free to play, do private reading, relax, jazz with friends, or walk to the water station situated behind the classrooms to get a cool sip.
The sights and sounds, these moments, are made possible by dedicated teachers, and access to safe water and toilets on the school campus.
Before a water point was constructed at Pacer Primary School, this scene looked very different. The school and surrounding communities did not have safe water for drinking, or proper bathrooms. Many pupils missed class regularly to fetch water several miles from their homes, or because they were sick from drinking dirty water. Without decent sanitation facilities, menstrual hygiene resources for girls, or hand-washing stations, pupils couldn't practice proper hygiene. Many girls stayed home from school when they had their period.
Samuel Okello, a teacher at Pacer Primary School, says collecting water from the nearest shallow well meant a 40-minute trip to and from the nearest water source. "Water has changed all of this", he says. "Water gives health, time, and education. It gives pupils hope and joy. It gives them a chance to reach their full potential."
When the water arrived at the school, located in peaceful plains overlooking rocky Patonga hills in the remote countryside of Uganda, it gave pupils a future. It provided a foundation for them to dream.
Pamela (12) is a pupil at Pacer Primary School, and says "When there was no water, we went to the shallow wells".
Water is heavy, and the wells are far. I had to rest several times on the way back. When I got to school, I felt tired. I feared the people I meet on the way. 
Thirteen-year-old Esther agrees. "Honestly, we never used to wash our hands after visiting the toilets despite knowing the dangers of not washing hands clean", she confesses. "We used the same plate to serve for the next meal, and we knew this was hygienically wrong. Water was our biggest challenge. I think we survived because of God's mercy and grace."
Safe water helps children stay in school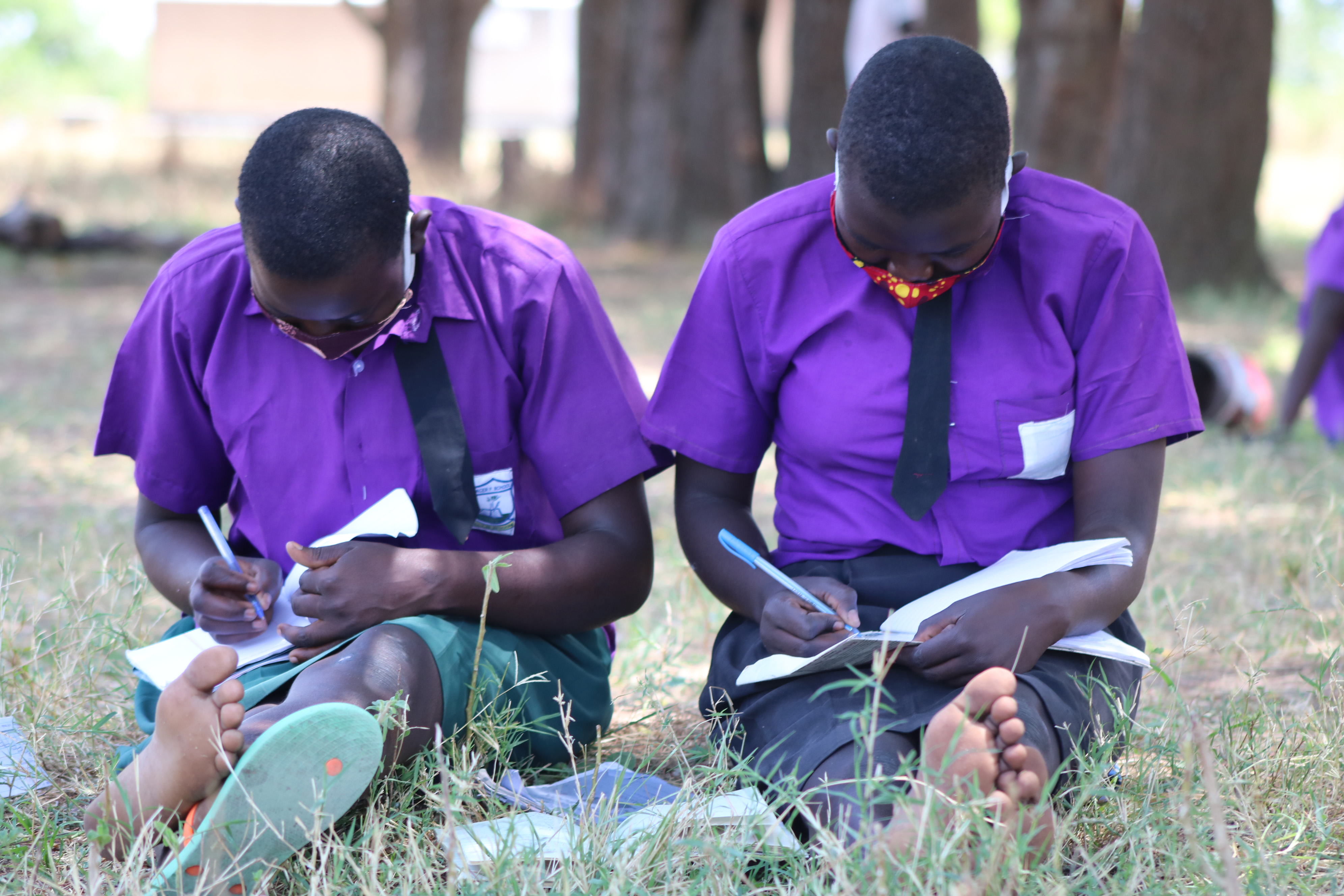 Because the pupils endured long journeys to collect water from unclean water sources, they often missed classes, which affected learning. Many experienced repeated episodes of diarrhoea, consequently impairing their physical growth, nutrition, and compromising their educational attainment.
With the water point extended to their school, the pupils at Pacer Primary School now have access to a sufficient amount of safe water for drinking and practising appropriate personal hygiene. With a constant water supply, adolescent girls are able to manage their menstrual cycles effectively without having to remain at home, which has improved their self-esteem, classroom performance, and contributed to a decrease in the rate of early drop-out.
Alice Auma (30), a teacher at Pacer Primary School, has witnessed how access to safe water has positively affected behaviour change among the pupils and the surrounding community. "Diarrhoeal diseases have gone down since this water point was constructed. Worms would be in that shallow well. Children and adults would fall sick", says the mother of two. "Now, there is plenty of clean water on the school premises which allows for hand-washing practices. We have boys' and girls' toilets. Girls can shower and change. We teach them about hand-washing and bathing."
Since 2015, the school has been enjoying a surplus supply of water, registering a marked improvement in cleanliness and hygiene, attendance, and academic performance. "Pupils are no longer suffering from diarrhoeal diseases. Pupils have been observed to wash their hands regularly", says Samuel, another teacher.
Making water available at schools means children can spend more time on schoolwork. Having a free and available water supply also keeps children hydrated - helping them to make the most out of each school day.
Safe water and good hygiene are equally as important as good health and prosperity. Pupils at Pacer Primary School can now wash their hands after visiting the toilet, and their plates after using them, thanks to World Vision's Northern Uganda Health and WASH (water, sanitation and hygiene) Technical Project implemented in the districts of Oyam, Kole and Agago.
The water point at Pacer Primary School is an extension of the motorised water system constructed at Pacer Health Centre III. Pacer is one of the health facilities developed, equipped, and upgraded under the World Vision's Australia-funded project to increase access to, and use of maternal and child health nutrition as well as water, sanitation and hygiene services and practices. Others are Opetta, Atipe and Acimi health centres.
To date, the World Vision project has supported about 40,000 residents in the three districts of Kole, Oyam and Agago in Northern Uganda to gain access to improved water, sanitation and hygiene services and practices.
Children like Pamela, who wants to be a nurse, and Esther, who plans to be a doctor, can dream for the future. Water is the foundation for tomorrow's journalists, social workers, teachers, bankers, and leaders. You can see the joy on pupils' faces when they realise they can accomplish their goals. "Now we have time to play, to relax, and to read our books for the bright future without water worries", concludes Pamela.
----
Written by Fred Ouma – Development Communications Coordinator, World Vision in Uganda