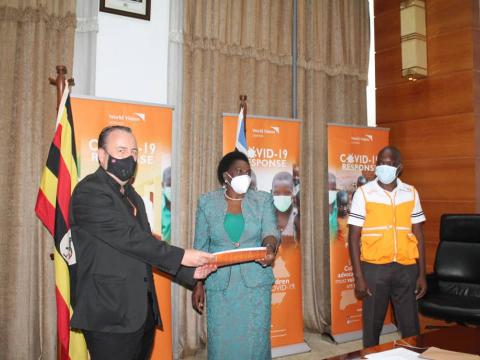 COVID-19: World Vision Phase II response programme to reach 5 million children
Thursday, June 11, 2020
As Uganda continues to fight tirelessly to control the spread of COVID-19, more than anyone, children have been left vulnerable to the risk of violence, hunger and emotional abuse. In an effort to protect the most vulnerable children, World Vision is expanding its COVID-19 response programme to provide support and protection to 5 million children across the country.World Vision has committed USD 4 million (UGX 15 billion) to its two-phase COVID-19 response programme.
On April 9 2020, World Vision launched Phase I of its response by distributing hygiene equipment and supplies to 34 districts. The World Vision teams on the ground continue to work with District Task Forces to promote preventative measures to slow the spread of the virus, support health systems and workers, and provide children and their families with multi-sector support during the ongoing crisis.
With the launch of Phase II, the expanded response will focus on support for children impacted by the COVID-19 pandemic through education, child protection, food security and livelihoods:
"The aim of the Phase II response programme is to support 5 million Ugandan children, together with their families and communities, to adapt and thrive during and after the COVID-19 pandemic," says Freddie Opoka, the COVID-19 Response Leader at World Vision.
Phase II will include activities such as supporting learning continuity for school age children; ensuring effective reporting and referral mechanisms for child protection are established/maintained; strengthening household livelihoods to support recovery and self-reliance; and, increasing food and nutrition security for the most vulnerable households during and post COVID-19. Phase II will focus on the 48 communities where World Vision has ongoing programmes, in order to allow for transition into regular World Vision programming after COVID-19.
World Vision will continue to work closely with key players such as the Government of Uganda (through the relevant Ministries), development partners, donors, NGOs, faith and cultural leaders, media, the private sector, and the communities themselves, in order to combat the effects of COVID-19.
Globally, World Vision has launched a USD 350 million response program that focuses on supporting the world's most vulnerable, to combat the impacts of COVID-19. The ambitious plan will be executed in over 70 countries (including Uganda) where 37,000 staff, 400,000 faith leaders and 220,000 community health workers will be mobilised to support prevention and response initiatives.
Learn more about and/or support World Vision's global work to limit the spread of COVID-19 and support the children impacted by it on our COVID-19 Emergency Response Page.