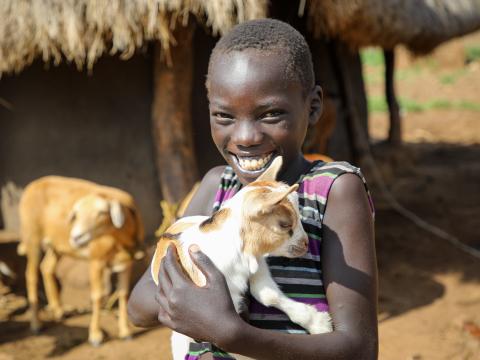 From despair to hope: Mustafa can dream again
Thursday, June 10, 2021
By Emmanuel A. Okello - Communications Officer, World Vision in Uganda
The 2013 conflict in South Sudan spiralled out of control, resulting in lives lost and property destroyed. Mustafa, 10, his parents, and six siblings were not spared. Mustafa's father, John, stares into the distance, remembering. A cock crows, snapping him back to reality.
Everything happened so fast. In the blink of an eye all was gone—all at gun point, he recalls. "The family lost 37 cows, 24 goats, general merchandise in the shop and money in the drawer—approximately 100,000 Sudanese pounds (US$ 250)," says John.  
"I got a terrible feeling; losing everything I had worked for close to seven years in just seconds," he says. Desperation and lost hope almost drove John to suicide. He did not know where to begin again.
But John had a North Star.
"My wife stood by me, encouraging me that as long as we are alive, we can always start over and get even more," John says.
That was in early 2018.
Crossing to Uganda empty-handed
Later that year, John, his wife, and children crossed into Uganda and were relocated to Omugo refugee settlement in the northern part of the country.
They had to start from scratch. A friend, living in Koboko, about 25 miles from Omugo, heard about the robbery and helped John with 200,000 Ugandan shillings ($57). With this money, John started a small shop, selling sugar, soap, biscuits, and sweets.
It was a step forward for the family, but they needed more.
In 2019, through the World Vision Gift Catalog, World Vision distributed two goats and ten chicks to over 2,500 households in Omugo and Imvepi refugee settlements to enhance household income and nutrition.
Edina, 35, Mustafa's mother, recalls with excitement when she first received the goats. "We had lost everything in South Sudan. I knew that these goats would help us rebuild for the future," she says.
They named the nanny goat Iyete, which means 'Thank You.' Iyete has since sired so many kids that the family today boasts of a trip of 17 goats.
Iyete is Mustafa's favourite goat. Everyone loves her because she is usually peaceful and calm and also because of her incredible multiplication capabilities. She just gave birth to a month-old kid, who runs around the compound like headless chicken—the total opposite of her mother!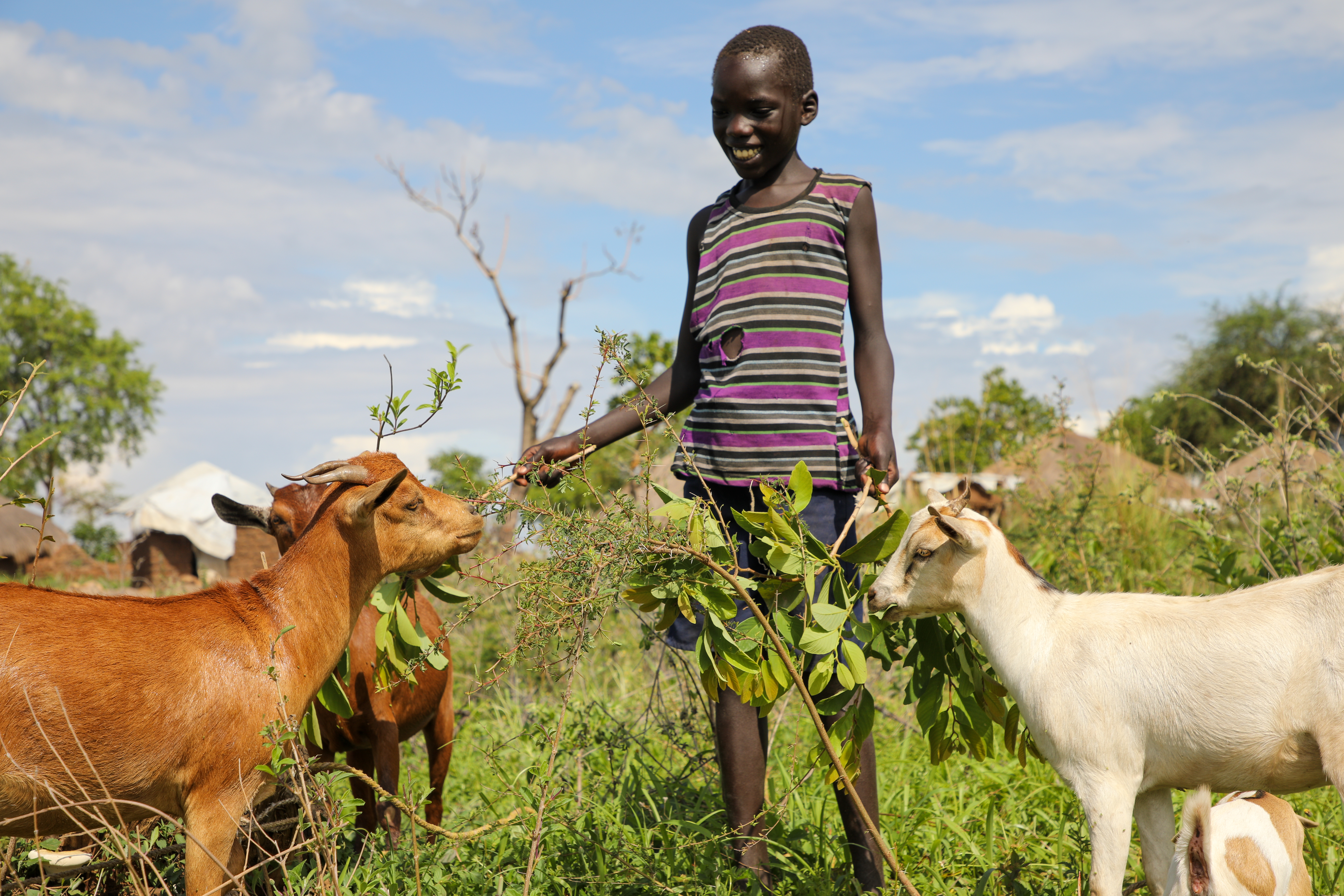 Every morning, after brushing his teeth, Mustafa unties the goats and leads them to graze on a scantily-covered patch beneath Ucia, the village towering hill, a few metres from Mustafa's home.
"Iyete does not disturb like the rest, especially the young one. She is always quiet and peaceful despite being the mother of all these goats," says Mustafa.
Saving the family from hunger
Due to a shortfall of $96 million, World Food Programme (WFP) food rations for the refugees have been cut by almost half. Now, food comes every two months instead of every month. There is looming hunger in the settlement but this isn't a problem for Edina and her family. She can easily sell one of her goats to buy more food. The sale of a single goat earns her between $21 and $28 –enough to buy food for the family.
"If the goats were not there, and with the current food rationing, the children could easily die of hunger," says Edina.
Each time a goat is sold, Mustafa is happy because he knows he will get to "change [my] diet, or have new clothes," he says.
Goats turn a profit
As the goats drift away, lost in their conversations with the grass, Mustafa runs home and heads toward his mother's kitchen. The kitchen—a grass-thatched mud structure—smells of freshly fried pancakes.
Edina busies herself. She tosses cups of maize flour, a touch of cooking oil, a little salt, and sugar carefully measured with her eyes, into a waiting pan of hot water. The mixture is left to settle for a while.  Picking up dough the size of a small fist, she flattens it between her palms, and releases it into a pan of boiling oil. It hisses as it makes contact with the hot liquid. There's already a steady pile of pancakes in a covered plastic bucket next to her. Mustafa joins the eager faces of his siblings, waiting to take a bite of the crunchy delicacy.
Edina dips her hand in the bucket, fishes out some pancakes onto a plate to the delight of the hungry children, and places it before them. She learned how to make these pancakes from a friend. "When I sell these pancakes, I support my husband to contribute to the household requirements while he concentrates on paying school fees," says Edina. She started the business with $3 and it has gained with time.
As the goats multiplied, John sold three for $75, injecting some of the profits into his business. "The goats revived my business when the shop was struggling," he says. "Today, many people within the settlement come to my shop to buy the essential items they need. I use the money I earn here to feed my family, buy more supplies and also pay school fees for my children.
John says that if he was to value his shop now, it would be worth a million Ugandan shillings, or $282.
He also shared some of the money with his wife for her business. "I have been able to top up and get more stock to boost my business," says Edina. "As you can see, the children are also eating well." When schools are open, she sells her pancakes and makes between $2 and $3 every day. Every week, she saves another $1 with a local savings group of which she is a member. Edina hopes that in future as the goats multiply, they can be able to sell some or exchange for cows, to regain their lost herd.
Goats bring normalcy to the life of the family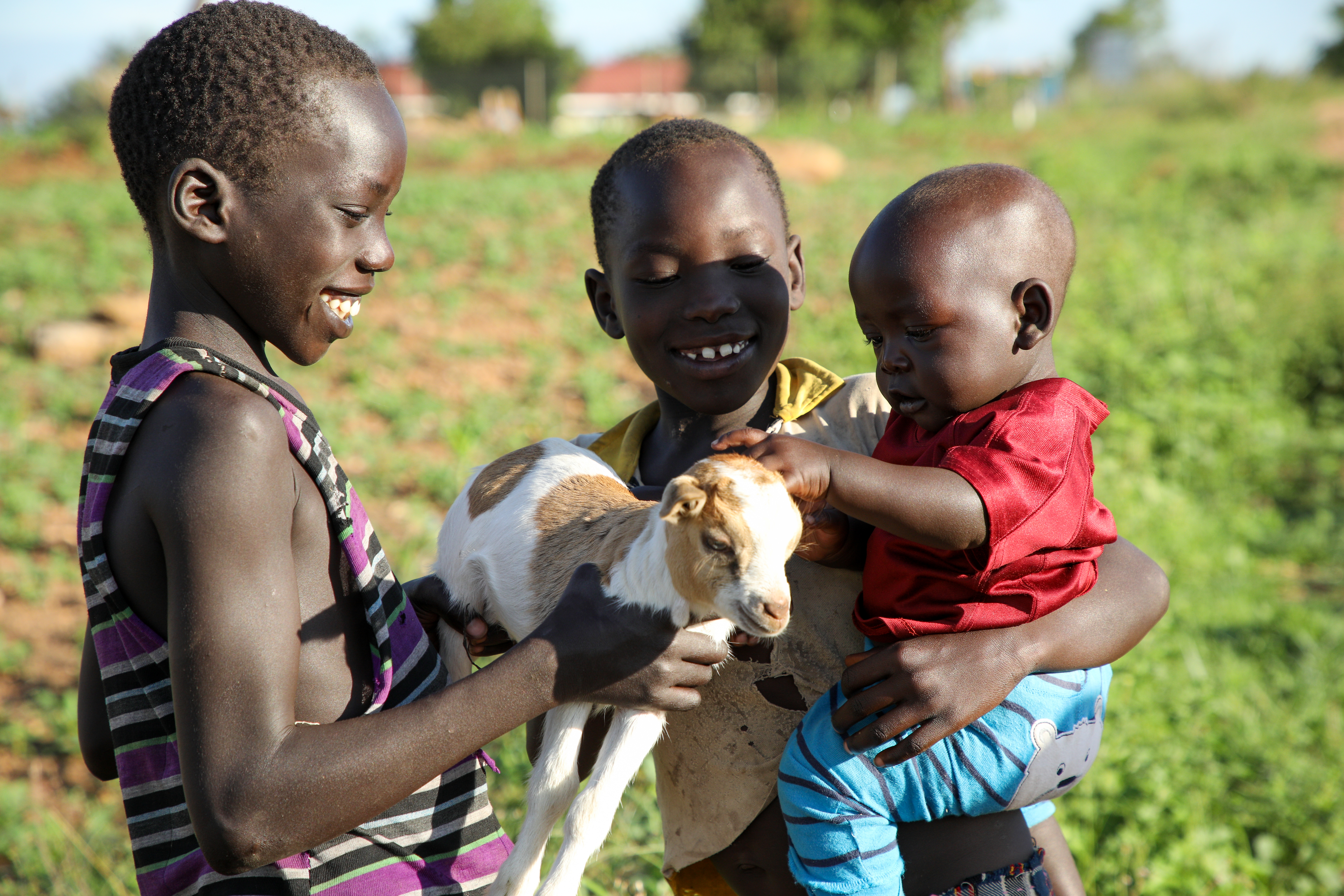 Life back home during the conflict was not easy for the family as they endured a lot of hardship. Edina often finds solace in prayer to help her forget this terrible past. She looks back at her life and is very grateful for the goats that she received from World Vision. "Mustafa and his siblings can go to a better school and have a better future as the goats multiply," she says.
Due to the outbreak of COVID-19, Mustafa, who is in Primary 2, is unable to attend school, just like the rest of the children in the settlement. But before the pandemic, his mother would use part of the money from the sale of goats to pay school fees and buy other scholastic items like books, pens, and uniforms.
"I want to go back to school, I miss my best friend," says Mustafa.
Mustafa cannot spend time with his best friend in school but in Iyete, he has found a new friend. "She produced so many goats, and when the food rations are not enough, they take a goat to the market and sell it to get money to buy more food," says Mustafa.
It will soon be midday. The goats will need some water to cool down from sweltering heat. Mustafa picks up a basin, while his brother Robert gets a jerrycan. They run to a water point near their home, collect some water and take to the goats.
In the warm noonday sun, with bellies full of pancakes and goats to care for, the conflict back home seems far away.