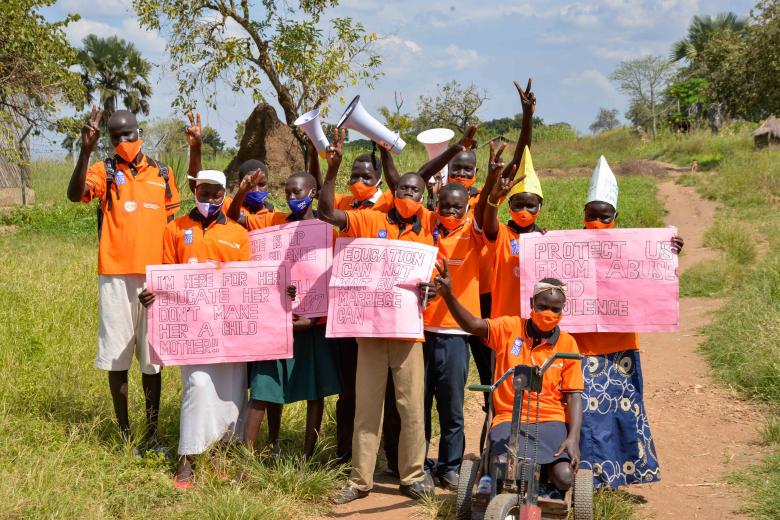 Determined children brave the heat to promote behaviour change in Adjumani
Thursday, January 21, 2021
By: Derrick Kyatuka, Communications Officer, Uganda Refugee Response
It is a warm Monday morning in Adjumani district in Northern Uganda. As the sun shines through Maaji refugee settlement, temperatures rise above 35 degrees; hotter than any other region in the country at the moment.
The district lies on the southern bank of the Nile River, the longest river in Africa, just before it meanders into South Sudan. The heat –especially during the dry season– is unbearable for first-time visitors, but for the residents and the South Sudanese refugees who have lived here for long and adapted to the weather, everyone goes about their business as usual.
This is the case with peace club members who brave the heat and move door to door advocating for their fellow children's rights. The clubs are comprised of both host community and South Sudanese refugee children empowered by World Vision to speak out and defend their rights within their communities.
Advocating for fellow children's rights
With beads of sweat slowly forming on their foreheads, the children holding placards with messages against Gender-Based Violence (GBV) and equipped with megaphones, visit homes and public places like markets (whilst adhering to the standard operating procedures of COVID-19) as they advocate for their rights.
John, 17, one of the peace club members discusses the dangers of parents marrying off their daughters at a young age: "We understand that we cannot meet all our basic needs as refugees..." he says. "...as a result, some parents are marrying off their young girls to get quick money and buy items that they desire. This is very wrong because early marriage spoils the future of the girls."
John speaks with a quivering voice. He quickly clears his throat and proceeds, the eyes of six women fixed on him as he speaks: "Parents, play your part and fulfil your responsibility of protecting your children, especially girls who are easily persuaded into marriage by rich men within the community. The future holds many things for us and you should support us to achieve them." he says.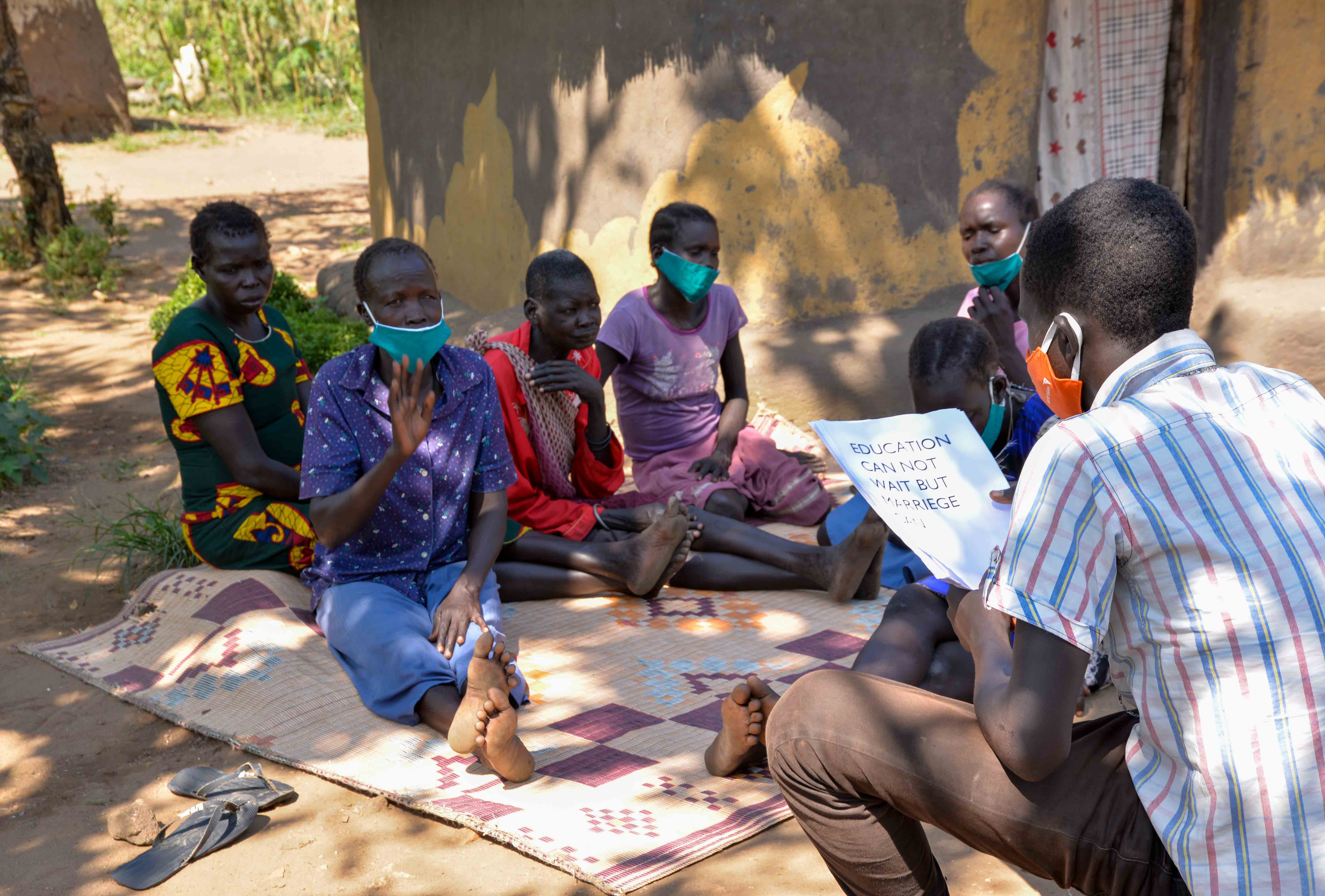 Mary, 16, talks to a household about corporal punishment and child labour, which children are subjected to in the community. "You know the kind of punishments to give to your children when they do the wrong things." she says. "Some parents beat children and cause physical harm on their bodies. Other parents make children dig for long hours while others make children carry jerrycans of water bigger than their size. All these things affect the proper growth of children." she says.
The activities children are engaged in make part of communications for development that aims at behaviour change among communities.
Solomon Ocuko, 42 and father of seven children at whose home these messages were shared, says peace club members are doing a great job in changing parents' mindsets. "I appreciate the effort of the club because they continue to transform the attitude of parents towards their children." he says. "Every time parents listen to the club members, they cascade the information to their children in case they were not in attendance."
Across the settlements, there are increased cases of abuse against children and women who comprise of 82% of the refugee population in Uganda according to the UN Refugee Agency. These cases are fuelled by financial stress, lack of emotional bonding between parents and children, as well as social and gender norms, among others.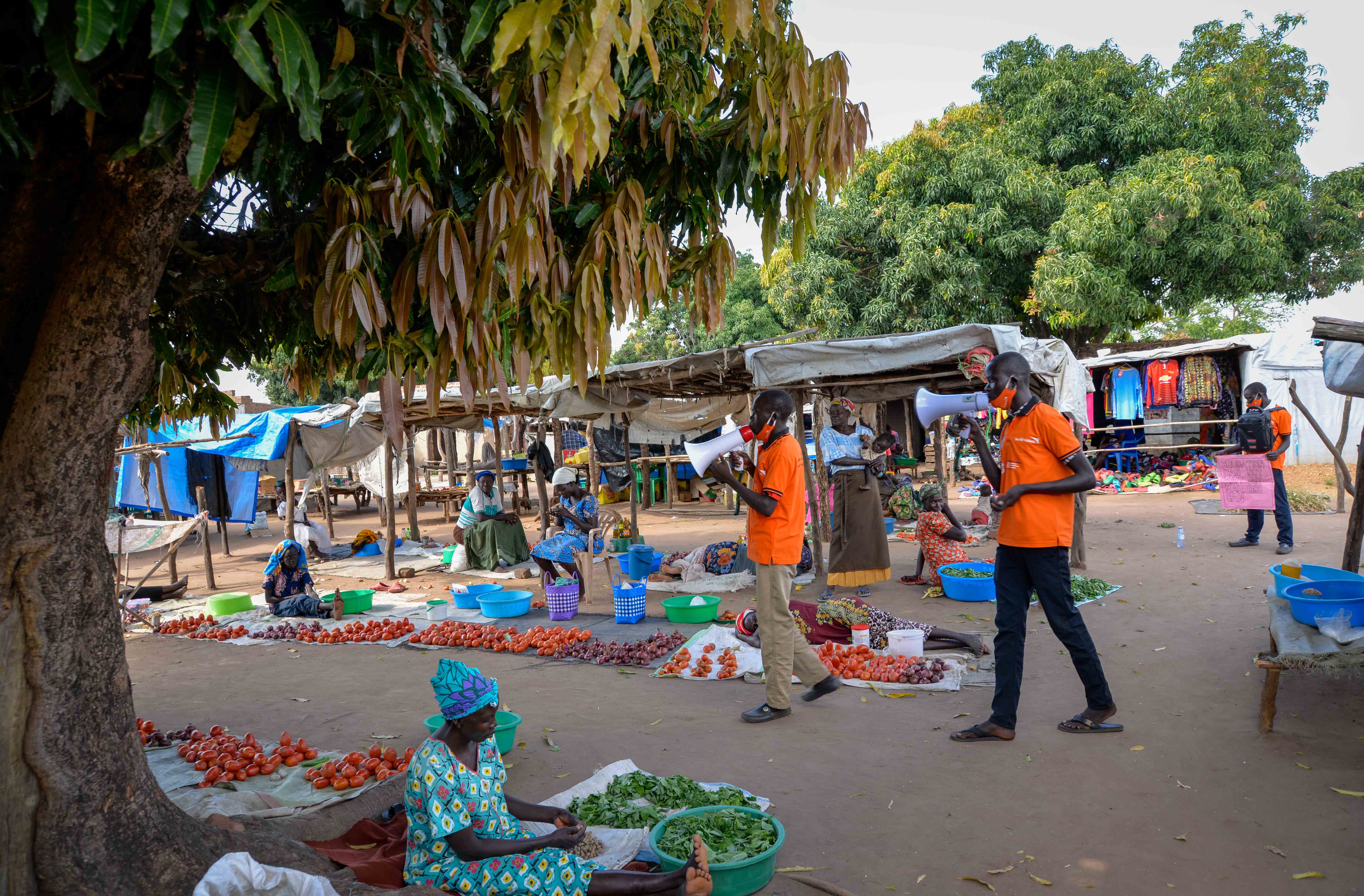 "Most parents are getting spoilt by local brew which they drink from morning to evening." says Solomon. "Such parents look at their young girls as source of wealth to keep up their drinking sprees and their families are marred with domestic violence."   
Cecilia Baako Jino, 52, a secretary for children affairs in the Maaji refugee community, says the peace clubs have been very vital in promoting peace and bringing to light issues that affect children, such as rape, defilement, and corporal punishment which are sadly rampant in the community. "Peace club members carry out community awareness activities, where they discuss issues affecting children." says Cecilia. "The clubs are very important because children are championing behaviour change in the community and cases of defilement and early marriage are significantly reducing.  As parents, we always look out for issues affecting our children and find ways of supporting them."
Fostering peace in the settlement
Louis, 17, has been the chairperson of St. Theresa Peace Club since its inception in 2017. He says the club has enabled him to understand the importance of peace: "Since my arrival in the settlement I had no information about peace and harmonious living with other tribes. When World Vision started mobilising children to be peace ambassadors, I developed interest and joined the club to overcome distress."
Settlements continue to register cases of tribal clashes that sometimes escalate up to death. At every opportunity for community engagement, peace club members are useful as a channel to spread messages of love and reconciliation among different tribes.
 "The community is appreciative of our work and we continue to spread messages of peace in our communities through community sensitisation." says Louis. "In the club, we are from different tribes but we work together harmoniously. However, when the fighting is too intense, some of the elders ignore our advice and that's the challenge we face as young people."  
The clubs have an activity schedule that includes debate, drama sessions, tree planting with hope of enabling rain formation to combat the hot weather, poems, riddles, and –during the lockdown– members were engaged in sensitising communities about COVID-19.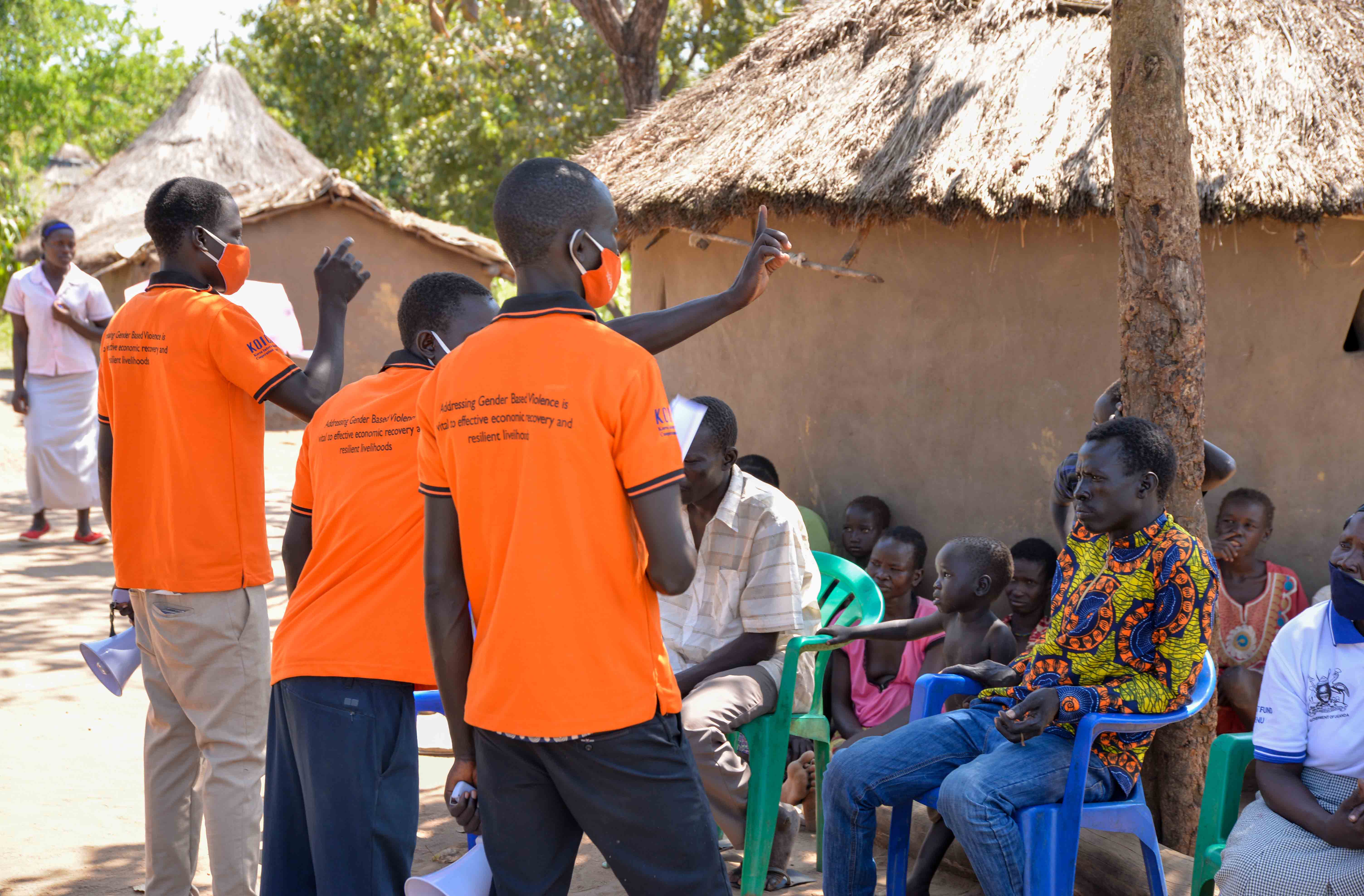 Ceaser Odongo, World Vision's Monitoring, Evaluation, Accountability and Learning (MEAL) Officer, notes that with support from UNICEF, World Vision has formed 21 peace clubs in the three districts of Terego, Yumbe and Adjumani; with each club comprising of 30 adolescent children. "These are children groups structured within the Child Friendly Spaces (CFS) whose activities are geared towards ending violence against fellow children." says Ceaser. "We give them specific messages that they spread in communities, talking to both parents and fellow children using megaphones for audibility."
The activities that children are engaged in are inclusive in nature and children with disabilities are encouraged to participate so as to reach out to people with a condition like theirs.
Ceaser shares that through community engagement, it is evident that the target messages are effective. "In Adjumani for example, cases of violence against children are being reported by children themselves, which indicates that children are now aware of their rights, and para social workers get encouraging feedback about our interventions in communities where they work." he says.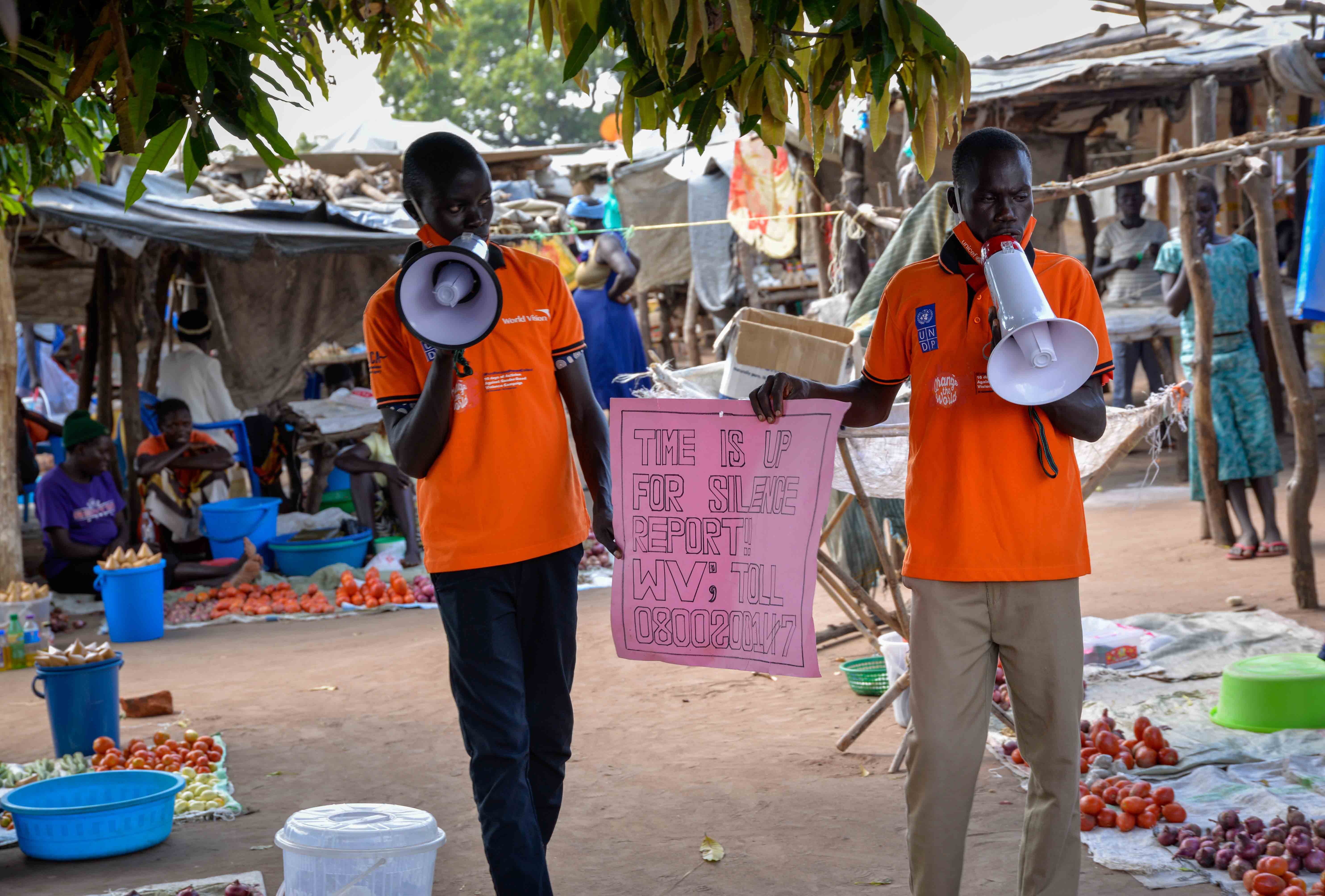 Even as the day's weather gets hotter, it cannot stop peace club members from carrying out community outreach in quest of a just society that respects children's rights. They are determined to rise up and defend their rights, and live life in all its fullness.