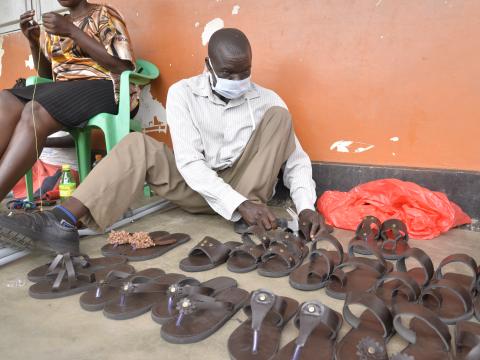 Empowering refugees with disabilities in Uganda
Friday, November 6, 2020
By Derrick Kyatuka and Dinah Kyakunzire 
Life as a refugee is challenging, and even more so life as a refugee with a disability. Too often, refugees with disabilities are socially excluded. However, most refugees living with disabilities possess treasured skills and when provided with an opportunity to develop them can greatly contribute to the development of their communities and their own lives.
In Omugo refugee settlement, a home to South Sudanese refugees in Uganda, refugees living with disabilities are beating the odds and living dignified lives.
With funding from the Ministry of Foreign Affairs of Finland, World Vision is implementing a disability-inclusive WASH, protection, and inclusive sustainable livelihoods project in Omugo Sub-county, Terego District.
Imelda, 22, is one of the several refugees living with a disability in the settlement. As a toddler, Imelda suffered from polio which impaired her spinal cord. She is able to move but with a lot of difficulty.
She left her husband in South Sudan after the civil war broke out and fled with their seven-year-old daughter in 2018. Since then, mother and daughter have been entirely depending on relief aid, especially food for survival.
"I had no source of income and my daughter being a minor, she also looked up to me for survival," says Imelda. "My living condition was dire because my condition could not enable me to do casual jobs like other refugees do to get money. Fortunately, we had food to eat and survive."
Despite her disability, Imelda was able to stretch her food supply. "I started planting part of my food ration around my house so that when there are delays, I have what to survive on with my daughter," she says. "Living with a disability in the settlement is a very challenging situation and worse still when you have a child to provide for."
Support to people with disabilities
In June 2020, Imelda was registered under the disability-inclusive livelihoods project and trained in income-generating activities. She was equipped with skills in modern farming methods, crocheting, and making earrings and necklaces. She found her niche in crocheting; a skill that has since remained her turning point.
"My life has never been the same again after the training," she says. "It helped me discover the potential within me. Using a crochet hook, I can knit clothes for children and doormats that I sell to earn money. I also do farming around my house and I easily provide nutritious foods especially vegetables to my daughter."
In order to improve food security and income among people with disabilities and their families both in the refugee and host community, the project formed 21 groups in the refugee community and five groups in the host community.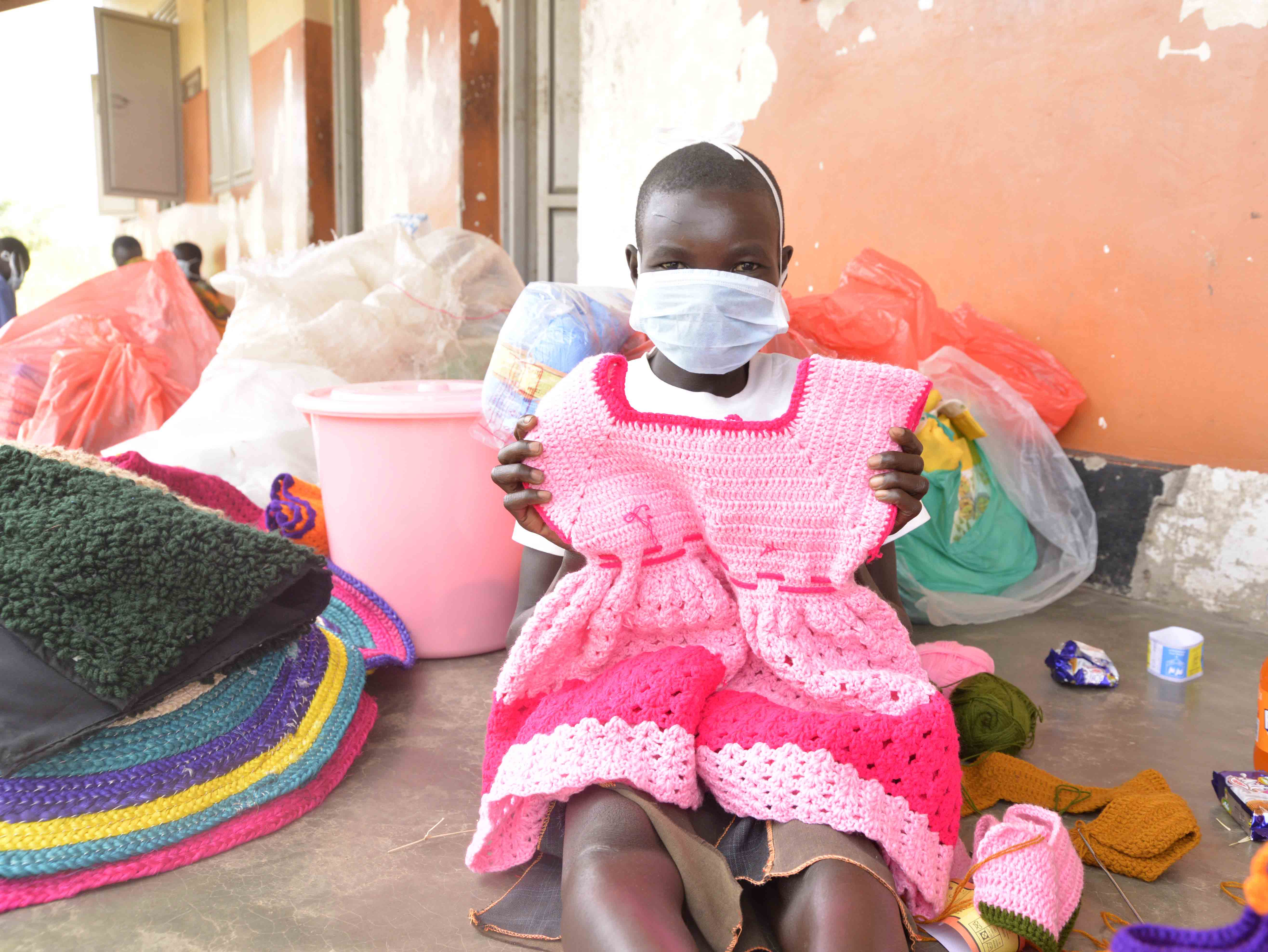 Meeting feeding needs
Yanoma is a 14-year-old boy with a hearing impairment. He was separated from his parents in 2017 by the civil war in South Sudan. Fortunately, he was recused by his uncle and brought to Uganda.  Not only does he have a hearing defect but also part of his right arm and leg are very weak. However, it's hard to tell that Yanoma has such defects at first sight. He looks healthy, vibrant, and jolly.
When we meet him, he is wearing a smile as he carries vegetables and cabbages to the mad and wattle hut which he sleeps in with his cousin. It's a happy day for the family. They have just harvested vegetables that they planted three months ago with the help of the project.
For most refugee households, especially those with children, having extra food to supplement the food ration distributed by the UN World Food Programme is a blessing. It's an assurance that children in the home will not go hungry and their diet can always be supplemented for a healthy living.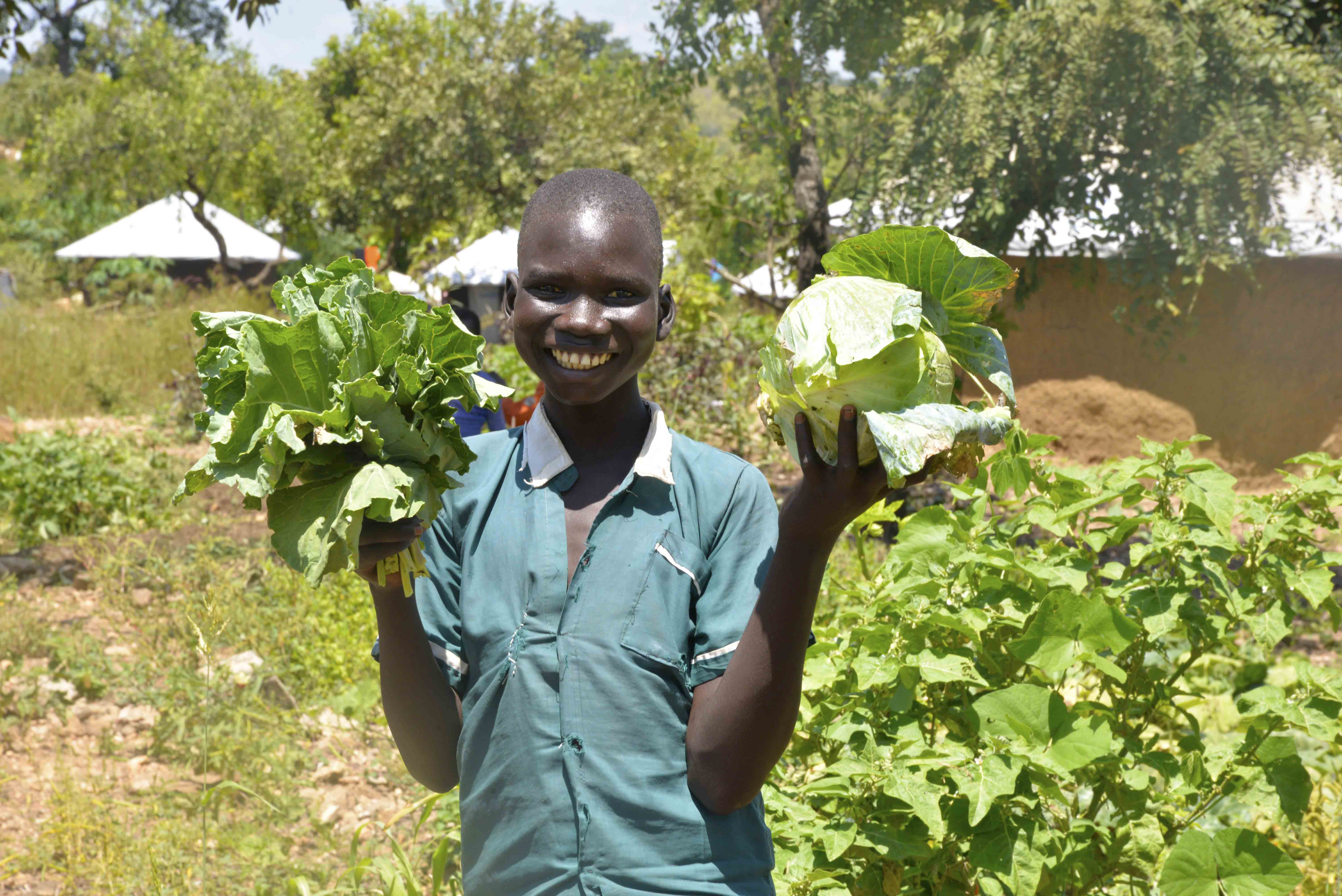 Morris, Yanoma's uncle and caretaker, says he benefited from World Vision training as a person taking care of a child living with a disability. He received training in farming, making energy-saving stoves, and assistive devices like walking sticks for disabled people. The trainings aimed at making sure that he would be equipped to take good care of Yanoma.
Using the knowledge from the training, Morris hired land in the host community and started farming to meet the feeding needs of his family. "I hired about a quarter an acre for a year at Shs 50,000 (13.39 USD) and planted vegetables," he says. "I have so far harvested twice and every time I harvest it's a sigh of relief for me and my family. The children are very happy because they eat fresh food and they get to eat different things."
The father of two explains that whilst children appreciate posho and beans from the food aid agency, supplementing their diet is something everyone happily welcomes, including his wife and elderly mother. "Before this project, we were just home idle but now, I am always engaged in the garden," he says.
"My hope is alive again. After harvesting, I sell some of the vegetables and use the money to meet the needs of my household. Children under my care are also well-nourished because of the vegetables. I greatly appreciate this project because we would be in a dire situation, and perhaps the children would be malnourished."
Financial inclusion
Simon Duku, a chairperson of a grinding mill business group with eight members, says that the project has greatly boosted the livelihoods of people living with disabilities within the settlement. "My group is among the beneficiaries of the first phase of the project," says Simon. "Beneficiaries have been economically empowered to engage in income-generating activities and the project has been a turning point in our lives."
"We are assured of daily income from the business and this money keeps the hope of the members alive," he says. "We have been operating for one year and we have been able to make savings of Shs 2.6 million (694.71 USD)."
According to the project manager, Dithan Mukiibi, the project aims at improving access to WASH services and livelihood opportunities for 40,000 beneficiaries including 10,000 children with disabilities and their caretakers by March 2022.
An assessment by World Vision in 2019 found that if a household has a disabled member, the entire household is affected. "They are affected socially, psychologically and economically," says Dithan. "Findings showed us that 46% of the families with a person with disabilities have to stay home instead of going to school or work to support the affected. Also, 90% of the families with a person with disabilities have no income-generating activities."
A total of 10,428 beneficiaries have been reached with WASH and livelihoods interventions between March 2020 and October 2020. These include hygiene promotion in the community, training in income-generating activities, making of assistive devices, trainings in menstrual management, and making reusable sanitary pads.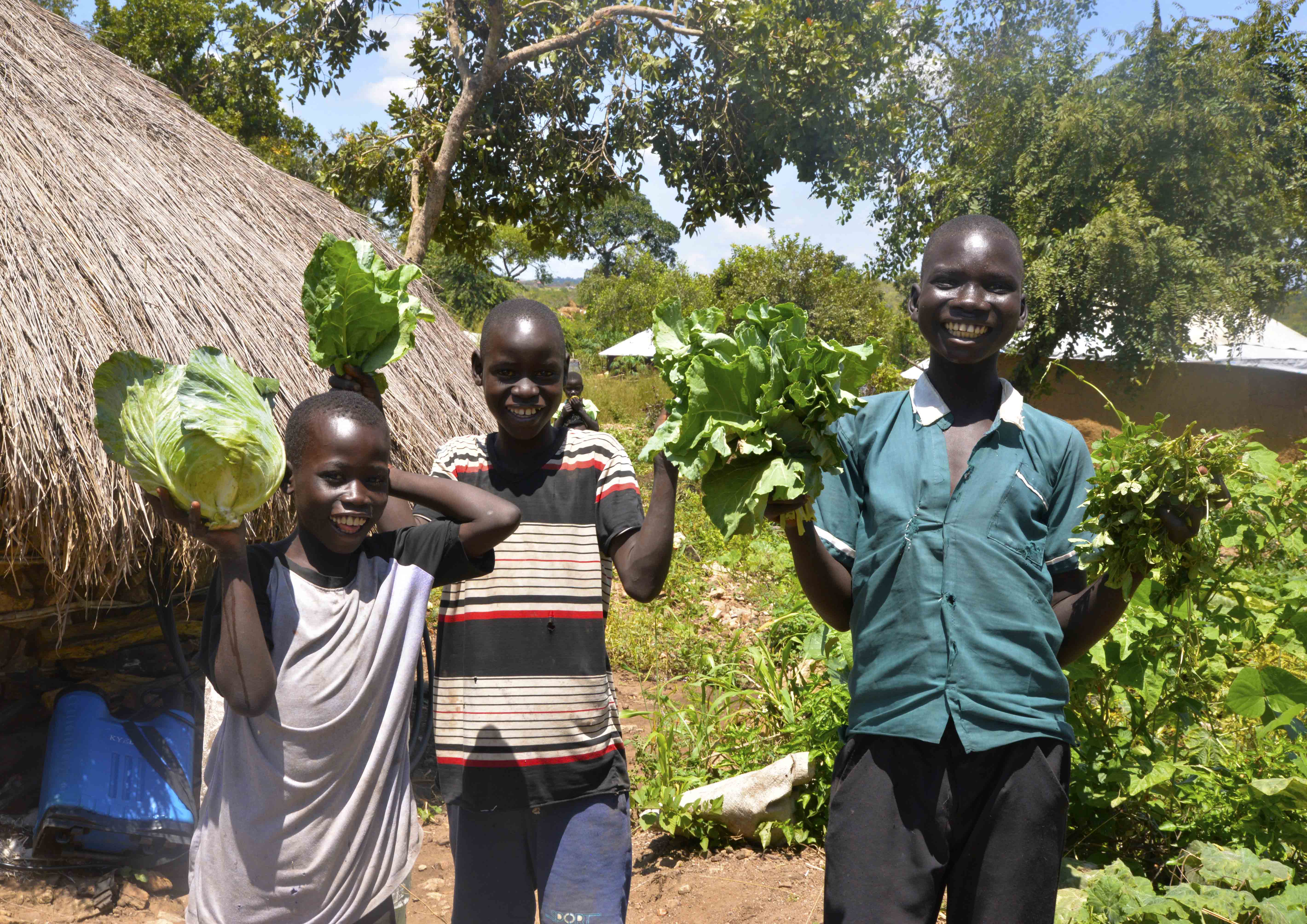 Life as a refugee is indeed challenging, especially for disabled refugees and their families. But in Omugo refugee settlement, disabled refugees are finding ways to contribute that tap into their gifts and talents with tremendous results.