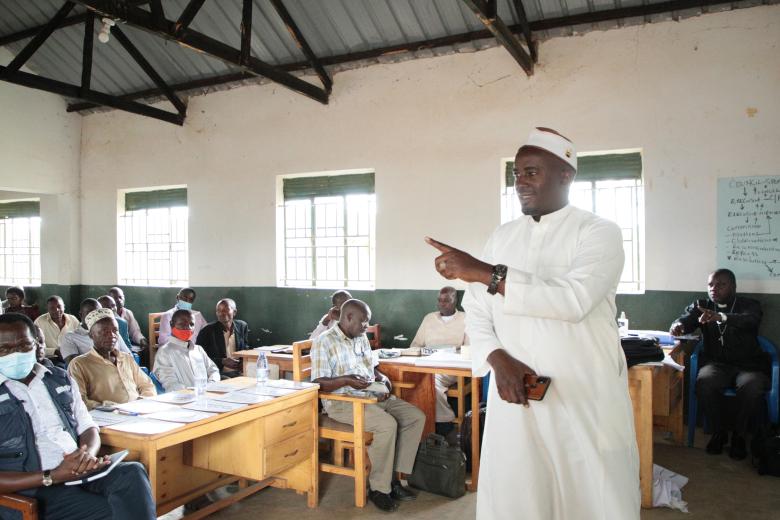 Faith leaders halt the spread of Ebola in hotspot communities
Saturday, December 3, 2022
When the health authorities in Uganda declared the Ebola Virus Disease outbreak in the gold-rich district of Mubende on 20 September 2022, the country fell into panic.
Rumour-mongering and misinformation about Ebola as a punishment from God, a witch doctor's curse, and that the disease was curable through prayers, exacerbated by social media, were rife.
Battling the stigma associated with Ebola was a big problem, as combating the disease was hampered by beliefs in witchcraft, misconceptions, and disregard for healthcare guidelines. And most people were diagnosed after several days of symptoms due to ignorance and widespread falsehoods about the disease and denial of its existence.
The first man who died of the virus in a Kampala hospital after he sought the help of a traditional healer in Luwero district, 124km away from his home district of Mubende, is a typical example of how ignorance and lack of accurate information can lead to dire consequences.
He was among many people who believed there was no Ebola and that the government was only declaring their community an epicentre to get money from development partners. By the time the disease put him down, he had more than 40 contacts, including his wife, who had just given birth. She and the newborn baby died, too.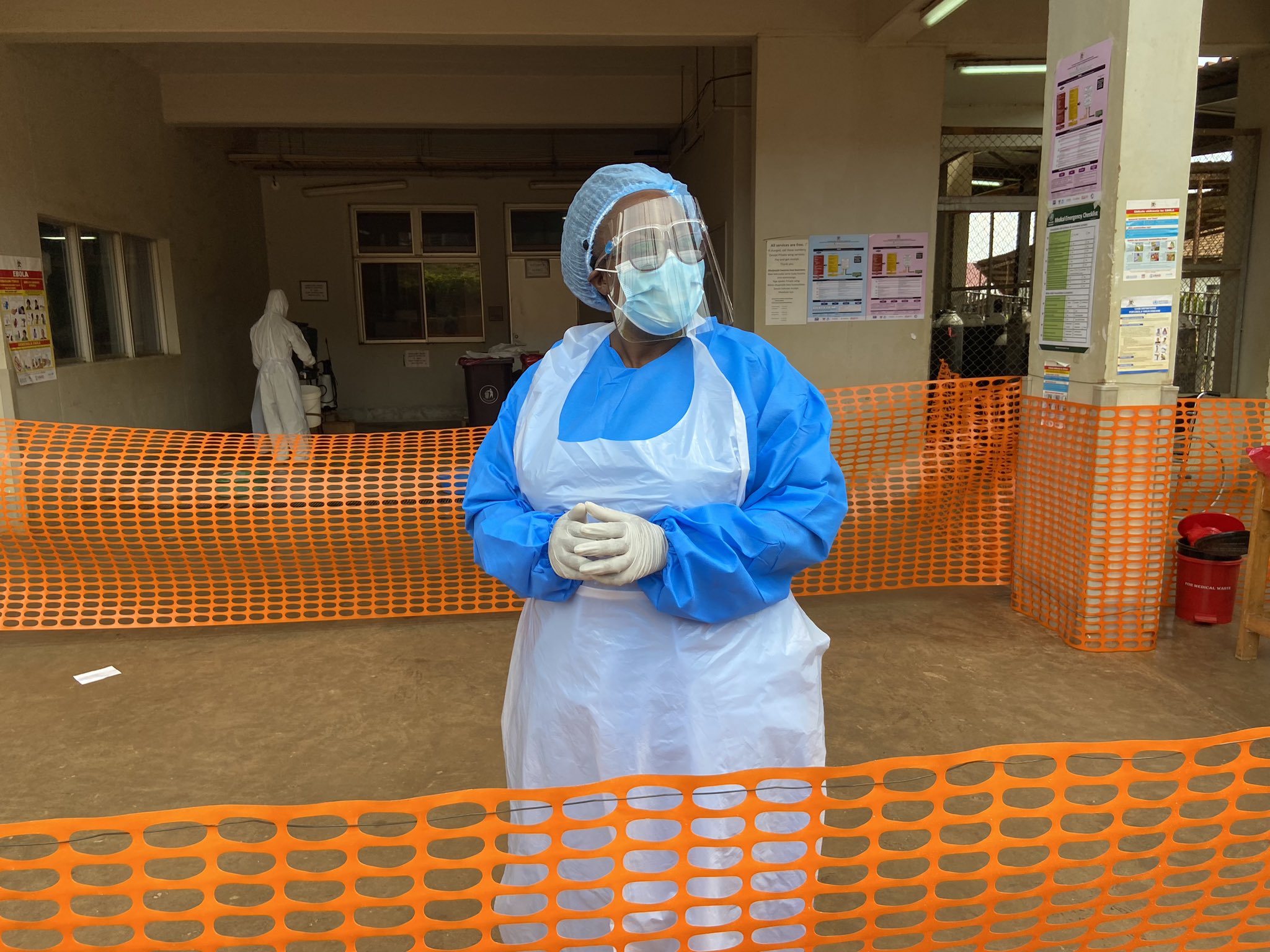 From over 70-year experience responding to disease outbreaks such as COVID-19 and Ebola, World Vision knows that access to reliable, correct information saves lives.
Building on the deep-rooted trust in faith leaders, World Vision chose to equip them with the tools to engage in actions that contribute to Ebola prevention, advocacy and care. These include increasing community knowledge about the prevention and treatment of Ebola and supporting the integration of survivors and affected families back into communities to build their lives again.
"It's so important to empower communities with the correct information," says World Vision's Ebola Response Manager in Uganda, Benon Musasizi. "Faith leaders are highly respected in their communities. Working with them is an effective way to reach vulnerable children and their families. When empowered with the right knowledge and information, faith leaders can do much good for the Ebola response by combating misinformation to stop the spread of the virus."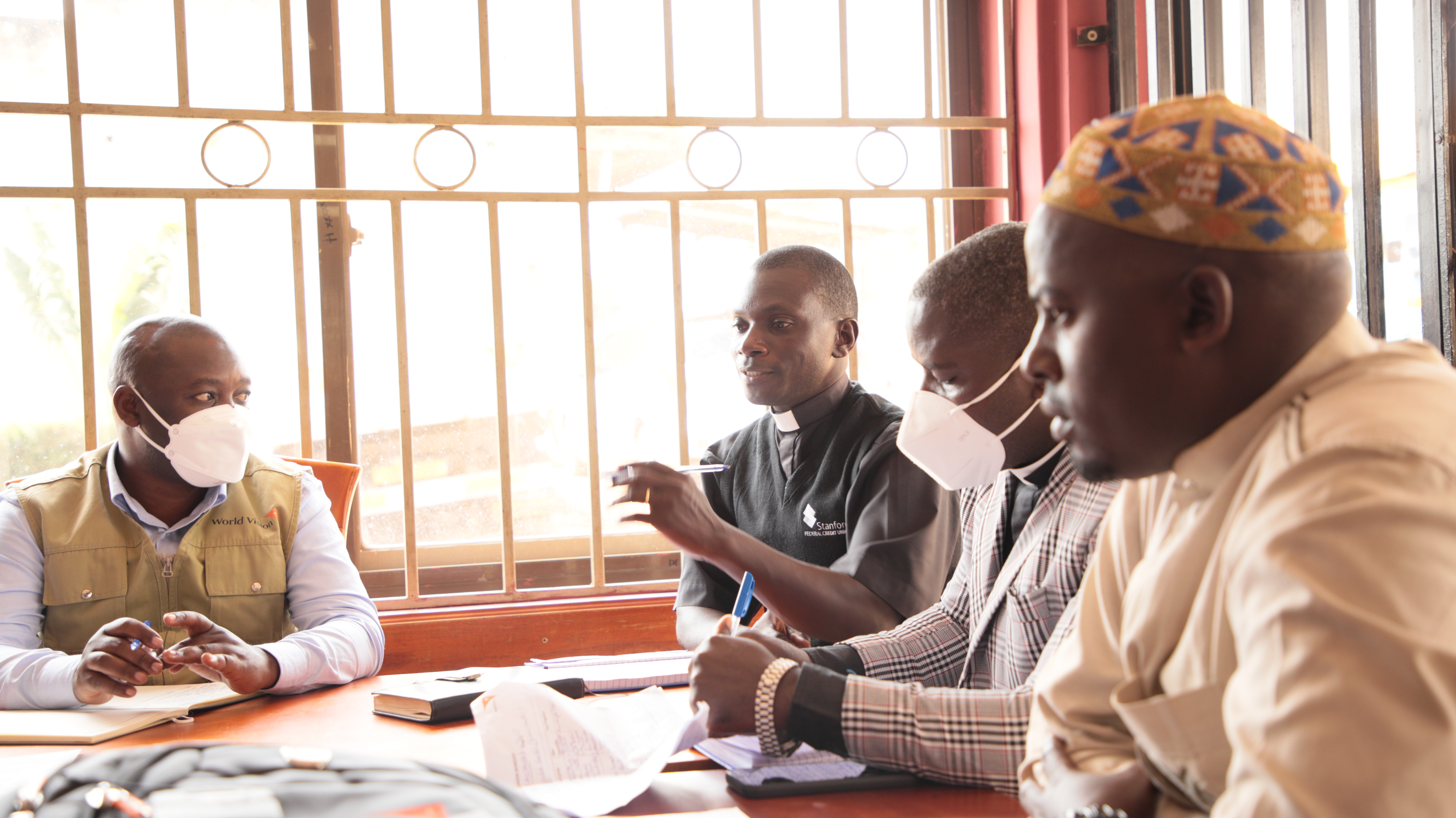 Reverend Robert Kyempasa from Kalwana in Kassanda district is among the 23 faith leaders from the seven high-risk communities trained to engage their communities and promote accurate and responsible messages about Ebola.
"We had heard many myths about Ebola," says Kyempasa. "But now I have the right information to counter ignorance and carelessness responsible for the spread of the disease with the potential to devastate and bring a nation to its knees if we do nothing."
Sheikh Bashir Edris Sensuku represents the hardest-hit districts of Mubende and Kassanda.
Like Kyempasa, he addresses barriers to Ebola response, the stigma, and psychosocial and spiritual challenges affected individuals face using verses from the Qur'an and stories from the Hadith to change behaviour.
Before the training, Sensuku says radio messages were the only way communities heard about Ebola. "There were so many confusing messages, and it was hard to take them seriously. And how do you ask questions? It didn't make sense to say there is no cure in one message and another you should call a number to have relatives taken to the hospital. We were left confused, powerless, and scared."
With their confidence built to go into communities and deliver the critical message with compassion and care for affected people, faith leaders have proven that they are a true force in motion that should have been involved sooner in the crisis.
Reverend Father Godfrey Sande Akiiki from Kakumiro Parish in Kakumiro says, "Before I came for the training, I wondered whether we could help fight against Ebola. I was thinking in terms of supportive, incidental, and supplementary. But three days into training, I realised our contribution was much more as faith leaders. It is pivotal, transformative, and inspirational in combating misinformation, promoting care, and tackling stigma."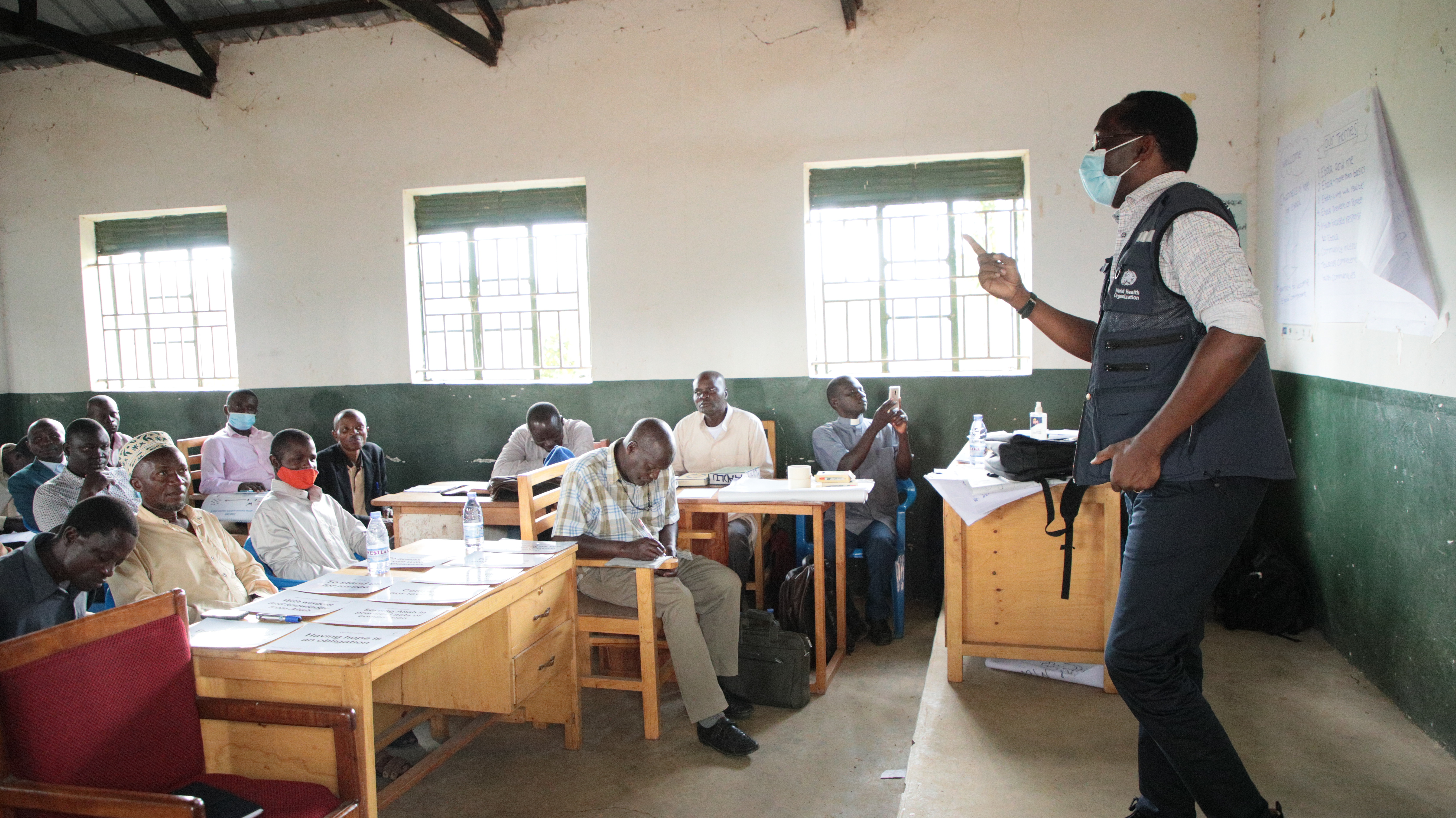 The impact of faith leaders recognised
There is a dramatic effect on halting the spread of the disease in the high-risk districts as faith leaders work together on a mission critical to spread correct information about Ebola, change behaviour and restore hope.
It is more than two months since the health authorities in Uganda declared an Ebola outbreak that has claimed 56 people, including 21 children and seven health workers. According to official statistics, the country has registered 86 recoveries out of 142 cumulative cases, with 512 cases still under observation due to contact with infected persons.
For almost three weeks, the number of cases has not changed, with the last Ebola patient discharged early this week and two districts of Kagadi and Bunyangabu dropping off the follow-up list after completing two incubation cycles without a new case.
Despite the progress against Ebola, health experts caution against complacency amidst declining Ebola cases.
"We are proud of our community partners, especially the faith leaders in the response districts. We are winning the war against Ebola, but it's not over yet. It only takes one case to reignite the outbreak, so there is no room to relent. We must sustain the current response and even double our efforts to defeat Ebola and transform the country's national health systems and structures. There are many lessons we can learn for future disaster responses," says Isaac Sugar-Ray, Consultant at World Health Organisation.
World Vision's Faith and Development Manager in Uganda, David Kaggwa, says faith leaders are often closer to the people than government and health workers, but the international humanitarian system ignores them.
"In many parts of the world, local churches and mosques are the first places people turn to when disaster strikes – and faith leaders help dismiss rumours about the disease and encourage communities to accept life-saving advice from health workers. They also play a crucial role in counselling survivors and challenging stigmas to create the environment required to control such outbreaks. It is important that we learn lessons of working with faith leaders," Kaggwa says.
It is a fact that had faith leaders been engaged at an earlier stage of the disease outbreak, the country would have saved more lives and money as their engagement has marked the turning point in the fight against this terrible disease. We now have orphans, widows, and people that have been affected variably by the Ebola virus. They need to be supported to rebuild their lives again. There is no option but to get good at working with everyone, more so faith leaders, to spread the message that witchcraft and witch doctors are ineffective against outbreaks such as Ebola.
About Channels of Hope for Ebola
Channels of Hope is a World Vision model that involves building the capacity of faith leaders and faith communities to engage with crucial child well-being issues. Channels of Hope for Ebola draws on religious texts, scientific information and messages, case studies, personal experience and interactive activities to remove religious and social barriers resulting in Ebola's continued spread. It also addresses the stigma and the psychosocial and spiritual challenges affected individuals face. The programme fully equips faith leaders to promote accurate and responsible messages about Ebola and helps them to respond with compassion and care for affected people.
About World Vision
World Vision is one of Uganda's largest child-focused humanitarian organisations. With over seven decades of experience at the grassroots, we employ proven, effective development, public engagement, and relief practices that empower vulnerable children and communities living in poverty and injustice to become self-sufficient and bring lasting change. We serve all children regardless of religion, race, ethnicity, or gender to demonstrate Christ's unconditional love for all people. World Vision Uganda works in 63 districts (as of 16 November 2022), impacting around 2 million children and their families spread across the country to address issues affecting children in partnership with governments, civil societies, donors, and corporates. For more information, go to: https://www.wvi.org/uganda.
By Fred Ouma, Development Communications Coordinator, World Vision Uganda