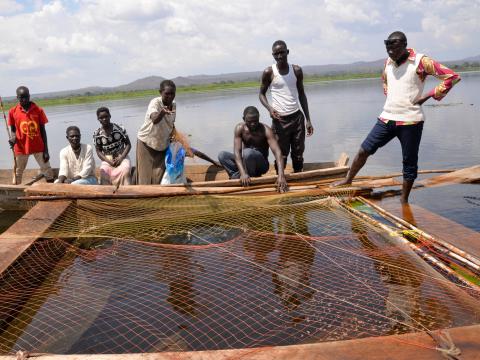 Fish and rabbit farming providing hope and income for communities in Parolinya-Obongi district
Monday, March 23, 2020
By: Derrick Kyatuka, Communications Officer, World Vision  
Since the outbreak of the civil war in South Sudan from December 2013, thousands of people sought refuge in Uganda. In response, many humanitarian organisations, including World Vision, came to the aid of the refugees to settle them into a life of normalcy. Through World Vision, in particular, refugees are provided with food, clean water, education, a safe environment and opportunities to earn income. The organization also helped create unity between refugees and the host communities through integrated programmes.
Almost five years later, the emergency response programme is drawing to an end in West Nile. However, there is still a need for medium to long term livelihood interventions to increase the self-reliance of refugees and replenishment of fast depleting resources in the host communities due to population pressure.
World Vision, in response, began to transition from life-saving interventions to implementing both food programmes and emergency grants tailored to reducing suffering and poverty among refugees and host communities in Arua, Adjumani, Yumbe and Obongi/Moyo districts.
Since May 2018, World Vision, in collaboration with UNHCR, Office of the Prime Minister, other livelihoods implementing partners and the district leadership, has been implementing a livelihoods and economic empowerment project in Obongi district, with funding from World Vision USA. The project aims to empower vulnerable households, improve income and nutrition security through the rearing of ducks, rabbits, fish farming and vocational skills in tailoring and agribusiness.
Fish farming
Amalu Fish Farming Group is one of the beneficiary groups under the project. According to the group secretary, Ramadan Asiku, the group has 30 members all from the host community.
"World Vision staff did a community assessment and later presented to us different project activities to boost our household incomes. As a group, we chose fish farming. We were facilitated by World Vision to visit Masese fish landing site where we learnt about fish farming. From the knowledge we got, we dug a fish pond and combined efforts to make the business thrive," Asiku says.
He adds: "We stocked the pond with 2,500 fingerlings. We are very optimistic that this project will benefit us in the near future when we start harvesting. For the three months we have been running this project, we have been able to learn a lot, including identifying problems that arise in pond fish farming, how to make fish feeds locally, fish feeding routine and how to make fish ponds."
Leila Baako, a group member, notes that the fish project has equipped her with knowledge about fish farming and she hopes to be financially stable through the enterprise.
"The group has united us as farmers and when we finally start selling the fish, we hope to start a savings and loans scheme that can support us financially to meet our needs like school fees. The fish will also be used to supplement the diet of my children," Baako says.
Charles Amena and his group of 30 members opted for cage fishing farming as a business.
"During our field visit with other fish farmers on Lake Victoria, we were learnt about cage fish farming. We were also taught how to use the available local materials like bamboo to make cages. We chose fish farming because we aim to fight malnutrition in Palorinya Refugee Settlement and the host community, but also to boost our household incomes. We are hopeful that with time, we shall expand our business and broaden our market to Congo and South Sudan," Amena says.
According to Amos Kisenyi, the World Vision Livelihoods Assistant, the fish farming project was embraced by the host community that live along the shores of River Nile. He, however, says there is need for more sensitisation for people to fully accept cage fish farming since it is a new enterprise in the community.
"It's a unique livelihoods project in the host community but beneficiaries are adjusting slowly because most of them are fishermen. The uniqueness of the project is that farmers have to feed the fish and do continuous monitoring to see how the fish respond unlike local fishermen who cast nets in the water and fish with less effort," Kisenyi says.    
Rabbit farming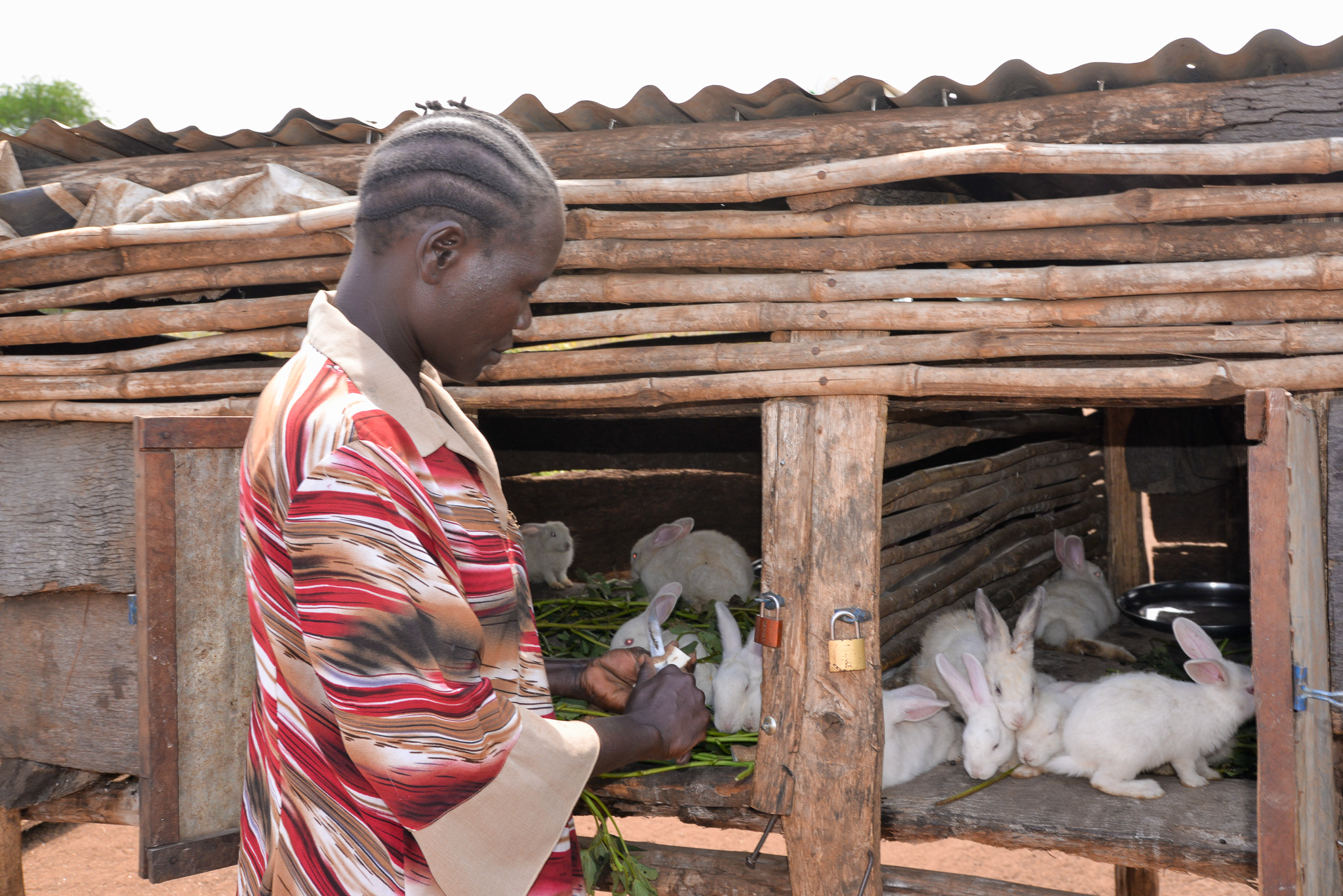 Annet Liong, a refugee from South Sudan, received a pair of rabbits through the project. The rabbits have become a source of income for her home.
"I was given rabbits because I wanted to supplement my children's diet. Because rabbits produce very fast, I have turned it into a business as well. I sell a pair at UGX 35,000 (almost US$10). The money has helped me to support my four children in school. The only challenge I face as a rabbit farmer is that we are currently in a dry season, and it's hard to get green vegetation that rabbits feed on," she says.
Nicholas Asiku, who oversees the rabbit project, says 1,608 rabbits were distributed to 804 beneficiaries from both the refugee and host communities. The beneficiaries were trained in rabbit management practices and group dynamics since some of them formed groups for easy management of the rabbits.
"The project was well received by the beneficiaries and majority are already benefiting from it. It continues to positively impact on people's lives. We currently have progressive farmers that are mentoring other beneficiaries which shows that the project will outlive its implementation time frame," Asiku notes.
While the response programme is scaled down, these interventions carry a lasting effect and will see livelihoods improved, not just for the host communities but the refugees too.