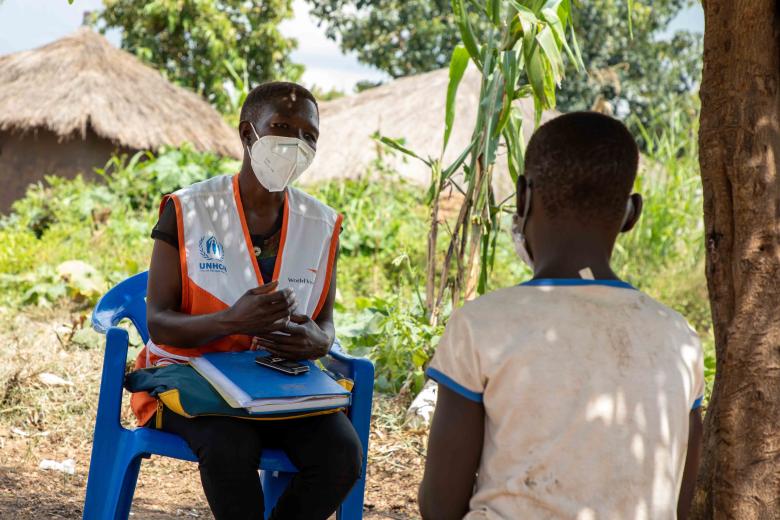 Heart rending stories of child abuse survivors
Friday, August 20, 2021
By: Derrick Kyatuka-Communications Officer, Uganda Refugee Response
She was so close to her uncle. The two enjoyed each other's company. She had nothing to worry about with an uncle around her—a blood relative—who had travelled all the way from South Sudan to check on them in the neighbouring country where they sought refuge.
"We were really happy to have him around", says Joan (not her real name). "Back home, I visited him often", she says. "He would take me in his arms and tell me how he liked me so much. Sometimes, he would give my mother—his sister-in-law—money. I knew him as a good, kind uncle who cared about us."
Joan was mistaken. She became a victim of sexual abuse by a person she trusted to protect her in the first place. "He invited me to his house whenever possible. On that day, I recollect everything clearly. He called me to his house as he had always done. But this time he grabbed me and inserted himself inside me. I felt excruciating pain as he forced himself into me", says the 12-year-old survivor, preferring not to discuss any more traumatising memories of her life.
Robbed of her childhood innocence, traumatised and confused, Joan could not speak to anyone. "He threatened to kill me if I ever talked to anyone about the incident", recounts Joan amidst sobs and with teary eyes. "There are times I wanted to speak to someone, but I trembled and just gave up."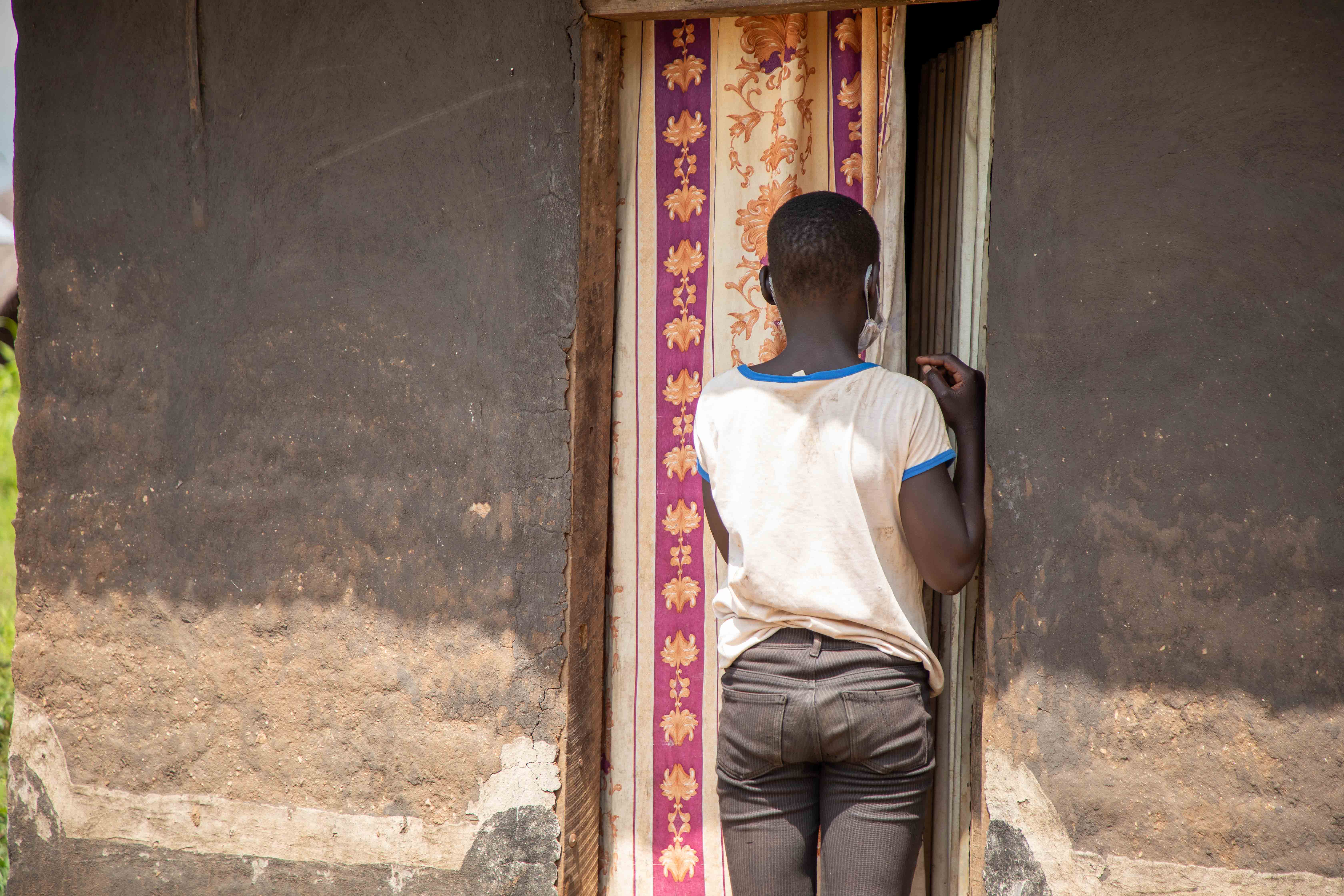 Joan feels she would have been less of an introvert and shy person, and livelier and more confident in her childhood if she had not been sexually abused. Her life would have turned out to be entirely different maybe, and she would not have been scarred for life. "My worst memories [are] not even the bruises of the act itself but my mother allowing him to take me to his house. This is the reason I have nightmares of him to this day", Joan says with a faint voice.
However, the secret could not be hidden for long. She had difficulty walking or sitting and that is when her mother realised something was amiss. "When my mother asked me what was the problem, my palms were sweating", says Joan.
Shocked at the information, Joan's mother dashed to the Refugee Welfare Council leader, James Oloya, to report the case. Working with the police, James, who doubles as a child protection committee member in his community, did not waste time. "I was saddened. My heart bled as it was wrenched. I reported the matter to the police and we arrested the perpetrator", says James.  
Sharon's story
Unlike Joan, Sharon (not her real name) was forced to engage in sex for survival. Her mother and stepfather were serial drunkards who sold off food to buy alcohol. "Life was really difficult", Sharon says. "I was hungry. My siblings were hungrier. Left with no better option, I started having sex for food."
When Sharon became pregnant, she was caught between the proverbial devil and the deep blue sea. Her stepfather sent her away from home. With nowhere to go, she ended up in an abandoned shelter. But she was not going to be alone as her two brothers and one sister followed her to the shelter. "My parents didn't change. Instead, the situation at home continued to worsen forcing my siblings to follow me."
Sharon's and her siblings' fortune changed when a World Vision-trained child protection committee member identified and connected them to World Vision for support. "When we were told about Sharon's case, we provided them with immediate support, talked to their parents and reunited them. Our staff continue to check on them almost on a daily basis to make sure everything is well", says Dorothy Chandia, a World Vision child protection officer in Uganda.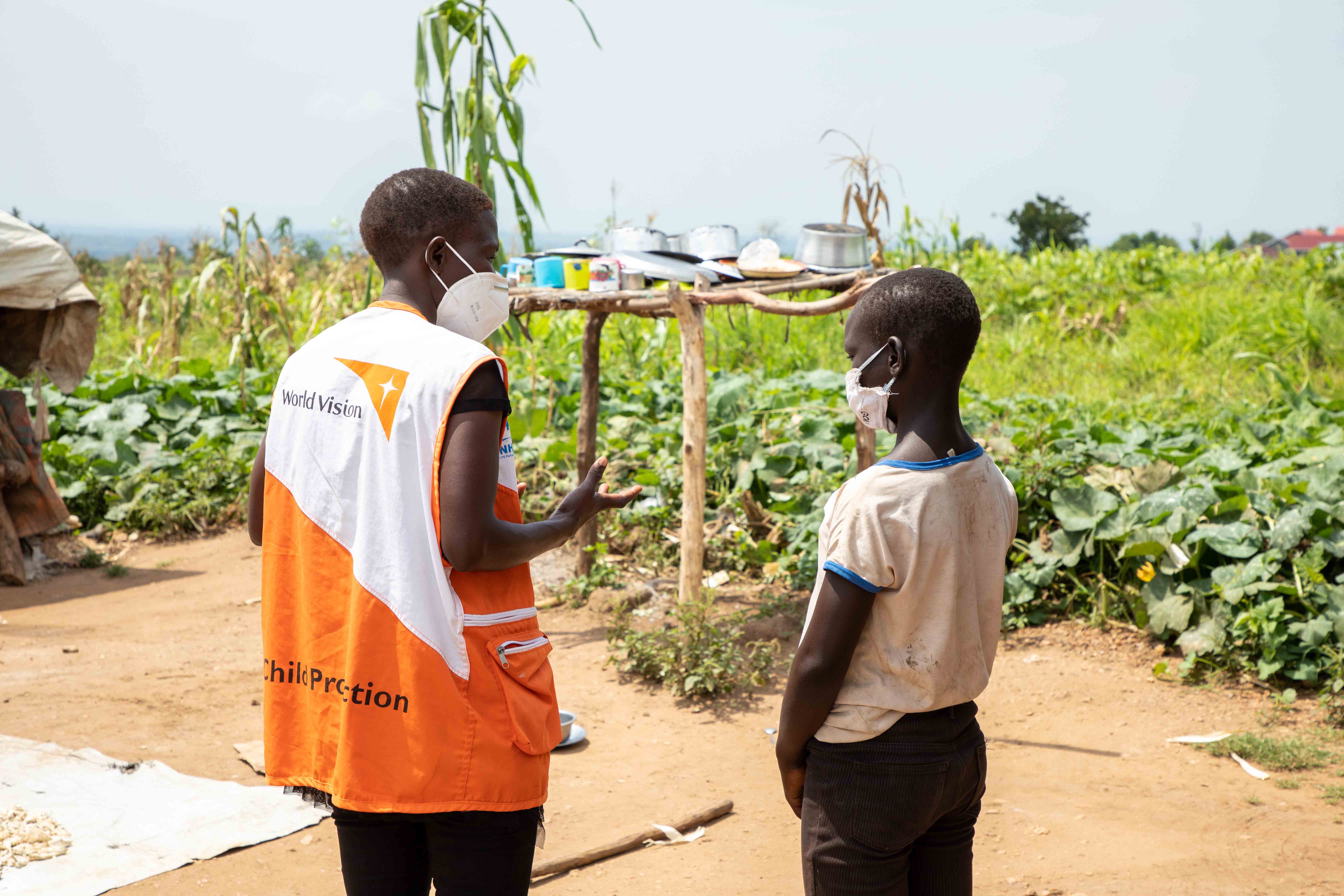 Violence against children continues to rise at unacceptable rates in refugee settlements, with girls at increased risk. These cases of Joan and Sharon are a reflection of bigger child protection challenges that World Vision is addressing through its child protection interventions.
With funding from Japan Platform, World Vision trained 360 community members in Bidibidi Refugee Settlement to identify root causes of violence against children and to actively participate in the process of finding solutions.
"We were trained on child protection by World Vision, including how to demonstrate non-violent behaviour and oppose violence against children", says James Wani, a child protection committee member. "We're now handling most cases, and [for] the few we can't, we always refer to experts for better management."
With the countrywide lockdown and restrictions on movement still in force to control the spread of COVID-19, the role of child protection committees cannot be understated. Joseph Agele is the chairperson of child protection committees in Zone VI, Bidibidi Refugee Settlement. He says: "When staff are affected by the lockdown, we fill the gap because we know what is supposed to be done."
Celina Sadia, another member of a child protection committee, is optimistic that even if World Vision left their community, they are in position to continue building positive and peaceful communities for their children. "As parents, we're more proactive on issues affecting our children than ever before. There is a growing sense of responsibility to create an environment that protects and heals our children", says Celina.
Joan is slowly regaining her former self—that lively bubbly girl—the brightest in the family of one boy and three girls. "She is so reserved but very assertive", says Faima, her mother.
Nowadays, both Joan and Sharon spend much of their time talking to other children on how to protect themselves and others around them, courtesy of World Vision's training on child protection. "I need all the parents out there to understand that parenthood is much more than providing proper food and education to your child. You need to be your child's friend", says Sharon.
Girls like Joan and Sharon urgently need support to help them build a fearless future where all children enjoy positive and peaceful relationships in their families and communities.