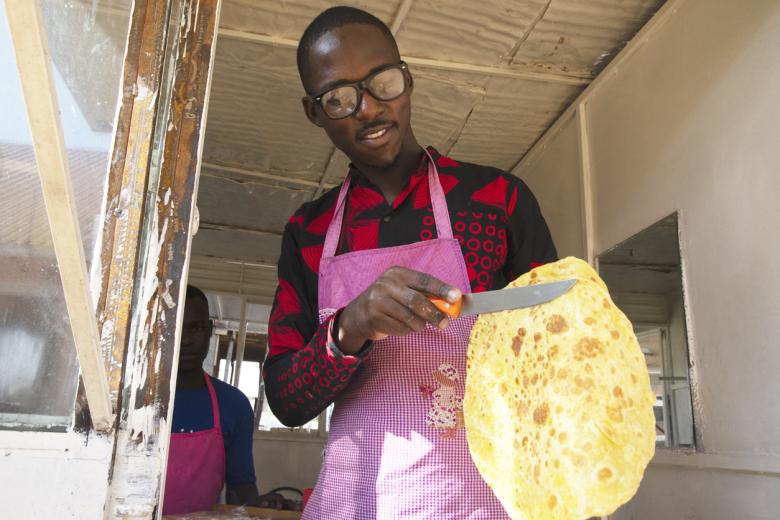 Meet the most confident and passionate street chef in Uganda
Tuesday, February 15, 2022
Jimmy Kimbowa isn't the only person running a pastry and baking stall along this busy road in his community, but he has to be the most likeable. Standing on a quiet, well-shaded porch along Salama Road in Makindye Division in Kampala City, he welcomes customers in with an infectious smile. It's no surprise that he has multiple orders each day.
For people in this community, coming to buy pastries from Jimmy isn't just about filling their stomachs for the sake of hunger—they also come to savour his culinary specialities.
"I didn't think this day would ever come", says Jimmy, laughing as he beats egg mixed with a variety of exclusive ingredients sourced by himself, including tomato, onion, green pepper, cabbage and others, as well as salt. "I always get feedback that my pastries taste and feel different—a taste and feel you get only in top-notch restaurants and coffee shops like Café Java and KFC. I think it's because of my professional culinary skills."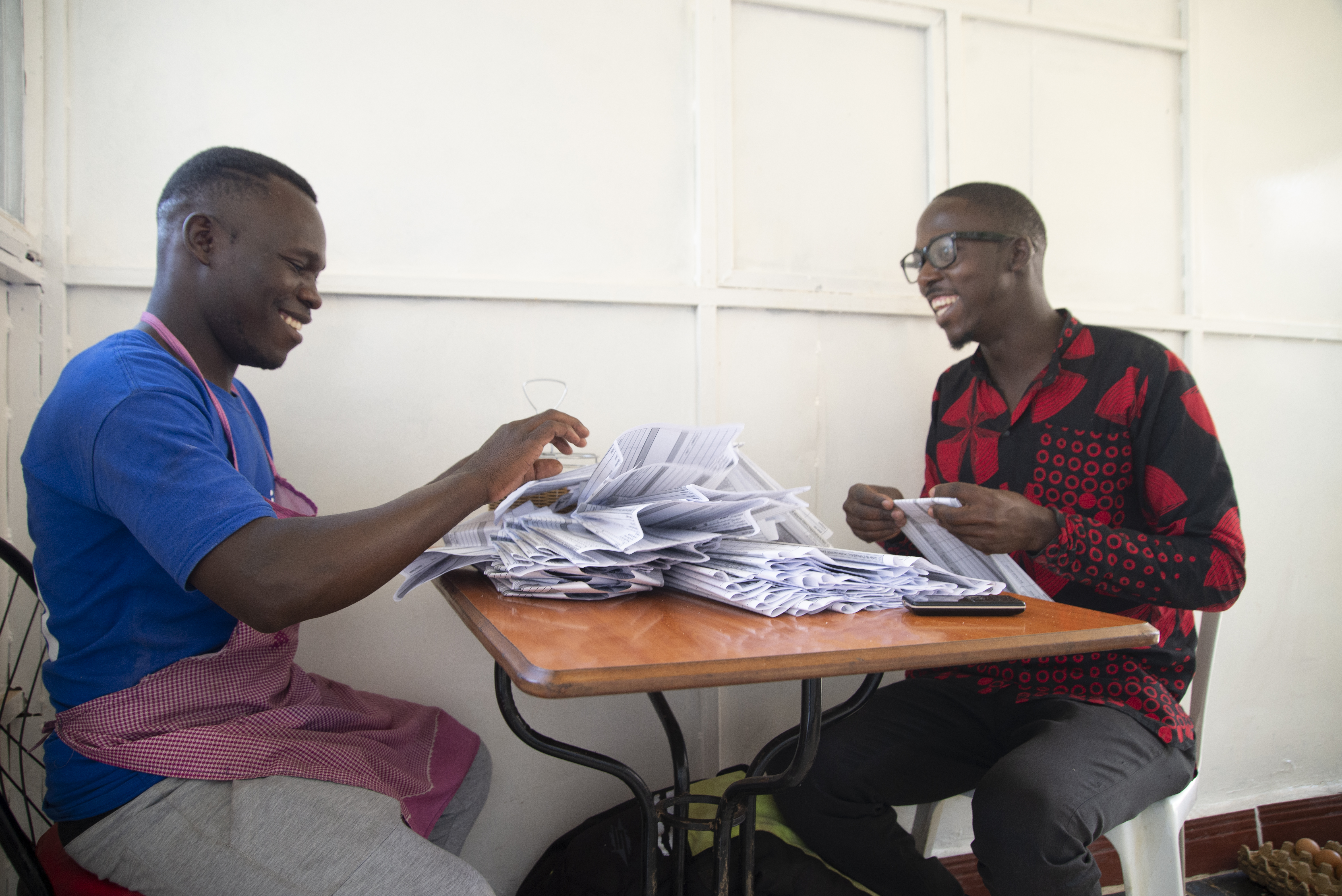 Within five minutes, the 25-year-old lad presents us Uganda's 'Rolex'—one of his favourite specialities whose gold setting is whipped egg. Precious studs of tomato and purple onion glitter across the surface like garnet and amethyst, while fine strands of cabbage, green pepper, mint and other aromatic herbs sprinkled over the round omelette sparkle like peridot. The completed savoury jewel is nestled safely in a soft chapati wrap.
Meticulous? Or is it ridiculous? You decide.
But shouldn't everyday food be as precious as a real Rolex?
That's the part of his job that Jimmy loves: the social impact of serving the best possible culinary delights—mainly reserved for the rich—to his slum-dwelling customers. "Most of the people I serve here have little or no income at all", he says. "They have never been to those famous posh places, let alone even knowing their exact locations. A few of them just stop at hearing and watching the rich dine and wine on TV. I thought to myself that if my people couldn't get up there for whatever reason, I had to bring that experience right down here for them. I am glad that they appreciate it."
Just a few years ago, the 10th born of 11 would never have imagined himself in a catering and baking class, learning how to make pastries, recipes, banquets and cuisines, as well as other restaurant services.
Changing of childhood aspirations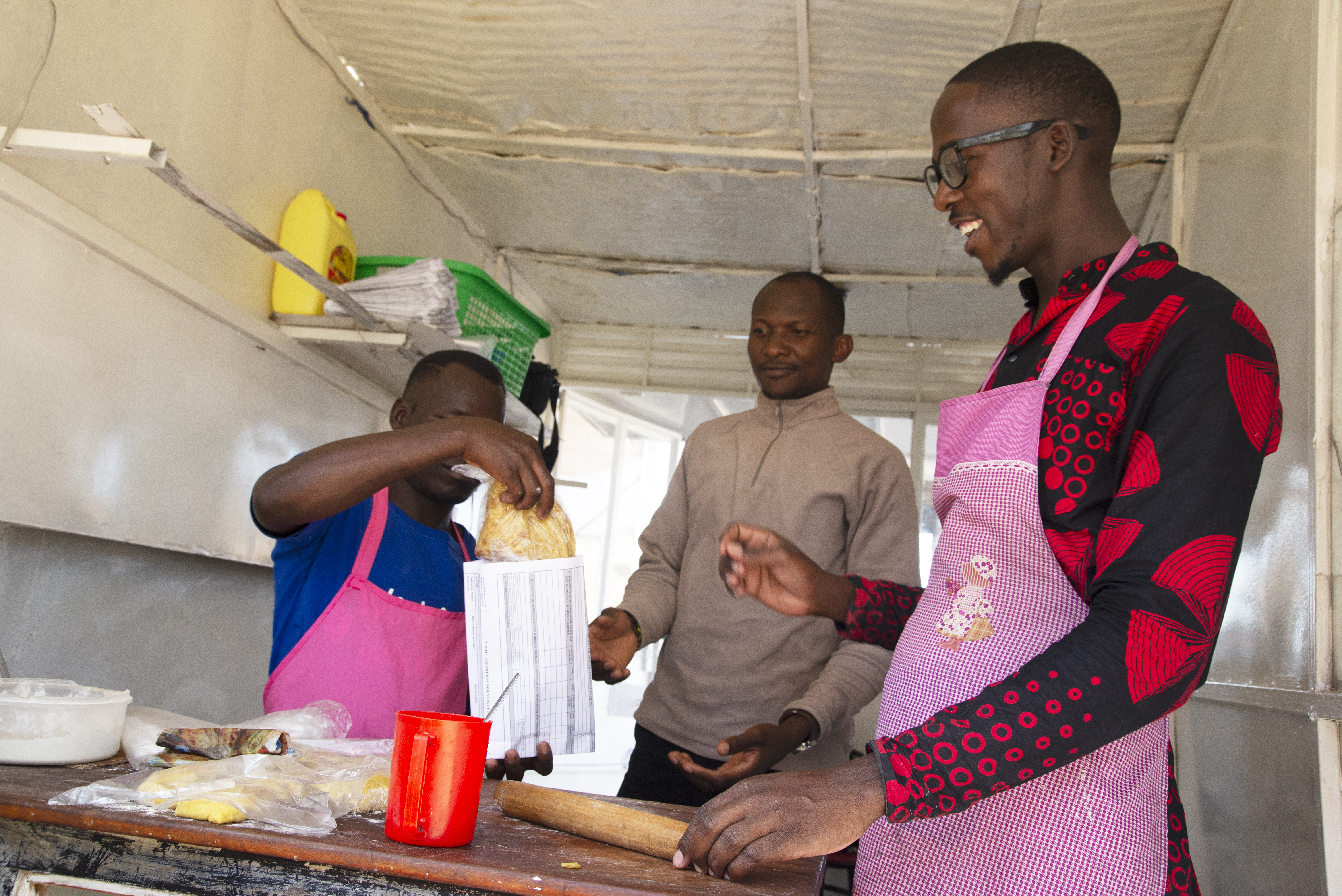 As a child, Jimmy aspired to be a haematologist—a doctor who treats conditions that affect the blood, and the organs that make the blood. "When people are sick or even die, the conversations are always about blood tests. That has always intrigued me and still does even today. So, my childhood dream was to become an expert in blood matters", he says.
But his parents' inability to pay school fees beyond Senior Four meant that Jimmy could not. Had he continued, he would now have been in his final year of medical school. Out of school for three years, Jimmy had to embrace the new reality and adjust to a strange new world, where passions and dreams are suppressed. "When it dawned on me that I wouldn't be continuing with my studies anymore, I stopped dreaming", says Jimmy. "I felt numb, a medic manqué. My mind got clogged and heavy. I wasn't thinking of anything. I just had no idea what was next up for me."
A lack of skills and experience proved a serious challenge and Jimmy found himself in need of a helping hand. "I got stressed", he says. "The mere thought of how my future might turn out gave me migraines during the day and nightmares at night. I lost too much [body] weight in the process as any chance of finding a job without any particular skill and experience was almost impossible."
Taking part in World Vision's skills development and entrepreneurship training was the perfect way for Jimmy to overcome his difficulties. The Australian Aid-funded Urban Programme on Livelihoods and Income Fortification and Socio Civic Transformation (UPLIFT) Project focuses on preparing 5,000 of the most vulnerable young people aged from 16 to 30 in the slums of Kampala to enter the workforce with the practical skills and positive work habits they need to succeed.
The five-year project also offers a course that includes practical and theoretical training in cookery. Jimmy sailed through interviews and enrolled for a three-month catering and baking course at Jimmy Sekasi Institute of Catering. "I think dreams change", he says with a soft smile. "Mine did just after I couldn't go back to school. I chose to study cookery because it's a marketable skill. I hope to use my skills to earn money and help my parents and siblings."
Jimmy says that he was initially apprehensive about the course he had chosen, but that disappeared on the first day of the practical part of the course. "The most difficult part for me was that I didn't know what to expect", he says. "I gained valuable understanding of the course and the new career trajectory during the practical lessons. No doubt, it was one of the best decisions I have ever made. Cooking is my future. Now, all opportunities are open to me. I can go as far as I want; nothing is standing in my way."
Discovering your true skills and abilities and knowing where you shine is the greatest feeling—especially when you doubt yourself. That is what Jimmy experienced, thanks to World Vision's skills development programme that enabled him to discover his passion. "I have no regrets," he says. "It sounds corny, but now I realise I was meant for the catering course and it was meant for me—like people in love, we were meant for each other. I have learned so many things and made a lot of discoveries about what I am best at."
Vouching for hands-on skills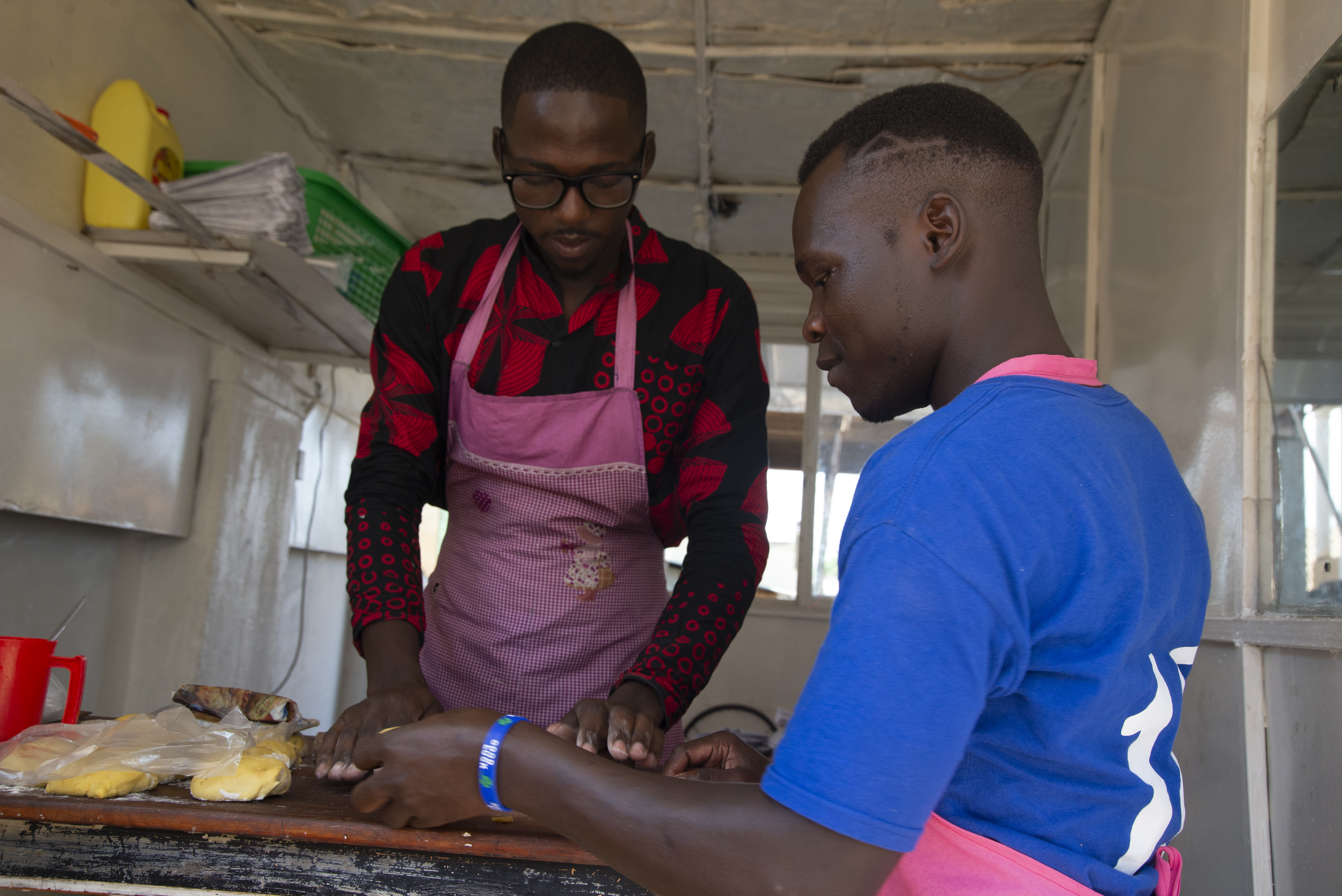 Instead of staying idle, Jimmy now encourages his peers to take up skills training. He recommends culinary art to anyone considering applying to the programme. "I see so many young people, educated and not in my community just sitting at home. Some [of them] join bad groups and start engaging in risky behaviour, wasting away their valuable time and energy", says Jimmy, who, through apprenticeships, has trained several youth to start their own pastry and baking businesses.
UPLIFT Project Manager, Robert Egessa, shares that young people in the area are generally more vulnerable to protection and health risks, including child marriage, unsafe sexual relationships, violence, as well as HIV/AIDS. Skills training, he says, can provide a safe and protective environment, and help these young people manoeuvre through the challenges of life. "Challenges in finding a job can derail young lives before they even get started", says Robert. "With skills training, we put power in the hands of these young people. We equip them with market-relevant skills aimed at uplifting their confidence, independence, and a sense of self-worth."
Jimmy started with smaller orders and slowly climbed to a larger business model. At first, he received orders for simple cookies, buns and cakes. But as his work started to speak for itself, a range of orders for his exquisite services and products started to pour in—from parents who want him to train their children in delicious home-baked pastry and baking to restaurant chefs who consult him on his exclusive recipes, and party planners who booked him for incredible catering services.
The more orders he works on, the more skilled he becomes. The best part is that his pastry and baking products are now selling in major supermarkets in and around Kampala under the brand name 'My Dear Cookies'! With quality being of utmost importance, Jimmy has taken on the challenge to ensure quality that meets international standards. No wonder his business name is Muwavu Food Factory—Muwavu for extra quality delight.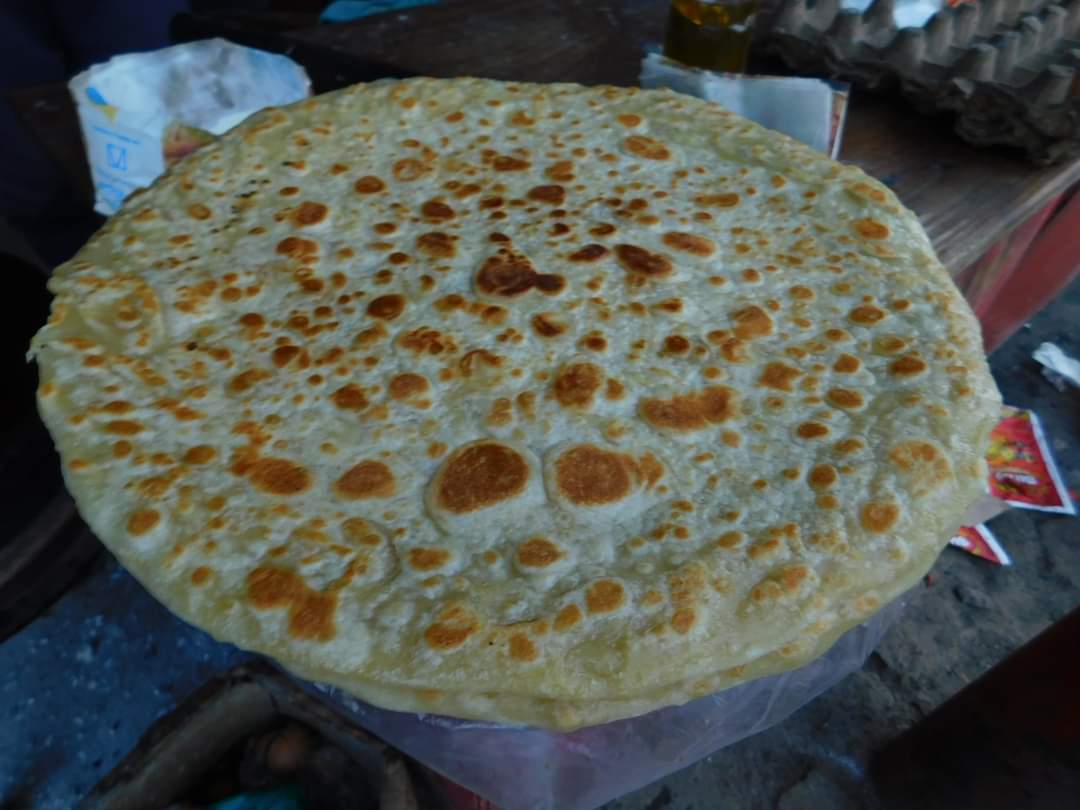 Over time, Jimmy says he has plans to train more youth and open many more catering and baking stalls across Kampala. "These business points will create more opportunities for vulnerable youth to gain skills and employment to sustain themselves", he says.
Next time you are looking for a crunchy or succulent snack for breakfast or evening tea, My Dear Cookies are a perfect deal. And now you know where to get Uganda's most tender, juicy and tasty version of 'Rolex' for munching the next time you find yourself along Salama road—Muwavu Food Factory is the place.
Just ask for Jimmy.
-
Photos & Story: Fred Ouma - Development Communications Coordinator, World Vision, Uganda