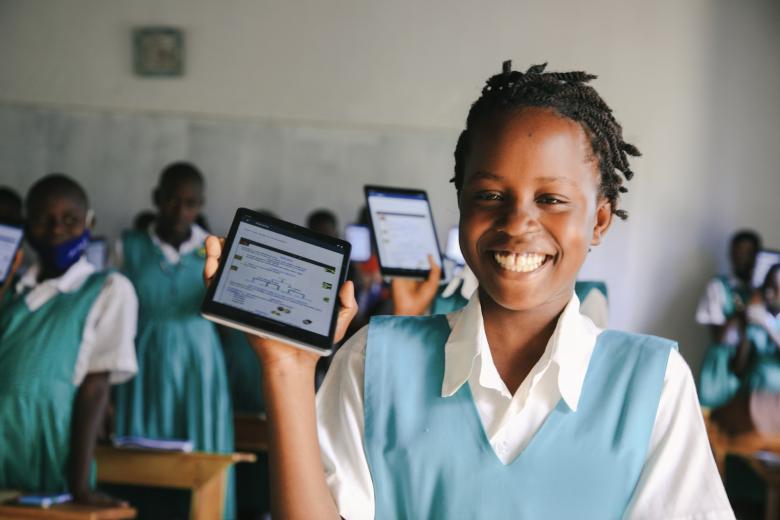 No more chalk dust as pupils embrace digital tablets
Monday, August 2, 2021
'Gong gong gong...'  The school bell, an old tyre rim hung on a low tree branch, goes off in the distance. This signals the beginning of a new lesson. In Primary 6 class, it is time for science.
Tendo, 11, quickly steps out of the class with her best friend Maria Assumpta. They return almost immediately, carrying a big black storage box. Placing the box in front of the class, Tendo slowly opens it, unpacks the contents, and hands each child in the room a small, greyish, rectangular gadget, the size of a small novel. With everyone having a piece in their possession, Tendo rushes back to her desk just in time.
The class is unusually dark, with long pieces of cloth draped over the windows to prevent light. Inside, the rows of desks are full of tiny little beaming faces, all eyes are glued to the blackboard. A projector operated by another teacher beams a square image onto the board. Ibrahim Kyewe, or teacher Ibra as he is fondly known by the pupils, strides into class to begin his session.
Today's lesson is on fruits.
Teacher Ibra pauses occasionally, explaining the different types of fruits. He looks around the classroom, picking pupils at pupils random and asking them questions. This time around, his eyes land on Tendo who is seated at the front desk of the class. "What types of fruits do you know Tendo?", he asks. "Juicy and dry fruits", says Tendo. "Is she correct?", asks Ibra. He gets a resounding "Yes" from the rest of the pupils.
After a few more minutes of instruction, Ibra gives out a short exercise. Quickly, the pupils reach out to the digital tabs on their desks. Tendo picks her tab, keys in her username and a password. Before long, she is redirected to a welcome page and then a set of five objective questions. Tendo's little fingers expertly maneuver over the dimly lit screen, swiping up and down the touchscreen. Shortly afterwards, her index finger taps out the answers. The response is instant, and below the screen is a green indicator with all check marks. Tendo answered all questions correctly!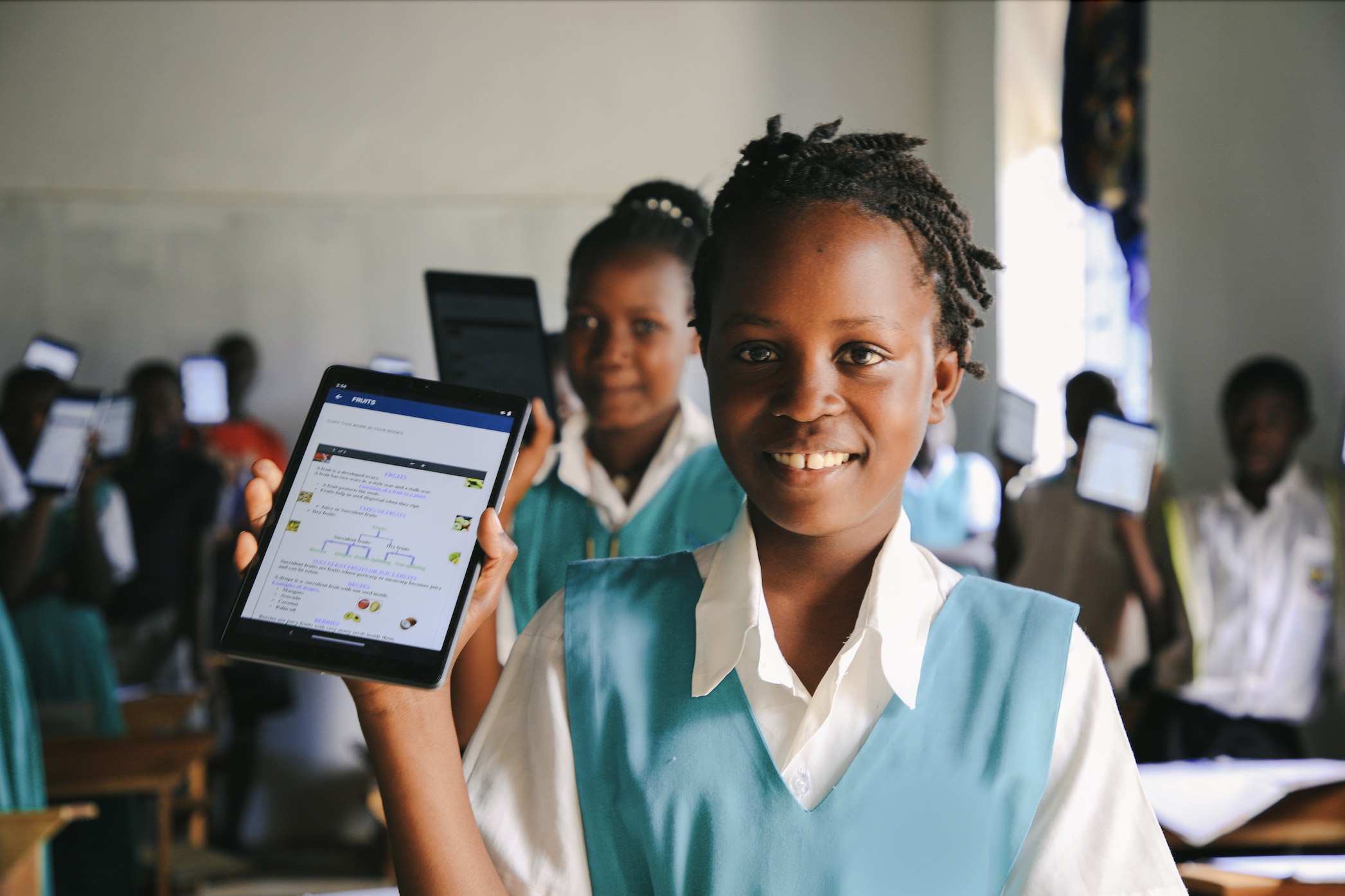 Ibra recalls the challenges that came with planning classes and getting material for lessons. In addition to these, lessons were accompanied by occasional bursts of concentration from pupils. "Many times, children would lose concentration because classes would be long; writing on the blackboard and rubbing was time consuming", says Ibra.
Since it involved a lot of prior preparation, and with the lack of reading material, it became difficult for children to understand. "If you want to show pupils a picture of an animal, it would not be easy to bring it out. But now with the digital tabs, things have been made easier", says Ibra.
Tendo had never encountered a digital tablet in her life before, but it took her two days to learn her way around one. "The moment I saw the tablets, I liked it and got interested", she says. Before the introduction of the digital tabs in her school, classes were boring. "We were not seeing pictures but now we are able to with the tablets. I cannot afford to miss school because of the tablets", says Tendo.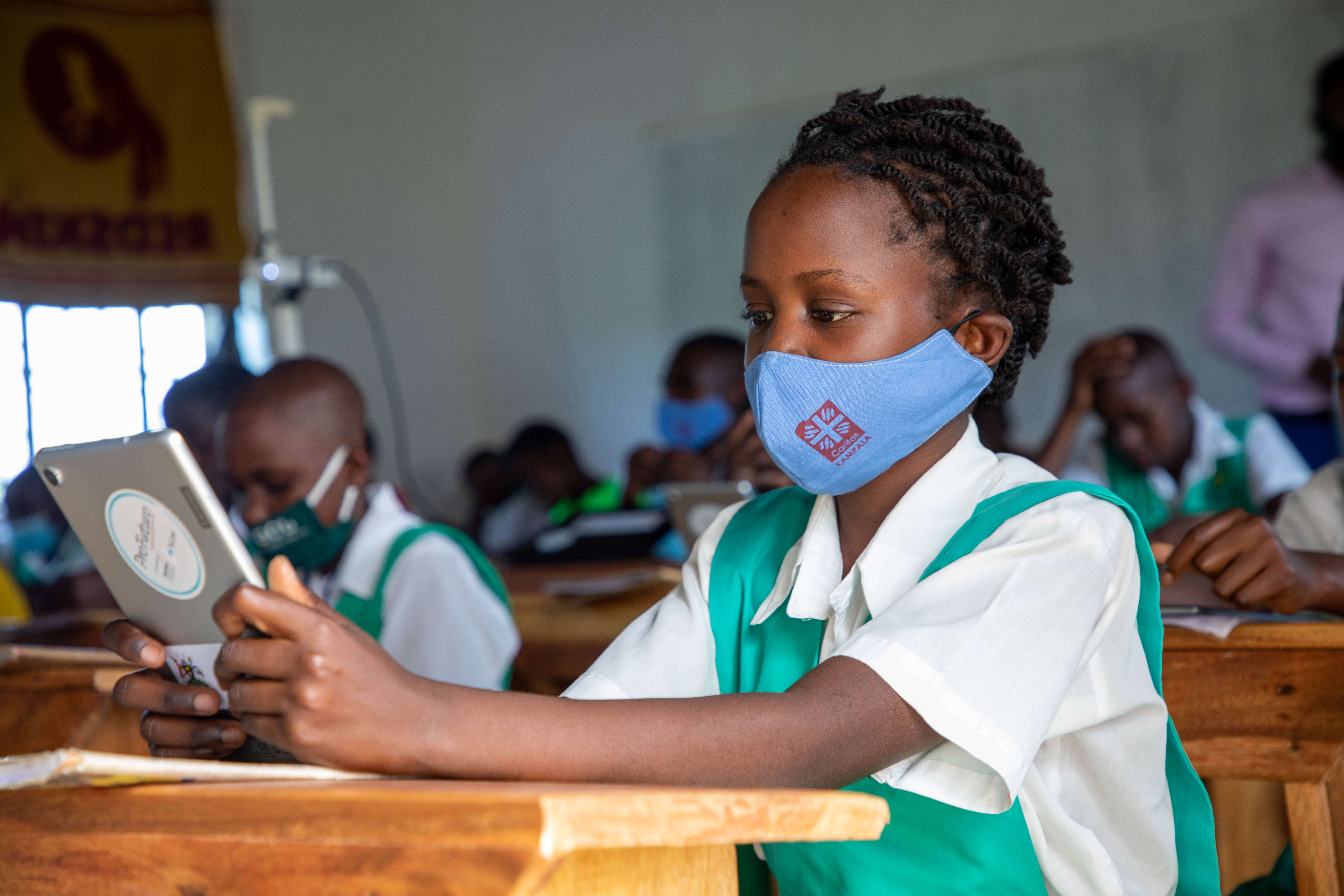 The digital project is an innovation from a global partnership with World Vision in Spain and the Profuturo Foundation through the Profuturo Education Initiative Project, with an aim to increase education opportunities for the most vulnerable children in developing countries. This information and communications technology for education (ICT4E) initiative looks to promote equal opportunities through high quality education for all by using locally deployable digital tools.
In Uganda, the project is being implemented in partnership with the Ministry of Science, Technology and Innovation, Ministry of Education and Sports and the National Curriculum Development Centre. It has been piloted in 30 primary schools selected from the three districts of Nakasongola, Buikwe, and Mpigi; with each district having ten schools.
According to Alexa Nakibuuka, deputy headteacher for academics at the school, World Vision trained two teachers who in turn provided training for the remaining colleagues. "As a school, we have benefitted a lot because we minimised the use of scholastic materials including chalk and charts for drawings", says Alexa.
The school had also experienced increased cases of absenteeism. The introduction of the tabs has injected new life. "Everyone tries to attend classes. Even those that left school have returned having heard of the tabs", Alexa says.
Each box contains 48 tablets, complete with a small projector and a wireless connection, which allows the tabs to connect to a mother laptop that has the information needed by the pupils per lesson. All information, including exercises, is set and uploaded on the laptop, where the work is made visible to the pupils. Sending the work to the pupils across the network does not need an internet connection unless there is need to collect information or research.
Preparation of lessons has also been made easier, and the morale of the teachers is equally high since children are grasping what they are being taught much more easily. "Lessons have become real, because you can have pictures, videos and even experiments that help children understand easier", says Ibra. This has improved teaching and learning processes, simplifying work for the teachers.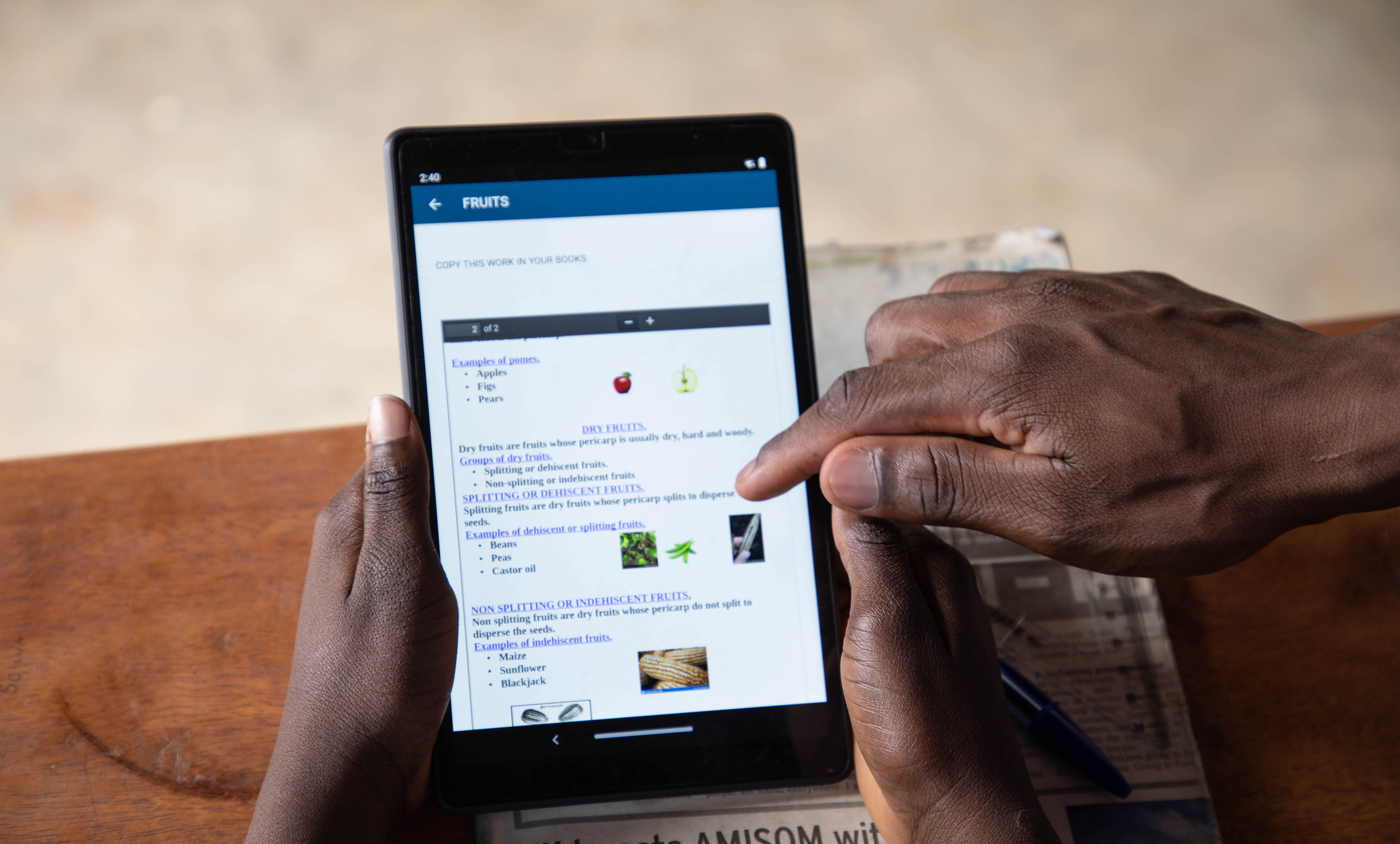 Presently, primary 4, 5 and 6 have their lessons done via the tabs. Altogether, there are 182 pupils in the three classes. Tendo is responsible for the gadgets' distribution, collection, packing and ensuring they are available for the next lesson. She is thankful to World Vision for providing the tablets. However, she is worried that these tabs are not enough for everyone. "I think we should get more boxes for each class", says Tendo.
Teacher Ibra says there are only two boxes for the whole school. "If one class is having lessons, the others have to wait until the class done." After learning with the tabs, children find it difficult to go back to the chalkboards. "Pupils will lose morale", he says.
Tendo is the oldest in her family. She lives with her parents, a brother and a sister. She loves English as a subject and wants to be a doctor like her uncle when she grows up.
"Tabs are easy to use, and I encourage other children to start using tabs because of what they're missing", says Tendo.
The old tyre rim rings again. Shouts of joy spring from different corners around the school. It is lunchtime. Forty minutes have rushed through and the lesson has to come to an end. Time for Tendo to collect the tabs from her classmates and pack them aside until the next class.
---
By Emmanuel A. Okello - Communications Officer, World Vision in Uganda