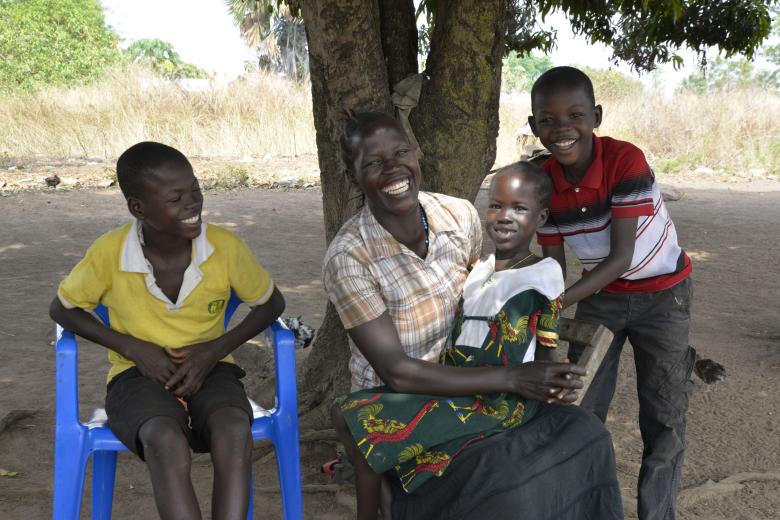 "Our mother has changed and she is now the best mother," says Innocent, 14
Wednesday, April 7, 2021
By: Derrick Kyatuka - Communications Officer, Uganda Refugee Response
Losing her husband at a young age marked the beginning of her ordeal. What used to be a happy family suddenly became miserable. 
There was no longer laughter and joy coming out of her house but rather the loud cries of her children—children crying at the top of their voices, begging for mercy as their mother beat their small bodies indiscriminately. Their mother unleashed all her frustrations on her children every time she was distressed.
"She was always furious over small matters. She beat us without any questions or inquiries of what we were accused of. We lived in fear. Anything could annoy her and she unleashed all the anger on us," says Innocent, 14.
Innocent remembers the day he chose to go and play football with his friends one evening instead of collecting the goats that had spent the day grazing several metres away from his home. "I still dread that day. I was severely beaten that I even lost count of the slaps and canes. I was only 10 years old," says Innocent with teary eyes.
Innocent and his three siblings became victims of their mother's anguish after their father's death in 2018. "Everything at home changed after my dad's death. My mother's behaviour changed. Although I was young, I noticed because we had never seen her act weirdly before," he says.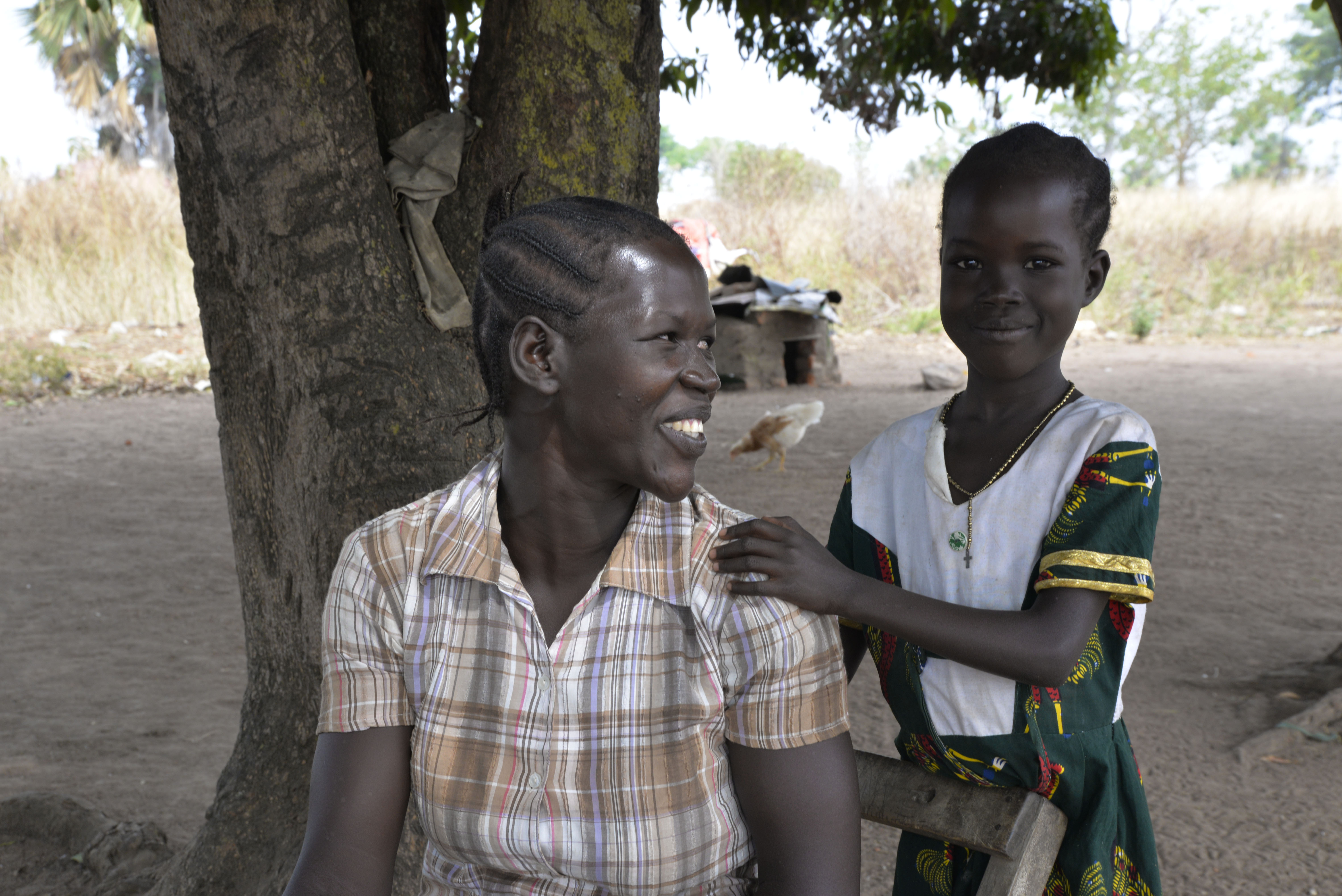 Grace Ajio, 38, Innocent's mother, says that her life changed months after her husband succumbed to Hepatitis B. After his death, she sank into a cocktail of emotions that derailed her psychologically. She felt defenceless as her life had changed in an instant. Bizarre things started happening in her homestead.
"Unknown people attacked my pen and killed the goats. My dog was also killed. A few days later my simsim crop was also stolen. A night later, all my 10 ducks were stolen.  Something that had never happened when my husband was alive," Grace says.
Losing the property that she thought would support her in raising her children as a single mother depressed her even more. It was not long before she started seeking support from her neighbours in form of food to take care of her children. Life started getting hard. 
As the experience upset her, Grace's young children became victims of her anguish.
"I wasn't in my right senses while beating up my children. Oftentimes, I would feel remorseful after beating them. I was feeling a lot of anger in my heart that would overpower me," she says with regret.
Pressure from her in-laws to remarry
After the death of her husband, Grace started getting pressure from her in-laws to remarry. According to her culture, when a husband dies, one of his brothers inherits the widow.
"This is something that I have strongly refused to do to date. We had family discussions but I refused. This affected my relationship with my husband's family and they have since abandoned me and my children. We are on our own," she says, adding: "In case I am to remarry, I want to find a man of my choice. I want a man who will accept to take care of my children as well".
This also added more misery to Grace's already depressed life. She did not like the idea of remarrying in the same family. "Some of the family members however, were on my side and supported my decision because they saw the importance of finding a supportive partner to raise my children with", says Grace.
Grace was in trouble. Her children were suffering. Something had to change.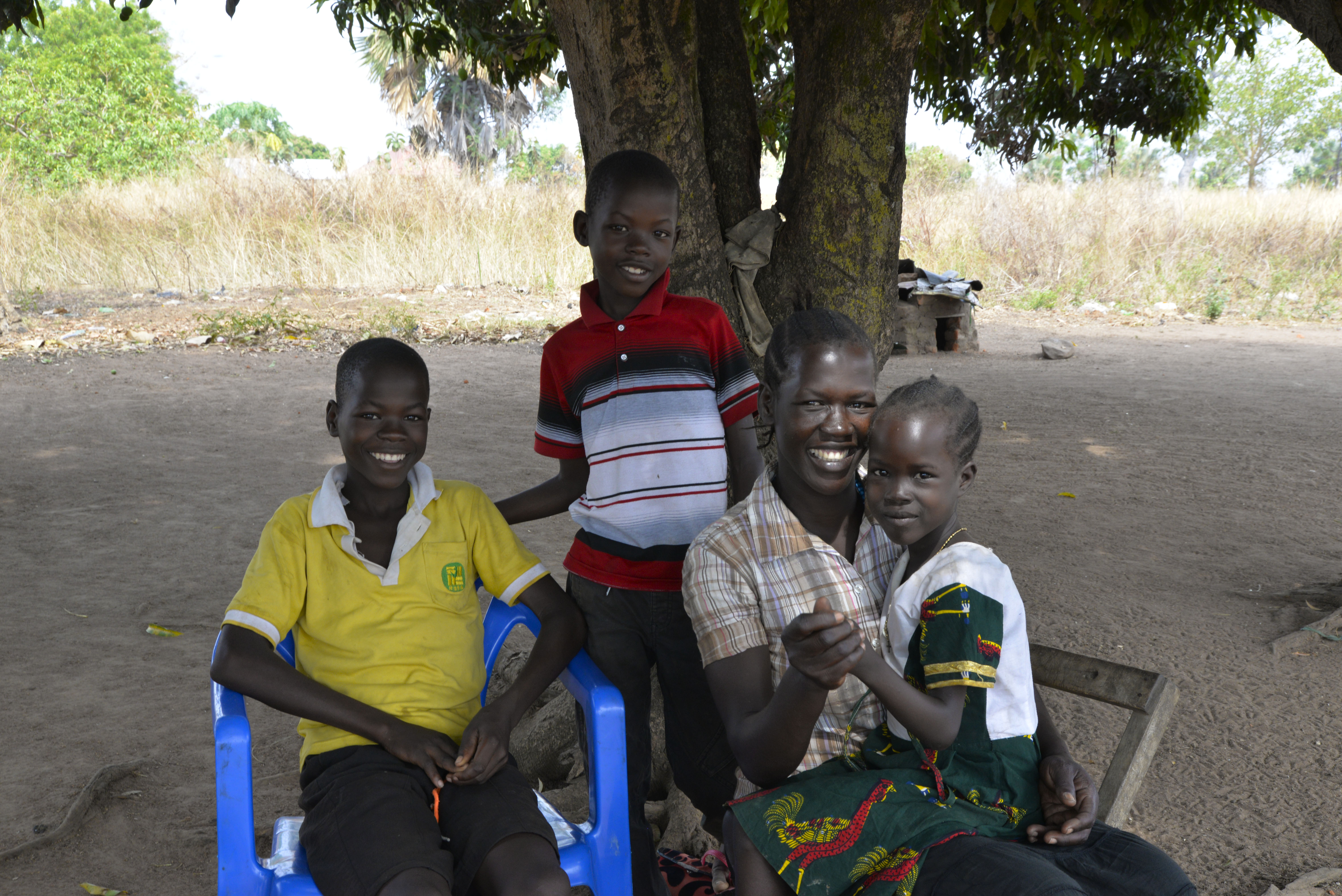 Psychological support
Last year, Grace was enrolled in Problem Management Plus (PM+) programme that focuses on individual psychological help for adults impaired by distress in communities exposed to adversity.
World Vision secured funding from the Korean International Cooperation Agency (KOICA), through the United Nations Development Programme (UNDP), to implement a multi-year project (2019-2022) to improve the economic empowerment of refugees and host community with an emphasis on women and youth.
Under the psychological support component, World Vision aims at supporting people like Grace through their emotional distress.
"By the time I enrolled for the programme, I was a loner. I thought my problems were the most complicated on earth. During the therapy sessions, I met people who shared their testimonies and I realised that I wasn't the only one with problems. Some of their challenges were more complicated than mine," says Grace.
She was engaged in different therapeutic problem management sessions to reduce her anxiety disorders. Weekly supervision visits were also conducted to provide her with the necessary support needed.
"When I started listening to other people's testimonies, I started consoling myself. World Vision staff gave me all the necessary support for my healing journey. I felt my hope had been renewed. I felt empowered and I started to detach myself from my worries. I apologised to my children and we are a happy family again," she says.
World Vision's Gender and Protection Assistant, Judith Akure, says that through the programme, communities realise their ability for self-care, recovery, hope, empowerment and self-responsibility. 
"The programme for now targets direct cash for work beneficiaries from both the host and refugee communities in Adjumani and Lamwo districts but we also look forward to receiving referrals from other agencies that require our support. So far, 122 clients have successfully finished the five sessions of the intervention from both the host and refugee communities," says Judith.
"Clients have learnt to be their own problem managers and they have developed a positive mindset towards life. They know how to stay emotionally sound. The intervention directly targets adults. We believe that if they are emotionally upright then their children live life in all its fullness," she says.
Innocent and his siblings are happy again. Their mother has recovered from her dark past, although she still misses her husband.
"Our mother has changed. She no longer beats us like she used to do. She now talks to us to understand our challenges and she advises us. She is the best mother ever. I love her more," says a beaming Innocent.