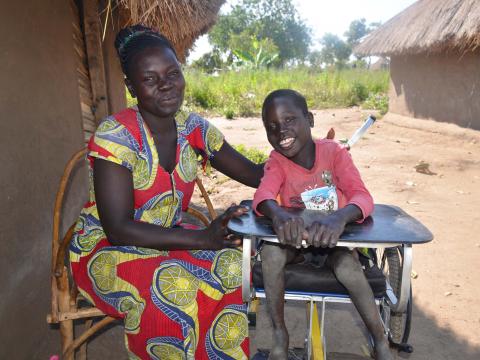 A wheelchair for Harmony: Mobility assistive devices restore hope to children living with disabilities
Wednesday, December 16, 2020
By Mary Njeri and Derrick Kyatuka
November 2019 is a month Betty, a South Sudanese living in Imvepi refugee settlement, will live to remember. That's when she received a wheelchair from World Vision for her seven year old son Harmony, who is unable to walk.
In 2017, Harmony, his older sister, and their mother fled the civil war in South Sudan and became part of hundreds of thousands of refugees living in settlements in Uganda. Betty carried Harmony on her back and trekked a dusty route for days without food or water. "Just like other refugees, life was challenging for me as we trekked long distances fleeing from violence in South Sudan," she says. "However, for my case, the journey was more hectic because I walked while carrying Harmony on my back."
The mother of two noticed Harmony's physical disability when he was two weeks old. She took him to the hospital for treatment but the medication did not relax his stiffened limbs. "The doctors tried hard but the disability persisted. That's when I realised that Harmony was going to live with a disability all his life," she says. "As a mother, I accepted Harmony and loved him dearly. As he grew, I noticed that he also had dyslexia. I started getting advice from people on how to raise him as a child with special needs."
Despite the challenges that come with raising a child living with disability, Betty has taken in two other children who arrived in the country unaccompanied and hence required foster parents. She is single-handedly raising four children and has to engage in a number of activities in the community to provide for them. However, she is not able to go far from her home as she has to keep an eye on Harmony at all times and attend to his needs.
World Vision has directly supported Betty with 10 chicks from the World Vision United States-funded animal Gift Catalog, which she has nurtured to mature egg-laying hens, This in addition to soap and vegetable seeds during the COVID-19 pandemic response.
The integrated support has enabled Betty to get eggs for feeding her children and also start up a small business that enables her to generate some income for her household. She has further acquired a piece of land from the host community landowner, where she grows crops to supplement her food ration. She works for a day each week for the landowner in exchange for the plot they gave her to cultivate.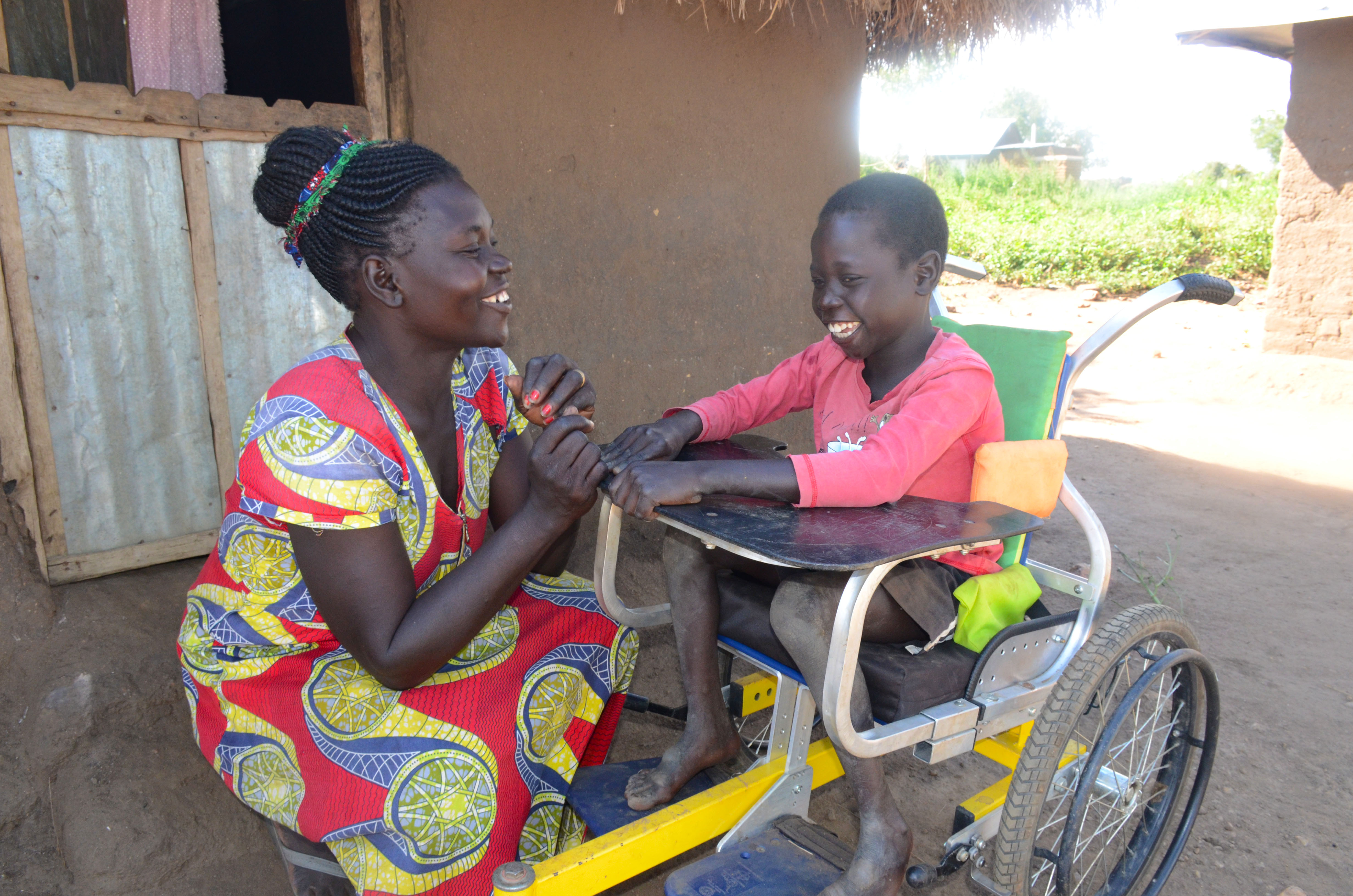 New "legs" for harmony
Last year, with support from World Vision, Harmony was assessed and diagnosed with quadriplegia and supported with an intermediate wheelchair for children. The wheelchair has since been a blessing in his life and has given him a sense of freedom. It has given him new "legs". He no longer has to brave the pain of crawling about in the rocky terrain around his home.
"The wheelchair has been my greatest sigh of relief as a mother," says Betty. "As Harmony grows, he keeps getting heavier to carry and I would never want to endanger him by leaving him at home alone. Getting a wheelchair has made movement very easy for him."
Harmony's greatest joy is being pushed by his friends to the nearby Child Friendly Space (CFS) to play with friends. However, the lockdown that led to the closure of CFSs has limited him to only home-based play.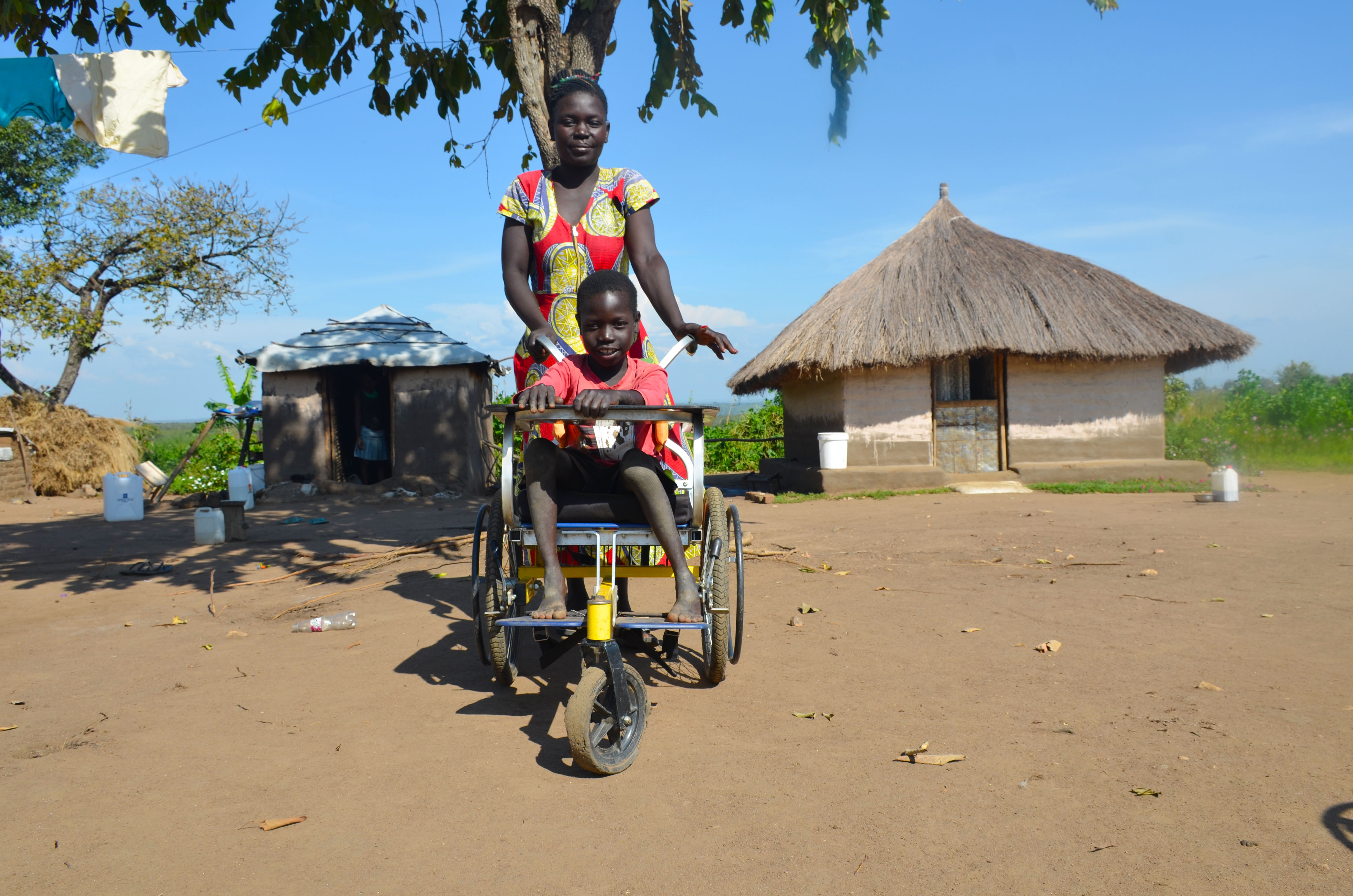 "My son had missed out on playing with his friends for long and my heart is always filled with joy seeing him smile and enjoying every moment when he is with his friends," says Betty. "His speech is gradually improving because of being around other children. Before the lockdown, he liked being at the CFS."
Support to children with disabilities
World Vision's inclusive programming continues to restore hope and relief for children like Harmony and vulnerable families in refugee settlements.
Every child regardless of his or her physical status has the right to freely participate in activities, especially play, like able-bodied children. However, several children with disabilities are often restricted by their conditions. World Vision ensures that children, regardless of their conditions, are inclusively integrated in different programs and supported.
Dilis Alele, a child protection assistant working with World Vision in Imvepi refugee settlement, narrates of a child assessment led by ten orthopaedic specialists was carried out by World Vision in partnership with UNICEF in May last year to provide mobility aids to a total of 24 children who presented various disability conditions. "The assessment aimed at promoting an inclusive and enabling environment for learning and child participation that will result in improved and holistic child wellbeing, including for children with disabilities and impairments; and to refer identified children with disability for further specialised support."
Sixteen of the 24 assessed children were recommended mobility assistive devices of different types, including orthopaedic shoes, elbow crutches, and axillary crutches. Five children were supported with wheelchairs.