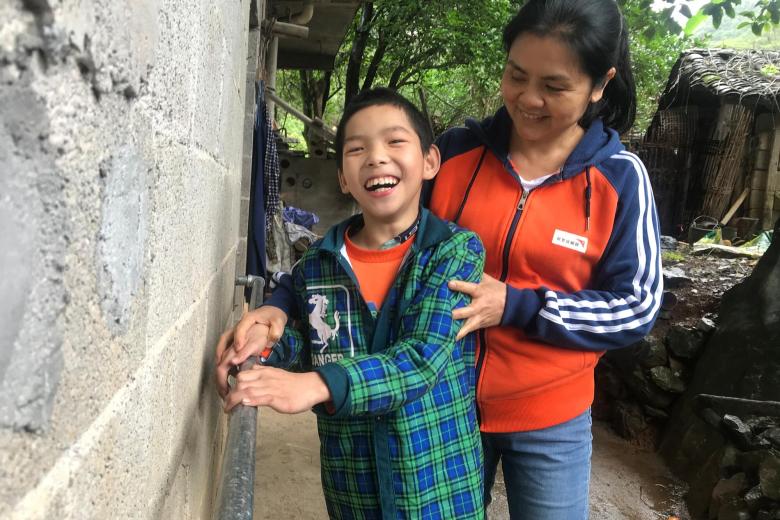 Xiao Ran: Walking towards a wider horizon
Monday, January 23, 2023
"Xiao Ran, would you like to go out and see the world?"  
"Yes, I do!" Xiao Ran responded with a clear voice and his face beaming with joy.  
13-year-old Xiao Ran has lived with cerebral palsy since birth. He needs a wheelchair to move around. Living in a mountainous area, the inconvenience in moving has prevented him from seeing the life beyond his own village. Through World Vision's sponsorship programme, Xiao Ran got a chance to receive rehabilitation and education in the capital city of Guangxi Zhuang Autonomous Region.  
Xiao Ran's father works in another town to support the family and his mother spends most of her time caring for his three younger sisters. Xiao Ran had to depend on his grandparents for daily tasks such as using the toilet, taking a shower, and eating. Over the years, Xiao Ran's wheelchair began to wear out. His grandfather tried to repair it with bamboo, but eventually the repairs became cumbersome and futile. Xiao Ran had to use the strength of his upper body to maneuver his wheelchair, but gradually this began to affect his spine formation.  
To support Xiao Ran, World Vision provided him with a foldable walker and taught him how to use it. This basic physical therapy has helped improve his standing and walking posture, which has made moving around much easier for Xiao Ran. Every day, Xiao Ran's mother conducts postural control therapy to help build up strength in his hip and knee joints. These few interventions have made a huge difference in helping Xiao Ran develop self-reliance.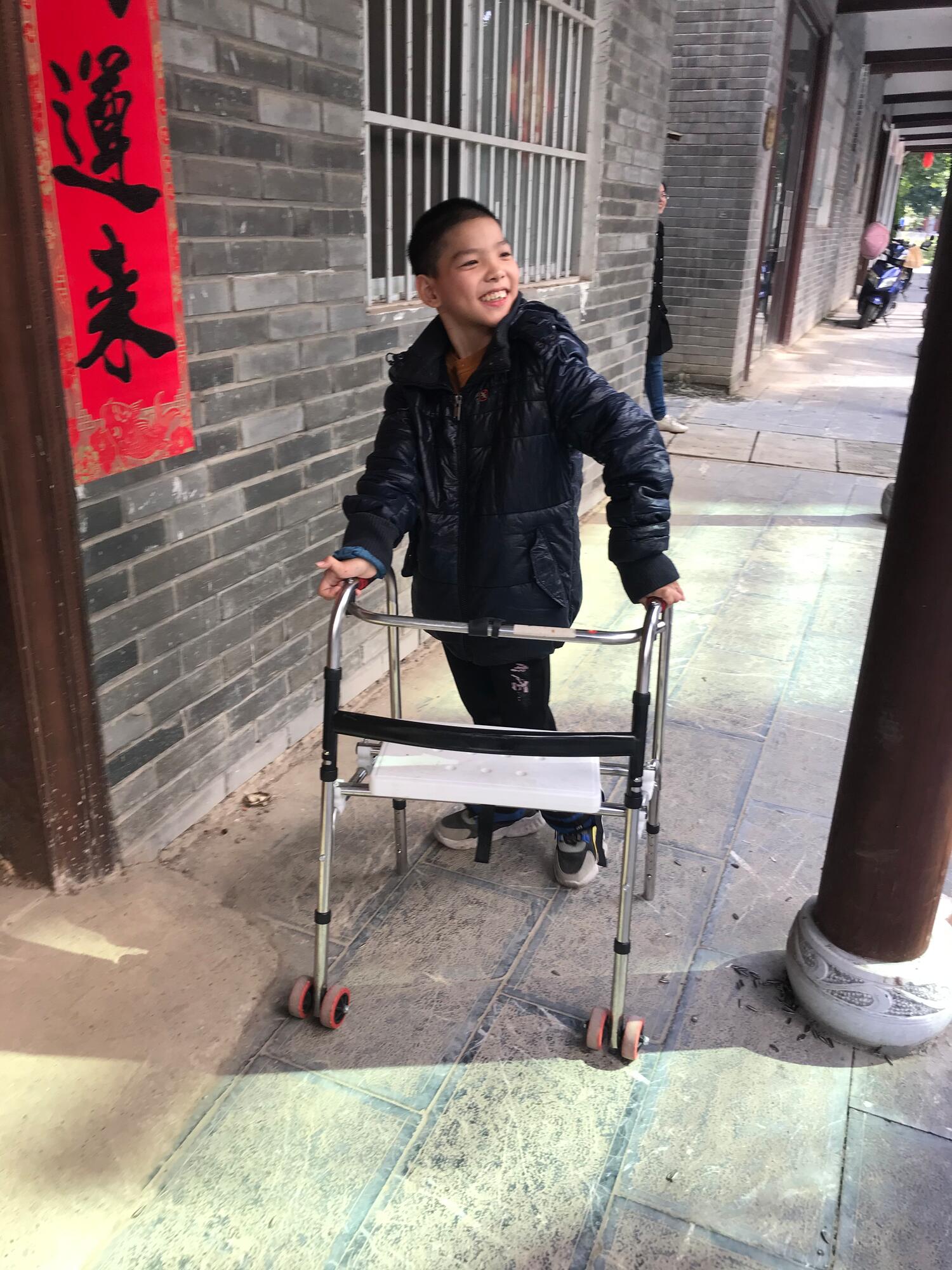 After discussions with Xiao Ran's grandfather, other needs were identified: their house needed a bathroom with handrails, a toilet, water heater and other necessities. With these additions, Xiao Ran is now able to use the toilet and take a bath by himself. Being able to take better care of himself, Xiao Ran has become less dependent on his grandparents for his everyday needs. "The improvement in our living environment has been of tremendous benefit to Xiao Ran, and also to us adults, including his father's uncle who has a visual impairment," says Xiao Ran's grandfather.  
In September 2021, Xiao Ran successfully arrived in the city and received rehabilitation and education in a social service centre which has partnered with World Vision for many years. At the beginning, Xiao Ran did not know how to use stairs, the centre's staff tied sandbags to his legs to help him walk up and down the stairs. He also learned how to use a walker to walk on leveled ground. He learned to count and to identify noodles, eggs, tomatoes, soy sauce, oyster sauce, cooking oil, and other daily necessities. He learned about etiquettes such as wiping his mouth and washing dishes after meals. He also learned to cook noodles after the centre's staff had helped him prepare the ingredients. In addition to daily skill learning, World Vision also supported the centre's staff to take Xiao Ran and other children to the Science Center to experience interesting scientific experiments.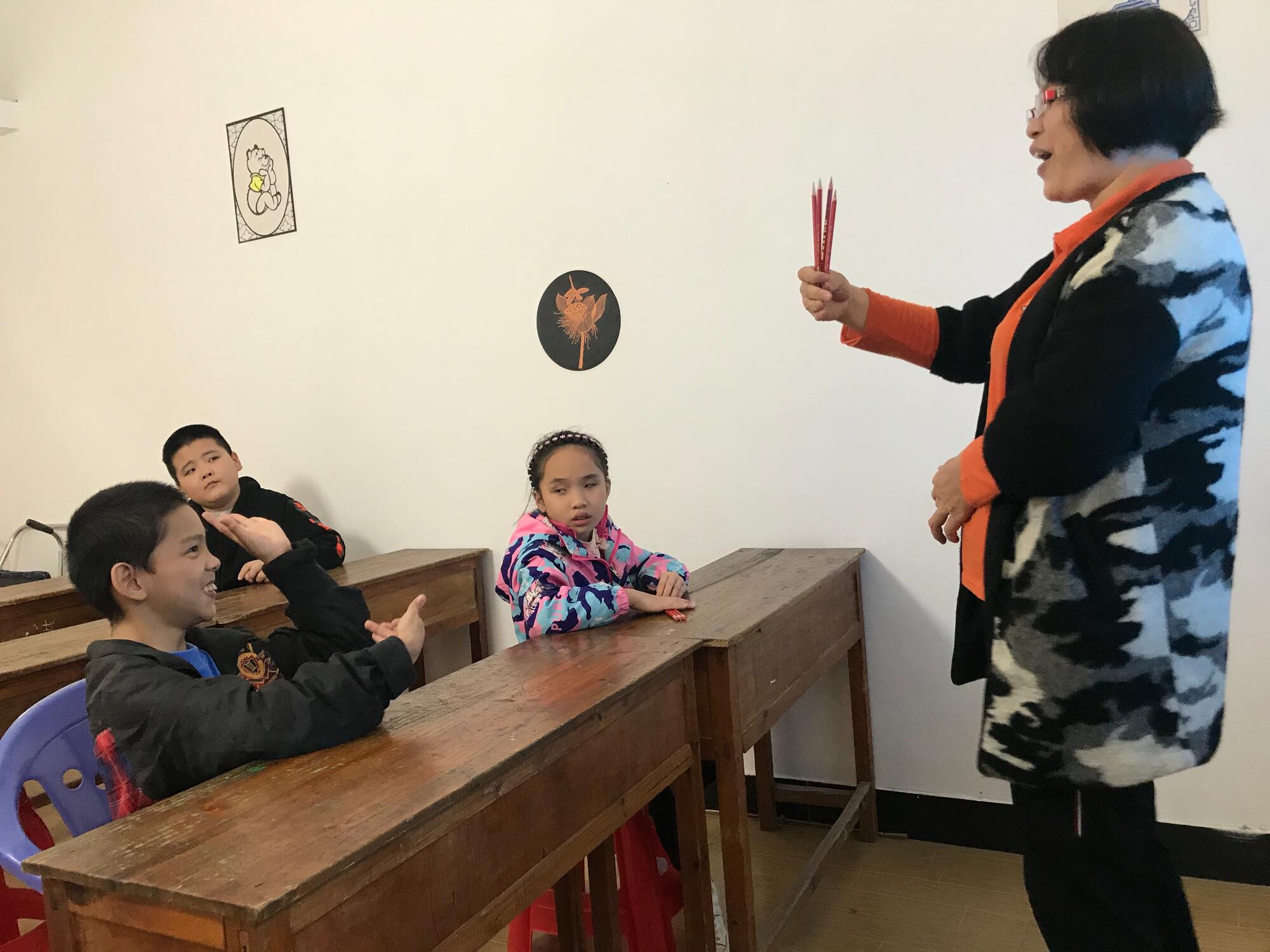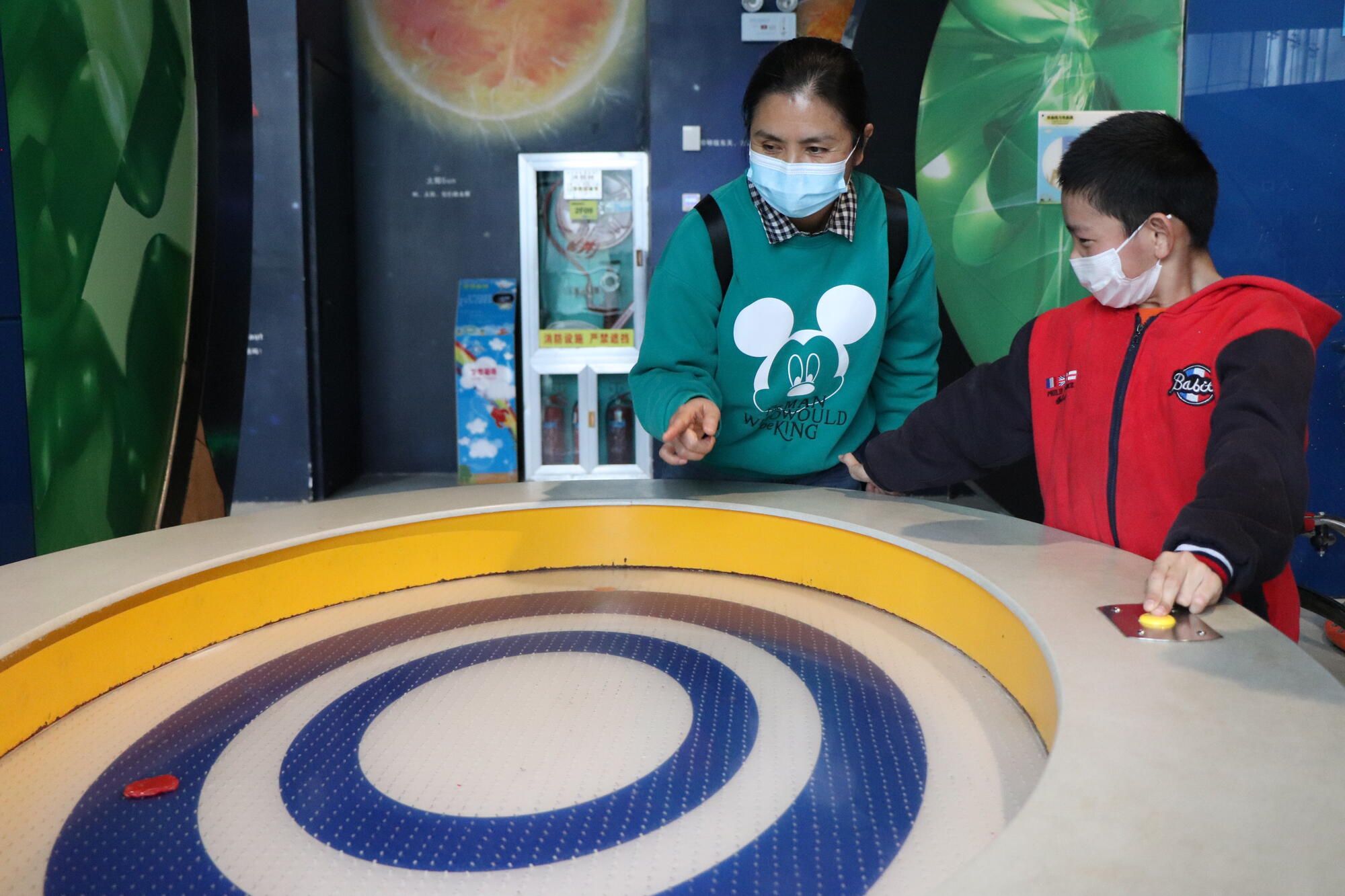 Today, Xiao Ran can walk 30 meters without a walker, and he has made significant improvements in his self-care ability. Thanks to the outing activities launched by the centre, Xiao Ran also increased his knowledge and horizons. The four months of rehabilitation and education training is just the beginning of Xiao Ran's dream to leave his village and see the world.  
Before the Lunar New Year in 2022, Xiao Ran finished his rehabilitation and education training and returned to his community. World Vision and its partner continue to provide rehabilitation guidance services to Xiao Ran and his family and conduct regular quarterly home visits. With these interventions, we have hope that Xiao Ran will be able to walk further and see more wonders of this great, big world.