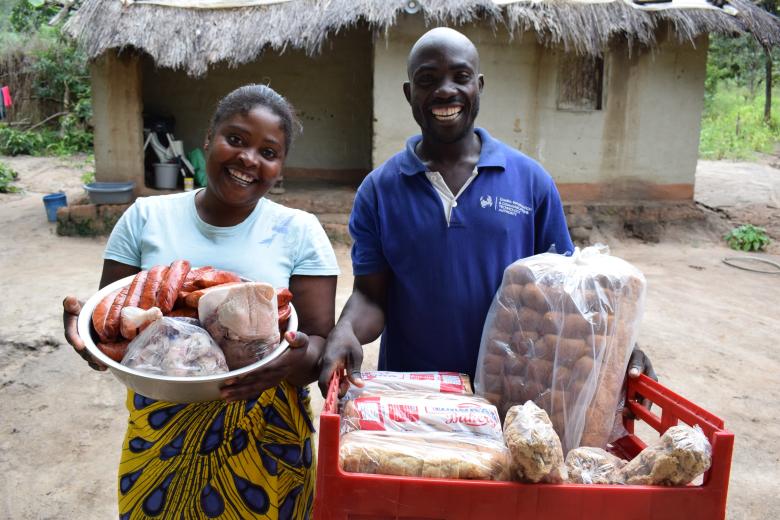 The Breakthrough
Thursday, February 11, 2021
By Mutinta Chiseko, World Vision Donor Liaison Manager, Zambia
After driving for several hours through heavy rain, our truck finally pulled up at our final destination, a rural village called Nyeleti located about 118 kilometres east of Zambia's capital city, Lusaka. The village is along with one of Zambia's major highways called Great East Road that links Zambia to two of her eight neighbouring countries, Malawi and Mozambique. It has a sandy mountainous terrain and scattered mud bricked houses with thatched roofs. Unlike many remote villages, one cannot be in the community for more than five minutes without hearing a bustling sound of cruising vehicles.
Despite being located near a modern road infrastructure, Nyeleti village has until recently lacked one of life's essential necessities, clean and safe water.
"Life was hard and unbearable," says Loveness Phiri, a 29-year-old resident of the village.
Loveness is a mother of three adorable children; two girls and one boy aged between nine years and seven months. She has lived in Nyeleti village with her husband Steven, a peasant farmer since 2012. Though her village has very fertile land that helps over 15 families to survive, life was hardly enjoyable for most inhabitants of the area; especially women and girl children.
"We used to have sleepless nights because we had to wake up as early as 4am every day to walk a long distance for water," she says.
Loveness and the other women in her village would regroup at a central place in their village to walk together because it was dark.
"Our entire village only had one water source; an unprotected hand-dug well. If you woke up late, you would find the water finished and had to wait for hours for it to resurface," she adds.
Fetching water from the well was hard especially when one was expecting.
"We had to kneel down to scoop and fill up 20-litre jerrycans then carry them on our heads up a slope," she explains.
Most of the time, Loveness had to make about three to four round trips to the well in order to have ample water for her family.
"We used to ration and recycle the water. We rarely bathed; when we did, we used 2.5 litres per person and the remainder to wash our clothes.
As if that was not hard enough, the water in the well was turbid and milkish in colour with a muddy stench. They had to set it aside for several hours so that the mud could settle. To make matters worse, they shared the water source with animals like dogs, pigs, cows, ducks and goats.
"Sometimes we would find animal faeces floating on the surface but we had no choice but to remove them and drink the water," Loveness says sadly.
"It was a terrible lifestyle that I don't want to go back to or even think about," says Steven.
 "We drank all sorts of things and were often sick from waterborne diseases like dysentery. In fact one time, a big dog died in the well without us knowing. We continued drinking the water until the dog was rotten and its fur began floating on the water," recalls Steven.
According to him, his wife hardly had time to venture into any productive activity because she spent most of her time hollowing water.
Fortunately, in December 2020, tables turned for the better for Loveness and her community after World Vision through its robust Water Sanitation and Hygiene (WASH) program sank a well in their village.
"It was a joyous moment for us. We sat at the drilling site the whole time the machine was in the ground waiting for the water," she says.
"When the water came out, we could not believe it; we jumped, sang and danced to our favourite songs while beating empty jerrycans.
Even though it has only been a few months since the well was dug, life has tremendously changed for the better for Loveness and her family. The borehole is only a few meters from her home and so she no longer has to walk a long distance for the precious commodity. Loveness and the women of Nyeleti village now live a more dignified life.
"I now sleep longer hours; drink clean water, bath every day and enjoy good health, "she says smilingly.
Access to clean water is now helping the women in Loveness' village to solve the many factors that perpetuate poverty –like nutrition, health and being able to generate income. For instance, in addition to being able to help her husband with farming, Loveness recently started a small business of buying and selling foodstuffs.
"I'm now a businesswoman, thanks to World Vision; our lives will never be the same because of the borehole they have provided for us," she says.