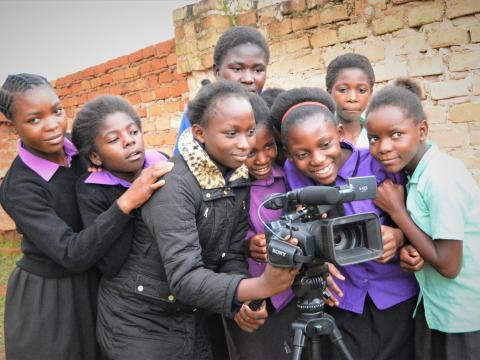 Children pledge to end violation of their rights using journalism
Tuesday, February 4, 2020
By Kambani Phiri, Communications Officer
Children in most rural parts of Zambia are often forced to work in order to survive. Child labour often happens in difficult conditions, which are dangerous and impair the education of the nation's future citizens and increase the vulnerability of their adults.
To end violence against children, the Government through the Zambia News and Information Services (ZANIS) in collaboration with World Vision Zambia conducted a Young Journalism Training for children in Mporokoso district, Northern Province of Zambia. The training was offered with the goal of creating Young Journalists Clubs in order to make children's voices heard on issues that affect their well-being through the media and influence policy formulation and implementation around ending violence against them.
Recently, 20 pupils aged between 10 and 15 years old from Mukanga and Lupungu primary schools attended the training. The young participants expressed happiness with the training and were optimistic about their ability to help transform their community with their newly-acquired skills.
"I am very happy to be part of this training, I learned what a news story is and how to conduct myself as a journalist. I believe this training has given me the skills [I need] to report the challenges that young girls, like myself, go through in and outside the classroom," Mwamba, 12, says.
Another participant; Elijah, 13, added that the training had equipped the participants with skills that will not only help write about what children face in their communities but also assist parents to understand the challenges experienced by children.
"We have a lot problems affecting children in our communities," Elijah says. "Some parents are not informed on children's rights. This makes it difficult for children and often their rights are violated. So this training is very important for us and all the children in the community because we have the opportunity to write about how what is happening affecting children in our schools, households, community and district at large," said Elijah 13.
The pupils from Mukanga and Lupungu Priamry Schools pledged to share the skills they learned by orienting their fellow pupils in their respective schools during the clubs day.
During the training, children learned how to conduct interviews, the elements of news, how to show impact in a story and media law and ethics to give them guidance on how to conduct themselves.
The training was also attended by representatives from the government, the local administration, Liberty radio station proprietors and teachers.
Speaking after the training, Mporokoso District Social Welfare department Juvenile Inspector Mr. Benjamin Kapapula urged the young people to use the skills obtained to protect themselves and other children from child-related abuse.
"I am a delighted person to witness this wonderful training hosted by World Vision to impart knowledge and journalistic skill on our children in the community and for them to be able to write about problems their fellow children are going through in various community settings of our district. We acknowledge the fact that most child-related cases are as a result of ignorance and we are hopeful that this training will help bridge the knowledge gap that our children have and [enable] them to be reporting violations of their rights to the relevant authorities," said Mr. Kapapula.
Additionally, teachers were grateful to both the government representatives and World Vision's staff in Zambia for empowering pupils from their schools.
"This is a rare privilege for our children, especially considering that the district is rural and most of the children have not seen a camera before as a result they are not well informed but this training has given them the knowledge to improve their lives and the community," said Mrs. Lynn Munyimba from Mukanga Primary School.
For his part, Mr. Joseph Kalota from Lupungu Primary School urged the organisers of the training to reach other communities with the same information for the protection and development of children.
During the training the pupils were taught how to handle a camera, recorder and video camera. They also learned how radio stations function after visiting Liberty Radio station. It is expected that through such trainings children can be good messengers about how the violation of their rights affects their well-being and how media participation can enable them to call for change in their own voices and participate in decision-making forums which can enable them to discover their own talents and receive recognition of adults and their peers.