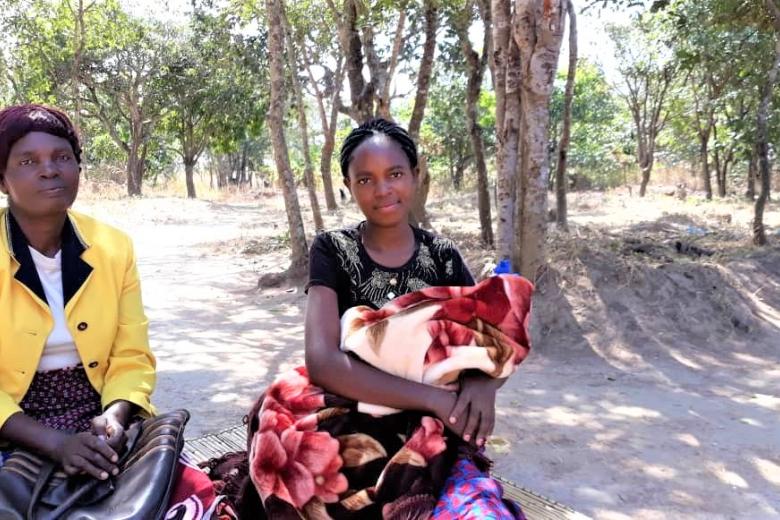 Congregational hope action teams help Mable return to school after pregnancy
Wednesday, September 16, 2020
Children, especially the girl child, are at risk of physical, emotional, and sexual abuse from those close to them. To enhance child protection at the community level, World Vision has partnered with the community through the formation of Congregational Hope Action Teams (CHATs) in Kasama District of Northern Province, Zambia.
Mable, a 19-year-old beneficiary, narrates how the CHATs group helped her: 
"After I fell pregnant, I lost all hope of continuing with school. My dream of becoming a teacher was shattered. Life was not easy for me when I became pregnant at a young age just three months after passing my grade nine examinations, as I became a victim of stigmatisation. Being a fourth born in a family of six, I am the youngest girl child from two girls and four boys. The only thing on my mind was getting married, but when approached by the CHATs members, I was convinced to go back to school after delivery, so I would be better placed to provide a better future for my child and me."
Mable fell pregnant in 2019 just after writing her grade nine examinations and gave birth in March 2020. She is expected to go back to school in 2021.
"Currently, I am staying with my parents, together with my baby. I will continue with school next year in January 2021. I have learned my lesson because I have delayed my academic progress.", she says.
She urged her fellow young people, especially girls, to be determined to achieve their goals.
"I have another chance of realising my dream of becoming a teacher. It is not easy for girls; hence I want to encourage my fellow girls to work hard at school and not engage in illicit activities that will destroy their future" adds Mable. "I want to thank World Vision for supporting the CHATs to ensure that children like myself are protected and given hope in life." 
Mable's mother, Iness, concludes by sharing: "I would have married off my child if it had not been the training I received in Channels of Hope in Child Protection (COH-CP), facilitated by World vision. When the CHAT members heard of this issue, they followed up with my family and started engaging Mable to encourage her to go back to school. After several engagements with the family, Mable finally agreed to go back to school," she says. "To ensure that we achieve our promise, the family agreed to sign the Ministry of Education's commitment form, indicating when the child will go back to school after giving birth."