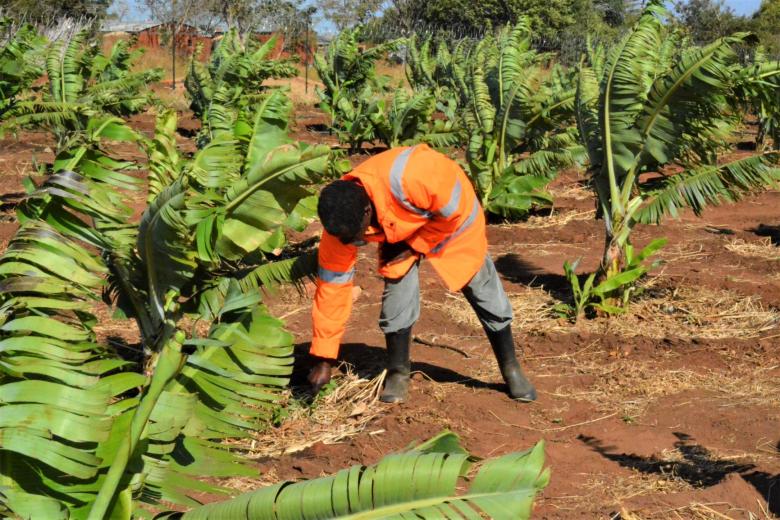 Empowered Worldview inspires traditional leadership to kick poverty out of their Chiefdom
Friday, August 28, 2020
"In the village, people have been empowered by World Vision Zambia; we never thought that we would learn new ways of farming in this village, but now we earn more from the same land we used to earn less from," says Chief Mbang' ombe of the N'cewa. "People in my Chiefdom have had their thinking transformed through the main Empowered Worldview training. This time around, we buy sausage from the village because we are empowered and able to manufacture our own sausages."
World Vision is working with traditional leaders to transform lives of vulnerable communities in Zambia through Farming God's Way (FGW), Empowered Biblical World View (EWV), and Savings for Transformation (S4T) models. Our Transforming Household Resilience In Vulnerable Environments (THRIVE) project is implemented in Mbang' ombe and Kawaza chiefdoms in Eastern Province, Luchembe, and Chikwanda Chiefdoms in Muchinga and Mwamba, Tungati and Chabu chiefdoms in Northern Province.
Chief Mbang' ombe shares that EWV has completely changed his view of farming: 
"I am delighted that my chiefdom is one of the project's beneficiaries; in the past, we only cultivated Maize. Currently, I have planted over 1,000 banana trees, and I have a four hectares of land that I have developed into portions where I am planting different crops such as tomatoes, cabbage, rape, green pepper, eggplants, and green beans. In terms of the market for our products, I am engaging different stakeholders in the nearby district of Sinda to be supporting us by buying products because it is near our chiefdom and farmers will have less challenges transporting the products. I am transformed because I no longer depend on one crop, and I appreciate the knowledge given to us by World Vision. And to ensure that no one is left behind, my indunas [community leaders] and I conduct meetings with community members on the lessons we obtained so that we can grow at the same pace," says Chief Mbang' ombe. "I am leading by example because I see the benefits. As a community, we have been taught to take care of trees and avoid open defecation."
Chief Mbang' ombe further describes EWV as a life-changing intervention that his chiefdom had been lacking.
"The trainings called Empowered World View and Farming God's Way have changed the mindset and how people in this chiefdom perceive farming. We are changed people because we now know to earn more from less. The other beautiful component is that people have learned the importance of savings. Everyone has developed the mindset of making money from their farm produce; something that is helping my chiefdom develop because my people can now build better housing structures and invest in more sustainable ventures like poultry," he says. "This chiefdom will be the food basket of Eastern Province in the next five years because we are already seeing significant growth in the field productions and with the investments we are putting, we should be able to have ten times the current produce in future."
The traditional leader also notes that the interventions have economically empowered women in the chiefdom:
"My community had a big problem because most men were drunkards and women had no means for income-generating activities, but with the coming of the livelihood interventions by World Vision's THRIVE project, women have become economically independent because of the savings that they engage in. The community is indeed transforming. For instance, the women's savings group called Chilimbitso built a primary school out of their own money and named it after their Savings group name. Children in my chiefdom are currently learning in a conducive classroom block because of the initiative taken by the Chilimbitso Savings group."
Chieftainess Kawaza also shares on the impact of the THRIVE project, noting that it helped the chiefdom maintain the forest around the communities in the area.
"We are working World Vision, and through their training and sensitisation sessions, we managed to preserve and maintain our forest. Previously, it was a big challenge. People used to cut trees for charcoal, and there was a lot of open defecation practice in the chiefdom. But with the coming of the project, people are changed and appreciate the trees," she says. "Children in the community can now go to the bush and search for wild fruits from the trees, and during the rainy season, we pick mushrooms from the very trees that people almost depleted."
The Chieftainess concludes by appreciating World Vision for imparting knowledge and changing the negative perception that community members had towards the forest.
"If not for World Vision, all trees in the community could have been cut down for charcoal if not for the interventions from World Vision. I am grateful to World Vision for the wonderful work they have done for and with my people. I can see the change in mindset whenever I go round in the communities. People are now eager to own land, and plant trees and almost all houses have built a latrine. As a chiefdom, we don't condone or tolerate open defecation," she says.
---
By Kambani Phiri - World Vision in Zambia Communications Officer