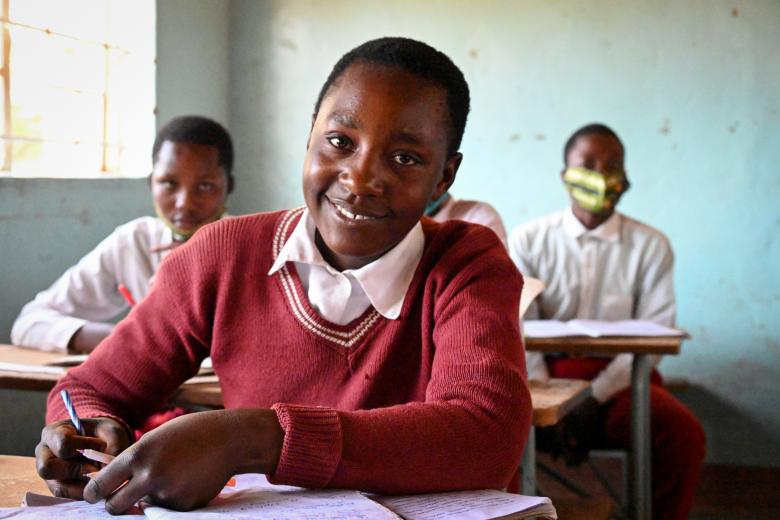 From learning under a tree, to a complete classroom block
Saturday, September 25, 2021
What seemed like a joke for most community members, become a dream come true for 57-year-old Joyce Phiri of Katete District located in Zambia's Eastern Province. Joyce lives in one of the most remote villages of Katete District, called Kwenje.
From years back, Joyce's dream has been to see her community transformed with well-educated children. But due to the lack of infrastructure in schools within her community, children did not have access to education as the only available school in the community was very far from her village.
In 2000, Joyce received adult literacy training from World Vision but unfortunately, she did not have a platform to share her knowledge. "Staying at home and keeping the knowledge I received from World Vision to myself did not give me peace. My dream had always been to see children going to school and have a bright future", she says.
Joyce believes in starting with small steps to witness greater achievements. In 2004, she gathered up her courage and mobilised 20 children to start a class. And since she did not have a place to teach from and materials for the children to use, Joyce secured shade under a tree, and the children used the ground as their book.
"Some parents were not happy and they took their children away from our little class and called me names because they thought I was running mad, but other parents were very understanding and offered support by engaging churches to assist with books and pencils", she narrates.
Seeing the commitment and transformation in children, the community cooperated by putting resources together and erected an open shelter which they handed over to Joyce for her teaching sessions with the children.
"I started with only 20 children, but increased to 100 because parents started seeing the good results and behavioural change in the children", she says. "It was then that we started working together, and the community put up a shelter for the children and me so that we could learn in a better environment."
Through the Citizen Voice and Action (CVA) group in the village, World Vision came to Kwenje village and conducted training sessions on advocacy and governance. With help from the community, building resources were mobilised and a 1x3 classroom block was built.
In 2006, the school started its operations, and enrolled 186 children. The number continues to increase still, and the community saw the need for more classrooms.
"Seeing the school starting to grow made me happy; my wishes were being fulfilled and the children in the community had access to education with the help of community volunteers who sacrificed their time to teach", says Joyce. "We again decided to use the knowledge we received from the CVA training to approach and lobby for more classes from the local government. Our request was heard and a 1x2 classroom block was built."
Joyce still hopes she can complete her education since she dropped out of school while in her seventh grade many years ago. She is also one of the students at Kwenje Primary school, but due to financial constraints, she has put her education on hold to save enough for her daughter's fees who is also in her eighth grade.
Sixteen-year-old Beatrice is a student doing her ninth grade at Kwenje Primary school. With hopes of becoming a nurse when she completes school, Beatrice says she is inspired by Joyce's courage and ambitions to see her community develop and have a school.
"Nine years ago, I started my grade one at this school and I am almost completing. I always wonder what our village would have been without a school and what kind of a child I would have turned out to be. Maybe I would have been married off at a young age and my future would have been blinded", says Beatrice. "But I am inspired by madam Joyce's courage and I am thankful for her efforts to bring development in our village."
As World Vision's Area Programme transitions from the area, Joyce is grateful to the organisation for helping to make her dream come true, saying she will continue to influence the community and run with World Vision's vision.  "This is not the end for me, I still have big dreams and hopes for this community, and by working together, we can change the world", she concludes.