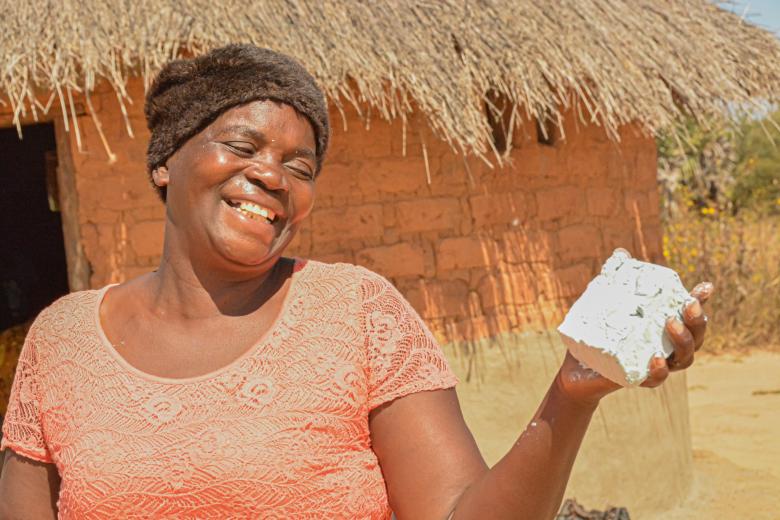 Soap making gives women a voice
Wednesday, February 3, 2021
By Kambani Phiri, World Vision Communications Officer, Zambia
The leader of a women's group in Zambia says that soap making has brightened their lives and marriages.
 "Through soap making, we can cover household needs and support our husbands," says 62-year-old Harriet Nyangu from Chongwe. "Soap has given us a voice that we never had in our household. Women have happier marriages now than before."
Harriet is the chairperson of the Kapululwe soap making group. The group comprises 40 women gaining financial independence through soap making with support from World Vision's Kapululwe Area Programme, near the capital city, Lusaka.
"We all came with different problems; some women would always quarrel with their husbands because they always asked for money," says Harriet. "But when World Vision came in to train us in soap making and savings for transformation, our mentality changed. We realised that we have the power and capacity to improve our own lives. Today, our lives are different; we make our own money from soap sales."
The women's group was trained in the skill, and are provided soap residue materials to make soap. The women were also trained to operate a savings group, in order to have access to finance. They are now involved in village banking.
"We cut the soap bars in different sizes to accommodate everyone; we cut for K2, K5, and K10. In a month, we make about K2000 to K3000 ($100 to $150) because we supply kiosks within the community," says Harriet.
"Through Gifts In Kind (GIK), World Vision Zambia gives women in Chongwe soap residues, which they use to make laundry bar soap. They sell to people in their town because there was no local supplier of soap before them," says Josephine Sinyangwe, World Vision Zambia Development Facilitator.
"They have also received training in literacy, administration, and sales," she says. "By having access to capital through savings groups and resources, these women have gained the confidence to articulate their needs. They now have a strong identity in their community. And, crucially, they have a seat at the table when it comes to decision-making that affects the whole community."
Poverty and hunger have slowly been overcome in many of the women's houses through this World Vision intervention. Some women have started building good housing infrastructures from this business and can now afford to provide for their children's needs at home and school. The 40 women who belong to this group have changed their lives.
Discriminatory traditional customs, and biased attitudes, have long hindered women from economic resources such as land or engaging in meaningful income-generating activities to make a living. In turn, women rely on men for income, leaving them little financial independence or power. That lack of power means women rarely have a say in important household decisions. In some cases, these women are at risk of abuse and disease.
"Life is hard for most women because we depended on our husbands for all needs. For single mothers, the situation is worse because they had no one to depend on." says Harriet. "This situation put our girls at risk; they fall prey to having pregnancies and early marriages."
Having regular two to three meals a day is a luxury that many rural people can hardly manage. This is because poverty levels in Zambia's rural population are among the highest in sub-Saharan Africa. According to the World Bank, More than 58% of the country –16.6 million people– live below the poverty line. The situation is worse in women-headed homes.
Giving back during the time of COVID-19
To cushion the impact of COVID-19 on vulnerable people in the community, the women in Chongwe's Kapululwe area have taken the responsibility to ensure that vulnerable community members are helped. "As a group, we decided to help the people in need in the community with free laundry bar soap for them to use for washing clothes and bathing," Harriet says, and concludes: "We thought of reciprocating what World Vision is doing in the community; they give us free soap residues, so we decided to also help our community by giving the most vulnerable groups."