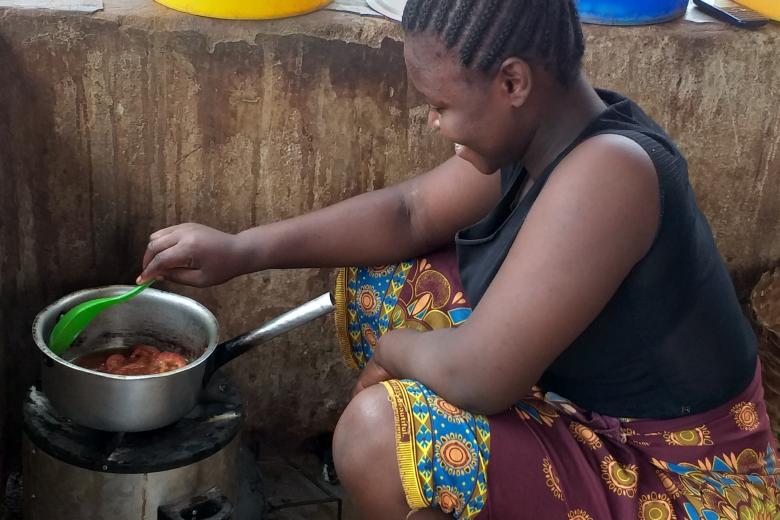 From tree-cutter to forest protector: The case of Justina Tembo
Saturday, May 15, 2021
By Tigana Chileshe - Communications Manager, Zambia
Justina Tembo, 52, a widow who resides in Mawanda village of Mtilizi Ward, knows too well the challenges that came with using firewood as a source of fuel for cooking at home. 
Not only was it destroying the forests around her home, but the act of going to pick wood exposed her and her two children to numerous dangers such as snake bites. 
"Much of the forest I knew has disappeared because of cutting down trees for firewood and making mortar blocks", she narrates. "Most areas in our village are bare like deserts; the more trees that were cut, the further we were forced to go in search of firewood."
This search for firewood meant walking five kilometres on foot and carrying a pile of firewood on her head, which would only last for three days before she would be required to head out again in search for more. 
 "I could spend more than four hours on fetching firewood because the load [bigger logs] were heavy. Sometimes we could find snakes, which was really scary", Justina says. 
Justina was introduced to a local Commercial Producer Group (CPG) introduced by World Vision in her village after she received five goats from a Goat Pass-on Project to help families earn a living from their animals. Through the group, she was later trained on environmental conservation by World Vision in January 2020.  
This new knowledge birthed in her a new conviction: helping protect and recover the forest around her. 
"I was made to realise the impact of our actions on the forests, when we can cut indiscriminately, and how that has an impact on climate change. Which affects the rain pattern and in the end affects our harvest when we have poor rains", she explains.
Justina joined a team of community members to lobby for land to conserve trees using the Farmer Managed Natural Resource (FMNR) model promoted by World Vision.  
The traditional leader in Mawanda village allocated 4.5 hectares of land for tree conservation and protection, as well as regeneration to the group 
"I love trees, and therefore, I could not miss on an undertaking and campaign to stop their exploitation," says Justina.
As part of its ongoing intervention to help people in Nyimba adapt to changing environments through natural resource management, World Vision distributed energy-efficient cookstoves in partnership with Greenway Jumbo. 
Justina was among 1,122 people in Nyimba district to receive the greenway jumbo cookstoves this year. 
The mother of two says the stove cook is a big win for her community because it uses less fuel and produces less smoke, which is good for the environment. 
"Thank you World Vision for the gesture accorded to my family and my community to receive modernised cookstoves which are good for the environment", she says. 
The stove works with twigs as firewood, crop waste, solid biomass or bamboo, dry dung which is plenty in Nyimba. 
"The trees are now protected from being exploited by many because I can fetch the materials to start the fire near my homestead without worrying about snake bites", says Justina with a smile on her face while cooking. 
Eighteen-year-old Mary, Justina's daughter, testifies that "The new stove has reduced the number of times and hours used to fetch firewood by 3 times. I am very happy that cooking is done in good time and I can now allocate more time to my studies, as opposed to fetching firewood as in the past, which was tiring."