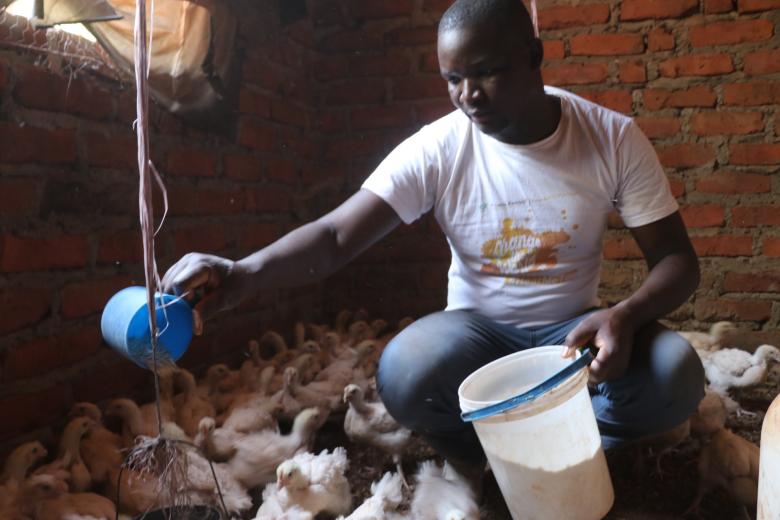 A chicken's cluck is the sound of wealth for Matthews!
Monday, March 1, 2021
By Tigana Chileshe, Communications Manager, Zambia
It is almost 6am on a chilled Monday morning. The sound of wild insects can be faintly heard in the background as Matthews Daka, 28, a poultry farmer, treads carefully, avoiding any of his 400 excited chickens. It's feeding time.
The solar lamps hanging from the roof guide every step he takes as he refills the chicken drinkers and feeders with water and chicken feed. For the past year, three times a day, this has been Matthews' daily routine.
Matthews stays in a four bedroomed house; two of the bedrooms have been turned into a chicken house for the 400 birds. The other two, he sleeps in with his wife and two children.
Matthews and his family are accustomed to the clucking noise the chickens make. He says that the noise is a good reminder of his soon-to-be-realised wealth.
"This is the largest number of chickens I have ever kept since I began keeping broiler chickens for sale. I am really excited! Two more weeks, and they will be ready for the market", he says.
Matthew stays in Ndake village in Nyimba district, Eastern province. Three years ago, Matthews survived only on subsistence farming, barely able to provide for his family. "It was hard for my family; we survived on gardening vegetables, and when the stream we draw water from for our gardens dried up, it was tough to earn a living and provide for the family," he says.
However, his fortune began to change for the better after he was introduced to World Vision programming in the area.
"In 2017, I heard about World Vision; I become interested in what the organisation was doing. I had finished high school, but I could proceed to college because my parents could not afford it," Matthews recounts. "My community then nominated me to be a volunteer, and in February of 2017, I was trained by World Vision to be a literacy facilitator, and I started helping children in my community learn how to read and write through reading camps".
In 2018 Matthews was trained by World Vision to be a livestock assistant for his community under the Goat Pass-on Project. During this time, Matthews also joined a savings group.
"I was given five goats as part of the Goat Pass. The knowledge I got from the training gave me the confidence to do more than gardening," he says. "Between the savings group and the goats that I received, I began to realise that I could do more than just gardening; between my savings, I was able to borrow some money from the savings group, and I started rearing chickens for sale."
In 2019, Matthews bought 150 chicks, which he successfully grew and sold. Two months later, he got 170 birds, In the next cycle, then followed by 200 birds. The business has done so well that in November 2020, he bought 400 chicks, which will be ready for sale in time for Christmas and New Year's.
From the chicken business, Matthews was able to reinvest in farming and his goat rearing. He now has seven goats, after he passed on five goats to another family as required in the Goat Pass-on Project. Matthews uses the chicken and goat manure compost as organic fertiliser in his vegetable gardens and maize field, which has improved his yields. The rest, he sells to people.