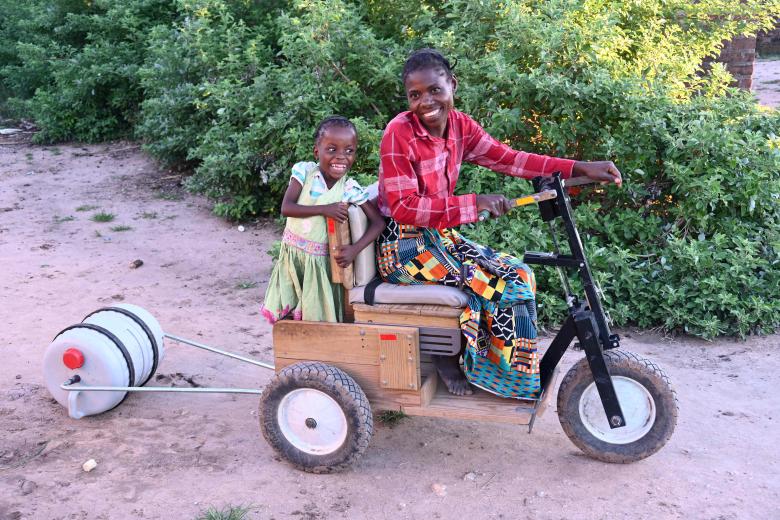 Water and tricycle: Beatrice's door of oppportunities
Thursday, May 11, 2023
33-year-old Beatrice Syambwalula lives in Maiya village of Sinazongwe district in Zambia with her husband and daughter. And she has physical disabilities.
She came to Maiya village in 2007, and it is here that she met her husband, a fisherman, who spends most of his time away fishing on the nearby Lake Kariba. This means that Beatrice is mostly alone at home with her little daughter.
Beatrice struggled with her movements throughout her life as she used to crawl. Having a baby made life even more difficult. She had to crawl to the crocodile-infested lake to fetch unsafe water. On a lucky day, she would get help from neighbours when they were around, but that was towards midday when they finished their work. Even washing her baby's nappies and clothes had to wait for neighbours to help.
But in 2022, life changed for Beatrice when World Vision Zambia gave her a tricycle when she was identified as one the most vulnerable among the marginalised people in her village.
World Vision also put up a borehole in Beatrice's village. She can now move without any difficulties and fetch water on her own. 370 other people in her village also have access to clean and safe drinking water.
"Though l suffered from the time l came here in 2007, my challenges did not last forever. In 2022 we received water, and l was given a tricycle. This time I can move around and draw water whenever l need it. And it is clean water, unlike in the past when we used to share water with pigs, goats, and cows, which made us suffer from diarrhoea diseases", said Beatrice.
She is grateful to World Vision for changing her life
"I thank World Vision and its supporters for giving us clean water.  My daughter and l will now live a good life, and very soon, she will start school", Beatrice said.
Sinazongwe Area Programme Manager, Faustina Samboko, said that before investing in a water project, community engagement meetings are held to identify vulnerable groups and their barriers and later incorporated into the community Water Point Committee where they are allowed to have access to information on water affairs and sanitation.
"Furthermore, their participation capacity in WASH is accorded to them through training in Village Water Sanitation and Hygiene (VWASHE). This equips them to participate and make the decision individually for the community and share their view and challenges faced by marginalised groups. To ensure that no one is left behind, the programme incorporates everyone without segregation on gender, sex, or ethnicity. It ensures that facilities are accessible to vulnerable people, i.e., providing inclusive water, sanitary facilities, and affordable user fees by establishing different water resource mobility.
World Vision has installed Boreholes 398 in Sinazongwe, providing 51,158 people with basic access to clean drinking water. Eighteen water supply systems have been constructed across the APs communities, with 305 tap stands installed across communities benefiting over 18,514 people. And 6,774 people have been reached with access to safely managed water with tap stands.