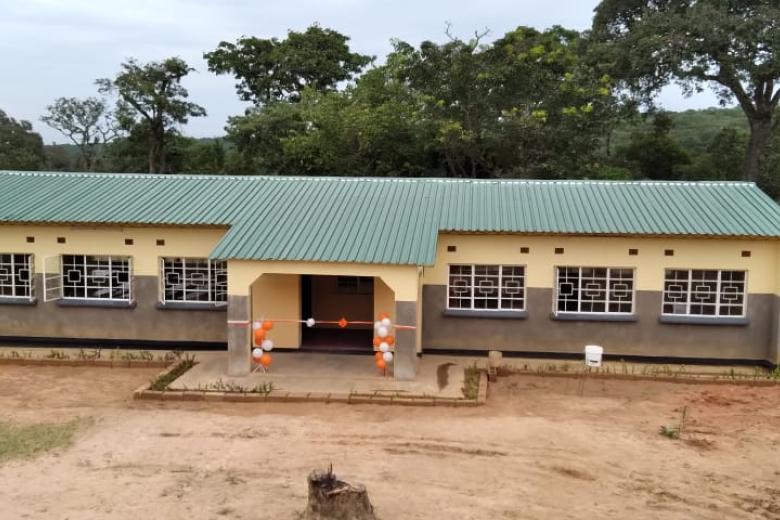 World Vision hands over classroom block and borehole in Kaluba to the Zambian Government
Saturday, March 5, 2022
World Vision's Zambia office, with support from World Vision's Korea office, has handed over a 1x2 classroom block at Kaluba Primary School, and a borehole at Katolo Village in Kaluba Community, to the Government of the Republic of Zambia in Mwinilunga district. 
Speaking at the handover event, Mwinilunga District Commissioner Harrison Kamuna said World Vision has been a key partner in fostering development in the area. "Through its Kaluba Kutona project, World Vision drilled a borehole as part of its WASH (water, sanitation and hygiene) programme, and distributed 200 goats to families through their resilience and livelihoods interventions. Further, the organisation has been raising awareness on children's rights", he said.
"Today, we have gathered here to witness a grand handover of an education facility for the community. We are indeed grateful for your efforts and those of the entire organisation", added the District Commissioner addressing World Vision's Area Programme Manager. "World Vision has been an all-weather friend organisation whom we have seen complementing government in all spheres of life."
Kamuna further urged the community to take care of the infrastructure to stand the test of time. "As for the Kaluba community, we can only show appreciation for this gesture by taking very good care of the facility. I call upon each one of us to ensure the safety of this school by educating others to keep it clean and in good condition, and reporting all forms of vandalism to the relevant authorities", he said. "Any such practices as unauthorised graffitiing, breaking of windows, stealing of fittings and many other vandalism must be reported."
World Vision's Lunga/Mudanyama Cluster Area Programme Manager Allan Magasu noted the importance of the classroom space, especially during this time of the COVID-19 pandemic. "In this era of COVID-19, physical distancing in the classroom is important to ensuring pupils' safety during lessons", he said. "This is why we believe that the 1x2 classroom block comes at the right time because it gives an opportunity to the learners at Kaluba Primary School to learn in a safe and conducive environment."
The Manager further disclosed that World Vision began working area in 2021, with a focus on drilling a borehole at Katolo village, the empowerment of 40 households with five goats each to enhance their livelihoods and resilience, and the construction of a 1x2 classroom block.
"World Vision has furnished the classroom blocks with 60 brand new desks and reading materials for pupils, and we have been conducting short trainings for teachers in literacy at this school in order to ensure that we improve literacy among pupils."
The classroom block, borehole and the goats project cost about K826,700 (US$46,000).