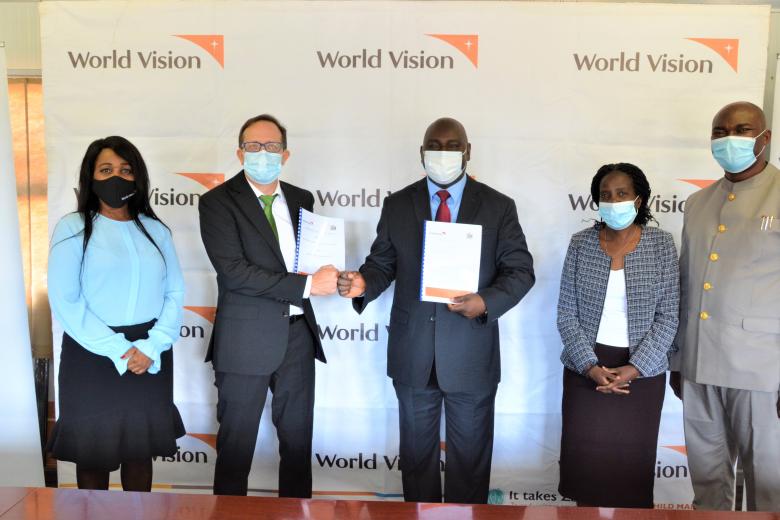 World Vision signs 3-year MoU with Ministry of National Guidance
Saturday, April 10, 2021
By Kambani Phiri - World Vision Communications Specialist, Zambia
World Vision has signed a Memorandum of Understanding (MoU) with the Ministry of National Guidance and Religious Affairs (MNGRA) to provide a framework for World Vision to collaborate with the MNGRA in its efforts to actualise the vision of Zambia as a Christian Nation by inculcating National and Christian Values and Principles (NVP) in every Zambian at every level of society.
This collaboration will accelerate the implementation of Seventh National Development Plans (7NDP) programmes aimed at a conducive governance environment for a diversified and inclusive economy.
Speaking at the signing ceremony held at World Vision's Zambia National Office, the MNGRA Acting Permanent Secretary Mr. Tobias Chomba said the Ministry was delighted to partner with World Vision to promote national values and principles.
"The Government of the Republic of Zambia through this Ministry is proud to be associated with World Vision, whom we must commend for supplementing Government efforts in the promotion of quality education, good health, improved livelihoods, quality access to water and sanitation and now in the promotion of national values and principles. Values and Principles are a critical ingredient to the national development of our country," said Mr. Tobias. "This development can only be achieved once adherence to principles is strictly followed by the people of Zambia. It is, therefore, the duty of all citizens to invest time, resources, and energies to make sure that these principles become a defining feature of our Zambia."
Mr. Chomba further said the Ministry held a number of meetings with other Government line Ministries, private stakeholders, traditional leaders, and the religious body to ensure that no one is left behind in building national values and principles.
World Vision's National Director for Zambia, John Hasse, said that the MoU between the MNGRA and World Vision is testament to World Vision's efforts to ensure that children and their communities live life in its fullness.
"Believing that God works through all people, World Vision collaborates with like-minded people in reaching out to its core mandate of transforming children's lives. Through this MoU, the MNGRA and World Vision will focus on promoting mindset change for social and economic transformation, promote and enhance quality leadership, management practices, and utilisation of natural and public resources and promote inclusive growth and holistic development of human persons from family level up to national level," said Mr. Hasse.
He further noted that the MoU would not only enhance the partnership between World Vision and the MNGRA, but also result in transformed children's lives.