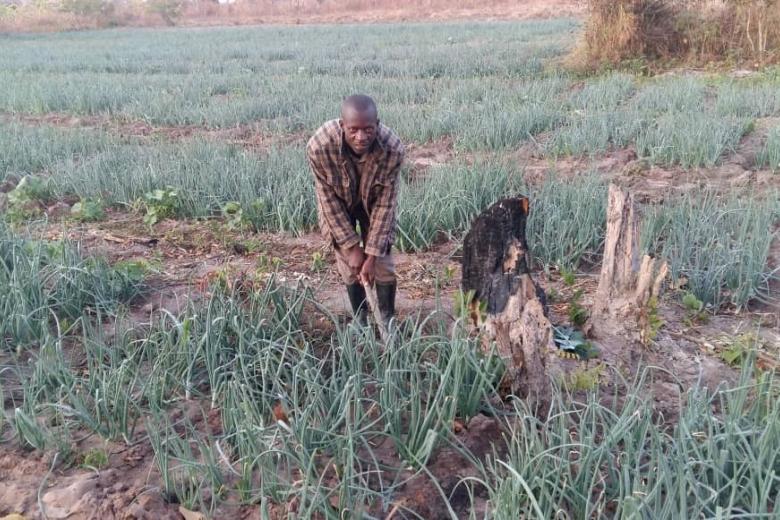 Zambian farmer shares his story of transformation thanks to innovative farming models
Thursday, May 14, 2020
By Leo Mukonka - World Vision in Zambia Development Facilitator for Business and Market Development
"I used to struggle in my farming business. My house was a grass-thatched structure, and I always lived a hand-to-mouth lifestyle as this is how I was brought up in the village and it seemed normal," says Emmanuel Sampa a 43-year-old farmer from Mutemangala village in Twikatane Area Programme (AP) of Mungwi District.
World Vision Zambia continues transforming lives of vulnerable communities through Farming God's Way (FGW), Empowered [Biblical] World View (EWV) and Savings for Transformation (S4T) models.
Emmanuel Sampa, married to Catherine (39) and father to 5 children (2 girls and 3 boys), is a beneficiary of the above-mentioned models. He describes the training as life-changing interventions.
"I learnt about World Vision's livelihood interventions in 2017. Since then, the project staff have been mentoring me in various project interventions," says Mr Sampa. "The knowledge and skills obtained from these three project models have changed my life. The EWV training, for instance, enabled me to realize how much time and opportunities I had wasted on my farmland, in fact, all I used to see were impossibilities."
He further added that FGW and S4T methods helped him increase his household income.
"I joined my first Savings Group in 2017, and later in 2018 I joined another group. I was able to walk away with ZMW 2,500 (USD 250) from the two S4T groups at the last share-out cycle from saving a total of ZMW1050 (USD 105)," says Mr Sampa. "In the 2017/2018 season I stopped using the old way of growing vegetables in ridges. Instead, I doubtfully started implementing the FGW principles and planted a 20m x 30m plot of onion, where I spent ZMW 500 (USD50) on inputs and was able to harvest 10 x 50kg bags of onion. I sold the onion to our local market at ZMW 150 (USD15) per bag, and with these sales, I raised ZMW 1,500 (USD 150); money that a farmer from my village would rarely hold these days. This year, I am expecting to harvest 30 x 50kg bags of onion."
The farmer joyfully explains that he is able to meet his household's needs and pay his children's school fees without difficulty.
"I thank God for the opportunities that came my way. Through World Vision's interventions, my family is no longer suffering. I am able to pay school fees and other related requirements such as books, pencils, pens and uniforms; something which was previously challenging to do. On top of that, I managed to build a house from the savings and farm profits."
World Vision conducted livelihood training for farmers of Mutemangala village in Mungwi district of Northern Province - Zambia, aimed at imparting knowledge and skills to help farmers increase their income.