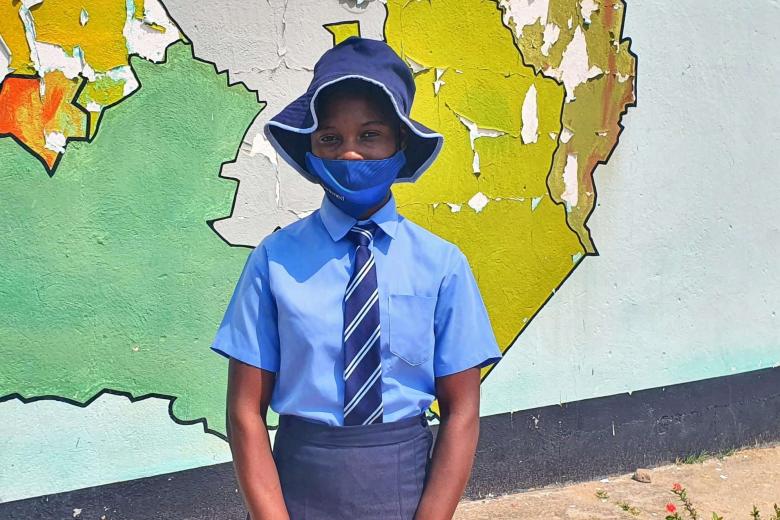 Break the Bias for Adolescent Mothers' Right to Education
Tuesday, March 1, 2022
Janelle says  to "#BreaktheBias " requires gender-transformative programming to increase the confidence and voice of this often socially marginalized group as well as assure platforms for their engagement
By Janelle Zwier, Education Technical Advisor
With schools re-opening around the world the effects of pregnancy related school drop-out is yet to be fully calculated.  Economic strain compounded by pregnancy has been the primary driver of drop out for girls (Brookings, 2021).   World Vision estimated in the Aftershocks report that as many as one million girls were at risk of being blocked from returning to school due to pregnancy in Sub-Saharan Africa. 
While World Vision is working with Right to Education Index research assessing and influencing policy and practice affecting pregnant girls and young mothers' access to education, policies that do not restrict pregnant girls and young mothers are only part of the solution. Beyond the policies, young mothers face multiple barriers in accessing education, so vital to their and their children's futures.
I always had big dreams and they did not include me getting pregnant before finishing school. When it happened, I was so deflated I almost gave up Nakai, 18, IGATE
Practically, young mothers experience a shift in responsibilities, from being a school-girl to being a parent. Gender and social norms often mean the new young mother bears the full responsibility to provide for their child's health and care needs and related to fund the costs involved. Earning to living to fund the cost of raising a child, child care needed to return to school, and having time to care for a child, directly competes with the time and money young mothers need to complete their own education.
Similarly, local attitudes about adolescent mothers returning to school are often out of step with national policies. School leaders and community members may be aware of policies but hold beliefs or attitudes that girls should be 'punished' or that 'allowing' pregnant girls or young mothers in school will somehow encourage more pregnancies in their community ([i]Adolescent Mothers Education Initiative (AMEI) & [ii]Improving Gender Attitudes, Transition and Education (IGATE).
Gender and social norms also show up in 'blaming and shaming' and adolescent mothers often face stigma, discrimination and social isolation. Even where schools may be supportive, pregnant girls and adolescent mothers often face bullying (IGATE).    
Young mothers are often incredibly resilient, yet so much is placed upon them to overcome.  Angel, an 18 year old mother attending school in Zimbabwe says 'it's not easy to be a mother and go to school –we as girls need to fight for our future by going to school and supporting each other' which shows determination but also illustrates the way girls are expected to soldier on their own.  Angel is among a group of peer leaders who are forming wrap-around support to girls returning to school (IGATE).
Many teenage pregnancies are a result of gender based violence and abuse, yet few survivors access meaningful trauma-informed support and services.  In DRC, the Healing in Harmony therapeutic music intervention in the Canadian-funded [iii]EGAL (Equality for Girls' Access to Learning) project provides mental health and psychosocial support to address trauma as a barrier to education.  A 19 year old mother with clinical PTSD and depression, and a child born from rape shares that with the intervention 'I realized I was not responsible for what happened to me…I relieved myself by sharing my story'. She now desires to go back to school yet is unable to due to financial barriers as she is on her own (EGAL, DRC).
Addressing these barriers requires solutions that span the practical supports needed beyond the education sector alone through to the deeper work on harmful social and gender norms.  Policies need to go beyond simply 'allowing' return to school by addressing the supportive conditions required to enable girls to return to and stay in school.  Programs and education systems may need to provide interim alternative non-formal routes to education for young mothers, while the longer term norms, attitudes and supports are being addressed.
Most importantly, to #BreakTheBias Adolescent Mothers and their lived experience and recommendations needs to be heard at all levels.  This requires gender-transformative programming to increase the confidence and voice of this often socially marginalized group as well as assure platforms for their engagement. Listening to adolescent mothers is crucial at a micro-level to tailor individualised solutions to specific barriers, at a mid-level to deliver responsive programming and at a macro level to design as well as monitor effective policy, legislation and practice.  
We urge policy makers and policy implementers to:
Listen to the lived experience of vulnerable adolescent mothers when designing or seeking to implement education, health and social policies.

Consider and provide for practical, social and attitudinal barriers to adolescent mothers receiving an education, so vital to their and their child's well-being and futures.
To find out more, please visit
[i] AMEI - Adolescent Mothers Education Initiative, Led by World Vision UK, funded by Education Out Loud
[ii] IGATE- Improving Gender Attitudes, Transition and Education Outcomes – Girls Education Challenge –Funded by FCDO, Implemented by World Vision in Zimbabwe
[iii] EGAL –Girls Equality for Access to Learning, Led by World Vision Canada and WV Democratic Republic of Congo –funded by Global Affairs Canada
  
Janelle Zwier joined the Technical Services Organisation in January 2022 and is a  Education Technical Advisor. For the last 5 years Janelle has been leading the IGATE Girls Education Programme in Zimbabwe.  She served as the Programme Director, working to deliver results for marginalised girls and boys with a holistic program design, a network of partners, and in a challenging and changing context.