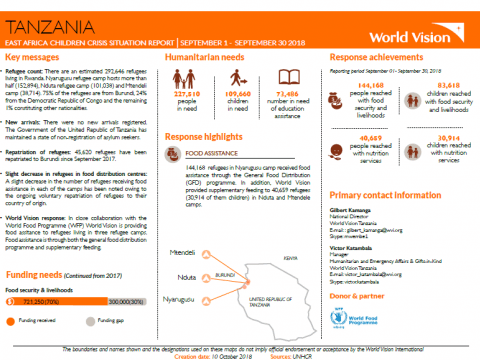 Tanzania - September 2018 Situation Report
Tuesday, October 16, 2018
Refugee count: There are an estimated 292,646 refugees living in Tanzania. Nyarugusu refugee camp hosts more than half (152,894), Nduta refugee camp (101,038) and Mtendeli camp (38,714). 75% of the refugees are from Burundi, 24% from the Democratic Republic of Congo and the remaining 1% constituting other nationalities.
New arrivals: There were no new arrivals registered. The Government of the United Republic of Tanzania has maintained a state of non-registration of asylum seekers.
Repatriation of refugees: 45,620 refugees have been repatriated to Burundi since September 2017.
Slight decrease in refugees in food distribution centres: A slight decrease in the number of refugees receiving food assistance in each of the camps has been noted owing to the ongoing voluntary repatriation of refugees to their country of origin.
World Vision response: In close collaboration with the World Food Programme (WFP) World Vision is providing food assitance to refugees living in three refugee camps. Food assistance is through both the general food distribution programme and supplementary feeding.
For more information, read or download our September 2018 situation report.