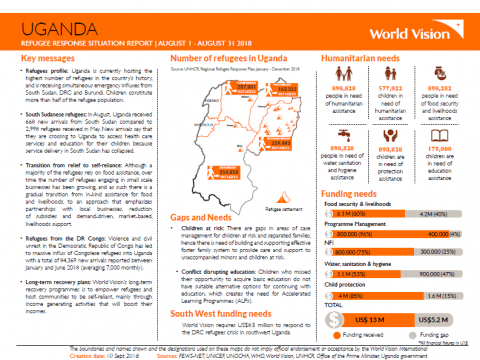 Uganda - August 2018 Situation Report
Wednesday, September 19, 2018
Refugees profile: Uganda is currently hosting the highest number of refugees in the country's history, and is receiving simultaneous emergency influxes from South Sudan, DRC and Burundi. Children constitute more than half of the refugee population.
South Sudanese refugees: In August, Uganda received 668 new arrivals from South Sudan compared to 2,998 refugees received in May. New arrivals say that they are crossing to Uganda to access health care services and education for their children because service delivery in South Sudan has collapsed.
Transition from relief to self-reliance: Although a majority of the refugees rely on food assistance, over time the number of refugees engaging in small scale businesses has been growing, and as such there is a gradual transition from in-kind assistance for food and livelihoods, to an approach that emphasizes partnerships with local businesses, reduction of subsidies and demand-driven, market-based, livelihoods support.
Refugees from the DR Congo: Violence and civil unrest in the Democratic Republic of Congo has led to massive influx of Congolese refugees into Uganda with a total of 84,369 new arrivals reported between January and June 2018 (averaging 7,000 monthly).
Long-term recovery plans: World Vision's long-term recovery programmes is to empower refugees and host communities to be self-reliant, mainly through income generating activities that will boost their incomes. For more information, read or download our August 2018 situation report.