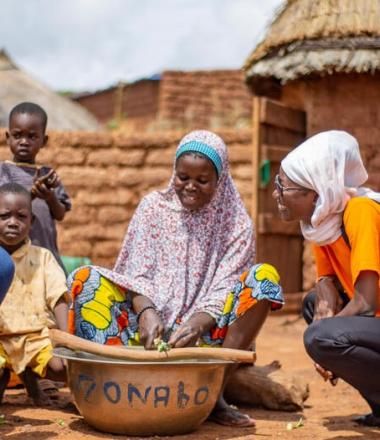 We Train Community Health Workers
Empowering community health workers to support breastfeeding
The Global Strategy for Infant and Young Child Feeding states that "even though it is a natural act, breastfeeding is also a learned behaviour.
Virtually all mothers can breastfeed, provided they have accurate information and support within their families and communities, and from the healthcare system.  
They should also have access to skilled practical help from, for example, trained health workers, lay and peer counsellors as well as certified lactation consultants who can help to build mothers' confidence, improve feeding techniques and prevent or resolve breastfeeding problems."
Two of the key ways World Vision works to do this include training Community Health Workers to support exclusive breastfeeding counselling for pregnant and lactating women and by promoting peer (parent/mother-to-mother) support groups.
World Vision's Baby-Friendly Community Initiative in Kenya, funded by UNICEF in partnership with Ministry of Health and county governments, utilises Mother-to-Mother Support Groups, led by trained Community Health Volunteers. 
Community Health Workers like Millicent are being trained to support women to exclusively breastfeed their babies for the first six months of life as part of World Vision's Irish Aid-funded AIM Health Plus project.  This video features Joseph Musa, AIM Health Plus Project Manager, who says, "We work closely with Community Health Workers and we encourage them to work with the women at the community level where we encourage all women that deliver at health facilities to do exclusive breastfeeding."
Soe Myat Thu learned about breastfeeding through World Vision's GAC-funded ENRICH project . Today, a Lead Mother in a care group programme in her rural community in Myanmar.
Christine learned about overcoming cultural barriers to early and exclusive breastfeeding from a community health worker in her community in Uganda and her twin daughters are thriving. World Vision's Australian-funded Northern Uganda Health and WASH Technical Project (NUREP) has trained and supported more than 300 community health workers locally known as "village doctors." 
Florence joined a Mother Care Group in her community in Eastern Uganda where she learned about the benefits of exclusive breastfeeding from a Lead Mother trained by World Vision's AIM Health Plus project, funded by Irish Aid. Today, she sees the difference in her youngest child and wishes she could rewind history for her older children, who were not exclusively breastfed.