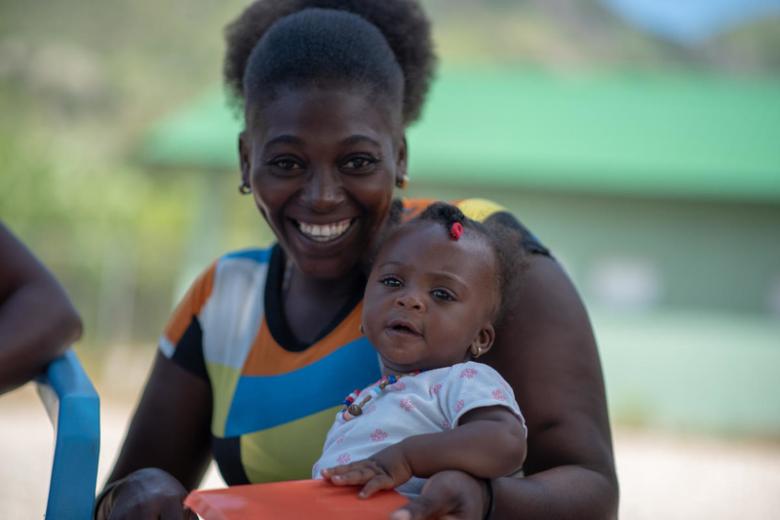 Go Baby Go: Laying a strong foundation for learning in Haiti
Tuesday, February 26, 2019
By Guy Faubert Vital-Herne, World Vision Haiti 
For struggling mothers in rural Haiti, life can seem like a string of unending responsibilities. They are responsible for domestic activities such as cooking, housecleaning and washing clothes by hand. They are also responsible for securing water and firewood, and help with planting and harvesting.
But one of their most underappreciated responsibilities is the care and rearing of their children. Unfortunately, there is not a lot of help and support in the community when it comes to understanding the developmental stages of a young child and how a mom can help a child grow emotionally, cognitively, socially, and physically.
Go Baby Go!
World Vision has implemented an integrated early childhood development programme in Haiti focused on babies' first 1,000 days. The programme, called Go Baby Go, helps mothers and caregivers understand the relationship of health, nutrition, protection and development in the life of the child. It also aims to empower caregivers to provide their babies and toddlers with the nurturing care and services that foster holistic development.
Parents and caregivers participate in 10 or more learning sessions on topics like sensitive and responsive parenting, holistic child development and play and communication. In addition, families receive home-based visits to help reinforce learning through mentorship. Sustainable support networks are also created to ensure that caregivers continue to connect with key community services, receive support and advice, and are able to advocate together for improvement to early childhood development services.
Brizard Minequis, 28, mother of twins, Blawenski and Edwenska Joseph.  (Photo credit: Guy Faubert Vital-Herne / World Vision) 
"I used to be very negligent towards my children," explains Odette Pierre, mother of five children ages 12 months – 16 years. "I would come from the field and without changing my clothes or washing I would start breastfeeding them, while paying no attention to them.
"Now when I come from the field, I change my clothes. I wash my hands before taking care of the baby. If he was playing on the ground, I wash his hands, clean him up. In the past, I wouldn't have acted this way. It's because of those trainings that I have changed."
Learning together and supporting each other
Under the cool shade of a portico in the Nationale School of Pacasse, in the commune of Cerca La Source, Central Plateau, 37 mothers gather to learn how to better take care for their children. In a circle, by themselves or with a small child, these mothers are learning how to maintain a safe environment for their children while they are at home.
Mothers meet in the community called Lacabouille and one of them recaps on what they have learned in a previous session. (Photo credit: Guy Faubert Vital-Herne / World Vision) 
"Many things in the house can endanger our young children," explains Orthela Woodberry, World Vision community agent in charge of the training. "Today we will learn how to identify them and provide a safer environment for the children."
Using images illustrating a situation that could endanger a child, such as a scene in the kitchen showing a knife or a hot stove, mothers are prompted to talk about the situation and share corrective measures. It's also a good opportunity to add their own experiences. They also discuss common causes of danger that children are prone to in the community. One of the topics that mothers reflect on most is what they learned about the different developmental stages of their children.
A participant hold training materials during a Go Baby Go session. (Photo credit: Guy Faubert Vital-Herne / World Vision) 
"Before the programme, I didn't treat my children right," says Paoline Israel, a mother of two children under five years of age. "I used to breastfeed my first child when I wanted, taking care of him when I feel like it, but since I started Go Baby Go I behave differently with my second child. I have changed completely.
"In the past, I would have other children taking care of my child, a spoon could fall to the ground and the child just pick it up and continue feeding him, now that doesn't happen anymore. My children are very clean and healthy.
"Even in the behavior of my child I can see a difference between the two children. The second child shows more cognitive development, intelligence, speech. He is more affectionate."
Jean Michelande, 18, with 1 year old, Saintilmon Franky. (Photo credit: Guy Faubert Vital-Herne / World Vision) 
Wilmene Jacques, adds, "Go Baby Go has taught us to better handle marital conflict and not to involve children in them. We also learned to show more affection and love to our children. By showing them love, we are actually teaching them to love others and be kind to everyone."
Mothers are also learning about playing and communication. They learn the importance of play in the life of the growing child and how to use games to help their children in their cognitive development. These mothers are encouraged to share what they have learned with other mother in their respective communities as mother leaders in order to improve the wellbeing of all the children in the community. According to staff, 500 families benefit from the Go Baby Go training and activities.
Mothers showing their jump roping skills during the session about the importance of games and play in the development of the child. (Photo credit: Guy Faubert Vital-Herne / World Vision) 
"My greatest encouragement working with these mothers and care givers is visiting them and seeing these practices applied in their homes and the families," adds Orthela.
Mariciane Pierre, 28, and Betchalande Timoté, 13 months old. (Photo credit: Guy Faubert Vital-Herne / World Vision) 
Learn more: