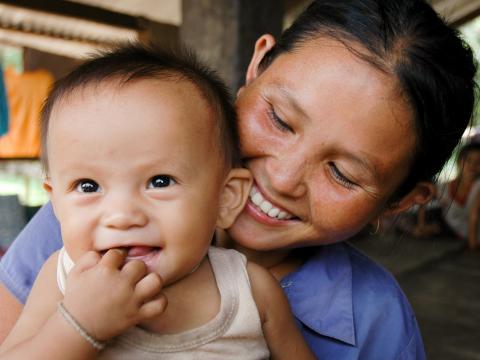 7-11 Health Strategy (2010-2020)
The 7-11 Strategy for Maternal & Child Health  (2010 to 2020)
The 7-11 Strategy, launched in 2010, was designed to rapidly scale up cost-effective and life-saving interventions to achieve the Millennium Development Goals across World Vision Health Programmes. 
World Vision focused on three essential outcomes to improve the health and nutrition of women and children in areas where we work, contributing to the reduction of under-five and maternal mortality: 
Mothers and children are well-nourished.
Mothers and children are protected from infection and disease.
Mothers and children access essential health services.
World Vision is committed to sustainable health by working at household, community and national levels. 
Core Interventions

Our strategy focuses on evidence-based, cost-effective preventive practices that address the primary causes of maternal and child mortality and illness. Our core emphasis is on pregnant women, newborns and children under the age of two because the greatest burden of mortality, illness and undernutrition lies in these groups.  
The 7 Core Interventions for the Mother
Intervention 1: Adequate Diet
Intervention 2: Iron/Folate Supplements and Deworming
Intervention 3: Infectious Disease prevention: Tetanus Toxoid immunisation, prevention of mother-to-child transmission (PMTCT) of HIV and STI, Tuberculosis screening
Intervention 4: Malaria Prevention, Treatment access and Intermittent Preventive Treatment 
Intervention 5: Healthy timing and spacing of pregnancy
Intervention 6: Birth Preparedness (includes preventing postpartum haemorrhage using misoprostol)
Intervention 7: Facilitate Access to Quality Maternal Health Services: antenatal and postnatal care, skilled birth attendance
FAQ's on General Nutrition
The 11 Core Interventions for the Child
Intervention 1: Appropriate Breastfeeding
Intervention 2: Essential Newborn Care (includes Chlorhexidine for umbilical cord care)
Intervention 3: Adequate diet (includes Appropriate Complementary Feeding and Vitamin A Supplementation
Intervention 4: Adequate Iron
Intervention 5: Full Immunisation for Age
Intervention 6: Hand Washing with Soap 
Intervention 7: Oral Rehydration Therapy(ORT)/Zinc
Intervention 8: Prevention and Care Seeking for Malaria and Prevention and Care Seeking for Acute Respiratory Infection
Intervention 9: Prevention and Care Seeking for Acute malnutrition
Intervention 10: Prevention and Care Seeking for Paediatric HIV (includes ARV and co-trimoxazole prophylaxis) 
Intervention 11: De-Worming (+12 Months)
Other: Birth Registration
Supporting Mothers in the First 1,000 Days
 
Tools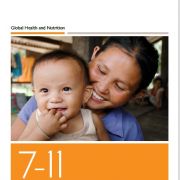 For a comprehensive look at our strategy and implementation, please read more in our 7-11 Start-up Field Guide.
Download our TTC Project Model Brief 
Contact
For more information on World Vision's Health Strategy, please feel free to contact: health@wvi.org