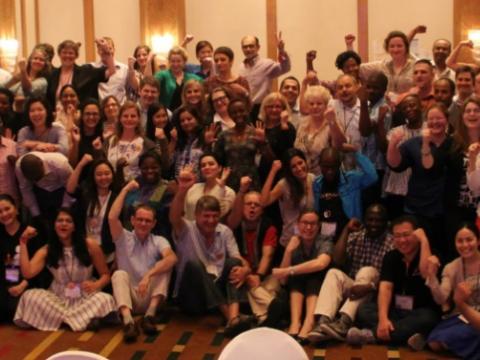 Global Health Community of Practice Webinars
World Vision's Global Health, Nutrition and HIV Community of Practice is a group of people, who share a common interest - Healthy Children For A Healthy World!  The World Vision Global Health CoP Began in 2008 and has over 2500 members from across the globe.  
Download the latest CoP Newsletter HERE.
Join us!  Learn with us!  As a member of the World Vision Global Health, Nutrition and HIV Community of Practice, you will have access to new resources and tools from World Vision's health programming, webinar invitations to speak with Champions for Child Health across the globe, and an avenue to share what YOU are doing in the field of Global Health.
Next Webinar: Researcher In Residence Webex: Intro to Developmental Evaluation & Application in WV Programs
DATE: 13 MARCH 2019
TIME: 09:00 EST
Registration LINK (It's FREE and will take 2 minutes!): https://goo.gl/forms/f55P1Ea0rmR4jWbp1
World Vision Canada has started a programme called Researchers-In-Residence where experts from across the globe are brought in to enrich our programming and inspire new ideas.  While usually done as a face-to-face lunch-n-learn, this month, we invite you to a VIRTUAL Researchers-In-Residence via the Global Health Community of Practice platform.  Our expert  for the month is Dr. Ashwin Budden on the topic of Developmental Evaluation.  Developmental Evaluation is an emerging approach to evaluation that is well suited to social innovation, and is gaining the attention of funders, non-profit organizations and evaluators who are engaged in developing and testing new solutions to complex and persistent challenges in unpredictable environments and changing programmatic contexts. 
Mark your calendars to attend this March 13 Webinar Discussion! 
Would you like to receive these invitations via email?
Links to Previous Webex Sessions:
Nutrition LINKS - an integrated agriculture-nutritio intervention improved young children's diet and growth in a randomized trial in rural Ghana
Ending Cholera: A Global Roadmap to 2030
Operations research in Ghana and Kenya on the effectiveness of World Vision's Channels of Hope methodology in tackling the sensitive topic of reproductive health and family planning
Operational Factors For Integrating Nutrition In Agriculture/Livlihoods Programmes
Responding to Children and Adolescents Who Have Been Sexually Abused 
Building Brains - Building Futures.  Why Early Moments Matter (Early Childhood Development and Nurturing Care)
Spotlight on Adolescent Girl HIV Programming
COMMS For Community Capacity In MNCH

ENRICH - The Enhancing Nutrition Services to Improve Maternal and Child Health in Africa and Asia 
Mother-Led MUAC Porgrammes in Niger and Mauritania
Lessons Learned Reflection on Sierra Leone's 1-Year Ebola-Free Anniversary
Health and Nutrition in Emergencies Framework
Implementation Quality Assurance - IQA Checklists
HIV and Adolescents - a World AIDS Day Discussion

Access - Infant and Maternal Health Programme Evaluation
MOMENT: Mobilizing for Maternal and Neonatal Health Through Birth Spacing and Advocacy
Global Handwashing Day: How the science of habit can enhance behaviour change efforts
Child Health and Nutrition Impact Study: Anatomy of an Endline Evaluation Webinar Recording
Go Baby Go - Early Childhood Development for Ages 0-3 in Haiti and Armenia
Beneficiary Feedback Mechanisms - Listening and Responding To Those Who Matter Most
17 Cases and Counting: CORE Group Polio Project Secretariat Model and India Implementation
BabyWASH Programmes and Coalition
Supporting Community Committees - Progress Report and Training Guides
Trailblazing Leadership in CHW Programme Scale-Up
Zika Virus Response - Latin America and the Caribbean Region
Spiritual Themes and Challenges in Global Health (9 March 2016)
Expanding global impact through Community Health Workers: progress and challenges in counting CHWs
World Vision's Adolescent Health Programming Landscape


Infant Young Child Feeding in Emergencies Webinar

Sports4Development:  Kicking Your Way to Success!
Ebola Response in Sierra Leone:  WV Experience
 Growth Monitoring and Feeding Considerations in Children With Disabilities
Pediatric HIV:  The New Frontier
Working With Faith Communities For Social Change/ Community Systems Strengthening- Does it Work? What are the Key Learnings? How Do You Measure It?
Opportunities For Integrating Health, Nutrition, and Psychosocial Care