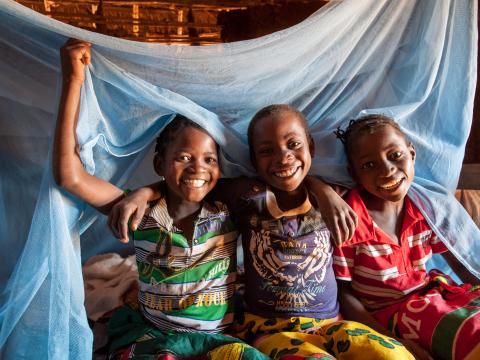 Malaria Programming
Though eliminated in some parts of the world decades ago, malaria remains a significant public health problem threatening half the world's population, with 409,00 deaths in 2019 (WHO). The availability of simple, cost-effective interventions to prevent and treat the disease, including long-lasting insecticidal nets (LLINs), has led to a 60 percent decrease in malaria mortality rates since 2000, but progress in recent years has stalled, with the number of cases worldwide remained virtually unchanged at 229 million over each of the past four years.
Malaria disproportionately affects the poor and most marginalized communities as they are high risk and have the least access to effective services. Due to more vulnerable immune systems, children under 5 years old, pregnant women, and people living with HIV and AIDS are more susceptible to malaria. In 2019, children under 5 years accounted for 67% (274,000) of all malaria deaths worldwide. A child dies of malaria every 2 minutes. 
World Vision is following through on its commitment to fight malaria until it is defeated. Prevention and treatment for malaria is woven into our core global health strategy. This means that, in areas where malaria is an issue, we work to assure that families – especially mothers and children under age 5 – are sleeping under a long-lasting insecticide treated bed net. We also work to strengthen health systems to make sure families have access to proper diagnosis, treatment and care. Through our water, sanitation and hygiene interventions we address the sanitation issues that create breeding grounds for malaria-carrying mosquitoes.
"By partnering with the Ministry of Health and communities to extend the availability of insecticide treated bednets and ensuring that these are used effectively through behaviour change promotion, we could see deaths from malaria reduced to zero in our programme areas. Let's get out there, partner effectively and finish the job!"  - Martha Newsome, World Vision Partnership Leader, Sustainable Health Group 
WORLD VISION's MALARIA INVESTMENTS THROUGH THE GLOBAL FUND
In 2020, World Vision:
Distributed more than 13.8 million long-lasting insecticide-treated bed nets in three countries.

Trained 46,490 people in malaria service delivery, including Community Health Workers, teachers and volunteers.

Reached 5.6 million p

eople with Information, Education and Communication materials on malaria

Provided first-line malaria treatment for individuals at public health facilities (4.8 million) and in the community (829,000)

Parasitological testing of individuals for malaria at public health facilities (2.4 million) and in the community (1.1 million)

9,876 community groups formed and/or supported on malaria prevention and care

Reached 836,370 households with Indoor Residual Spraying in Malawi and Central Africa Republic 
Read more:
Digital Health Factsheet: Fighting malaria with digital health tools in Angola
Integrated Community Case Management - a World Vision project approach
Stories from the Field
Blessing's Story: Empowering communities in Kenya to eliminate malaria, April 2021
Millions safe from malaria thanks to indoor residual spray project in Malawi, March 2021
How 2-year-old Maria was saved from the hand of death in Zambia, March 2021 
WV collaborates with MOH and national partners to distribute 917,000 mosquito nets to fight malaria in CAR, Nov 2020
Reducing malaria incidence in Central African Republic, Feb 2020
Why bednets matter in the global fight against malaria, May 2019
The Global Fund: A chance to end three of the world's deadliest diseases, Feb 2019
Mosquito nets for all to prevent malaria in Central African Republic, Feb 2019
ADECOS, the hope for those without access to basic health services in Angola, Jan 2019 (ADECOS are Community Development Agents in Angola)