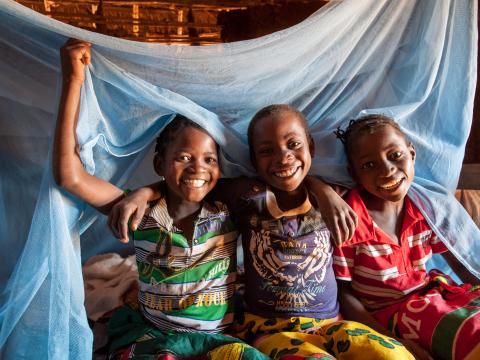 Malaria Programming
Though eliminated in some parts of the world decades ago, malaria remains a significant public health problem threatening half the world's population. The availability of simple, cost-effective interventions to prevent and treat the disease, including long-lasting insecticidal nets (LLINs), has led to a 60 percent decrease in malaria mortality rates since 2000. Malaria disproportionately affects the poor and most marginalized communities as they are high risk and have the least access to effective services. Due to more vulnerable immune systems, children under 5 years old, pregnant women, and people living with HIV and AIDS are more susceptible to malaria.
World Vision is following through on its commitment to fight malaria until it is defeated. Prevention and treatment for malaria is woven into our core global health strategy. This means that, in areas where malaria is an issue, we work to assure that families – especially mothers and children under age 5 – are sleeping under a long-lasting insecticide treated bednet. We also work to strengthen health systems to make sure families have access to proper diagnosis, treatment and care. Through our water, sanitation and hygiene interventions we address the sanitation issues that create breeding grounds for malaria-carrying mosquitos.
"By partnering with the Ministry of Health and communities to extend the availability of insecticide treated bednets and ensuring that these are used effectively through behavior change promotion, we could see deaths from malaria reduced to zero in our programme areas.  Let's get out there, partner effectively and finish the job!"  - Martha Newsome, World Vision Partnership Leader, Sustainable Health Group 
WV MALARIA INVESTMENTS THROUGH THE GLOBAL FUND
Distributing more than 9.1 million long-lasting insecticide treated bed nets to 13 countries.

including training almost 41,164 people in malaria service delivery.

Educating community health workers to recognise and equip families for prevention and early 

treatment of malaria, aided with mobile phones for accessing modern medicine in rural areas.

Increasing access to artemisinin-combination therapy for children and mothers with malaria. 
Read more: