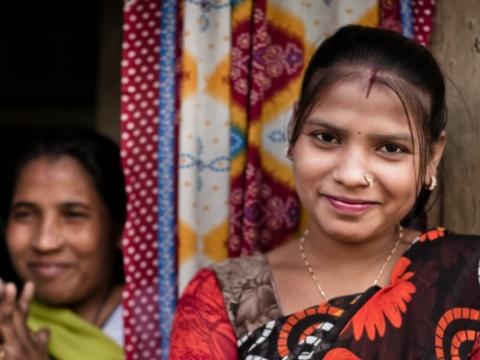 World Vision and the Global Fund
Our Partnership
20 million lives - the number that has been saved through Global Fund and partner investments. As scientific innovations progress, the Global Fund Results Report estimates that the number could reach 22 million lives by the end of 2016. 

Since it's establishment in 2002, the Global Fund has raised and invested about US$4 billion annually to provide the services needed to help fight against AIDS, TB and Malaria.
World Vision, partnering with the Global Fund since 2004, brings life saving HIV, malaria, and TB treatment, prevention and care to our 100 project areas around the world.  Through sustainable developments, World Vision's partnership with the Global Fund builds communities that will live in a world free of AIDS, TB and malaria.
World Vision and the Global Fund Portfolio 
World Vision's 2016 Global Fund report, cites that World Vision's cumulative portfolio of grants funded by the Global Fund grew to US$443 million. During its 14-year partnership with the Global Fund, World Vision has been the Principal Recipient of 22 grants in fifteen countries and a Sub-recepient on 90 grants covering all regions of the world. These annual results are for WV FY16.
Who are we reaching?
Global Fund and World Vision efforts reach communities with the greatest Malaria, HIV or TB disease burden.  All World Vision projects support national programmes using evidence-based practices to serve hard-to-reach, and often under-served, communities.
Global Fund grants contribute to sustainable health results in WV communities in alignment with the WV Child Well Being goal of "children are protected from infection and disease." For more information, click here.
After receiving mosquito nets and proper training from World Vision, many families are no longer getting sick. Eduardo, a father of four children, living in Nampula Province, just north of Zambezia, comments, "(Before) it was constant. It moved from one person to another. It never stopped. Since we got the nets, we no longer get malaria."
World Vision and the Global Fund Malaria Programming
Since 2004, World Vision has been primary recipient of malaria grants in Mozambique (round nine) and Guatemala (round four) and subrecipient of 17 malaria grants in Africa and Asia, together totalling $89 million. All World Vision projects support national programmes using evidence-based practices to prevent and treat malaria, including distribution of long-lasting insecticide-treated nets, prevention education, intermittent preventive treatment in pregnancy, confirmed diagnosis, and improved access to artemisinin-based combination therapy.
Read more about World Vision Malaria Programming.
World Vision and the Global Fund HIV and AIDS Programmes
Since 2002, World Vision has managed HIV and AIDS grants from the Global Fund totalling US$104.7 million. Formerly primary recipient in Guatemala and Armenia, World Vision successfully completed the first and second phases of those grants before turning the projects over to government and other local partners. Currently the portfolio includes four subrecipient grants in Africa, two in Latin America/Caribbean and one in Eastern Europe. World Vision's projects have shown success in reaching marginalised and hard-to-reach groups, including ethnic minorities, migrants, and orphans and vulnerable children, using community strengthening and integrated socioeconomic support interventions.  
HIV Case Studies:
Read more about World Vision HIV Programming.
World Vision and the Global Fund Tuberculosis Programmes
World Vision has implemented 33 TB grants from the Global Fund, with a total value of US$160.6 million. World Vision has been primary recipient for TB grants in Somalia, Thailand, India, Papua New Guinea and Guatemala, and subrecipient in the Philippines, Indonesia, Mongolia, Myanmar, Somalia, Senegal, Thailand, and Bosnia and Herzegovina. Projects have focused on community systems strengthening using an advocacy and social mobilisation approach to increase case finding, diagnosis and Directly Observed Treatment Shortcourse enrolment. As primary recipient, World Vision has consistently met or exceeded expected performance-based funding results in TB projects.  
TB Case Studies:
Read more about World Vision TB Programming.
Global Fund Engagement:
World Vision's is a founding membership of the Civil Society Principal Recipient Network and took on the co-chair role in 2015.  The CSPRN is a membership coalition of national and international NGO implementing partners of the financing institution that share best practices and advocate for improved Global Fund grant management. 

World Vision Director for Resource Development, Ann Claxton,  a member of the Developed Country NGO Delegation to the Board of the Global Fund.   
World Vision Global Fund Team Contact:
For more information or general questions about the Global Fund, please contact:
Programme Coordinator
Christopher_Wachira@wvi.org