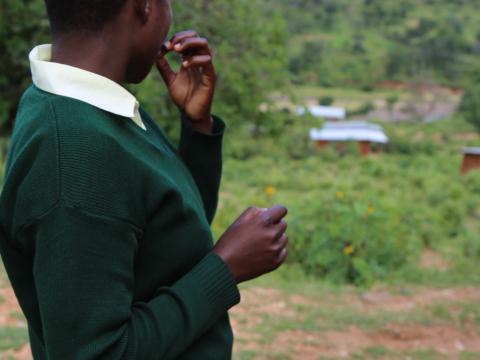 Rescued from Child Marriage
Wednesday, July 4, 2018
RESCUED FROM CHILD MARRIAGE
By Susan Otieno, Communications Officer, World Vision Kenya
At only 12 years of age in 2016, Chebet (Not real name), had become a mother. Two weeks after giving birth to a baby girl, many guests arrived at their home, carrying with them plenty of alcohol.
Unknown to her and her mother, the guests were honouring an invite from her father.
"After they got drunk, they told me, 'you are going now.' I was shown my husband. My mother screamed in protest," recalls Chebet.
Delicate as she was, a lactating teenage mother, Chebet was forcefully ejected from her father's home in West Pokot, located in North Western Kenya. They walked a long distance, crossing the border into Uganda.
"I was not even given my baby to breastfeed and my feet were very tired," she says.
Upon reaching their destination, they found two boys herding cattle. One was identified as Chebet's husband; a different person from the one she was shown before leaving home. The boy ran away saying he was not going to have a wife chosen for him.
In a strange twist of events, the boy's father later announced that he was then going to be Chebet's husband.
"That night, I wondered how a man who appeared to be more than 80 years old was going to be my husband. My own father was younger than him. I ran away," said Chebet.
She disappeared into the night with her baby and hid in the bush. Chebet's escape was however cut short. Some people found her and took her back to the husband she dreaded.
Chebet was then beaten with sticks by two men and eventually locked up in a house. The next day, she was stripped naked and beaten some more by five men using much bigger stick that children had been asked to bring.
"They beat me from morning until around 3.00pm in the afternoon. I cried until I could cry no more, as I did not have any energy left in me. I will never forget." 
She added: "As they were beating me, one of them called my mum by phone and let her hear me crying. I wanted to kill myself."
Worse still, the men proceeded to tightly bind her feet with a rope so as to inflict more pain. Despite the wounds on her back and the pain she was going through, Chebet was still required to fetch water with fellow women the following day.
Escape attempts
An escape opportunity presented itself six months later, when uniformed officers rounded up the entire family, including children and locked them up in a prison like structure.
Chebet was uncertain of what was happening. However, she could tell that the family was being accused of a crime.
"While there, the uniformed men were called outside by a woman who wanted to speak to them. I took advantage of the distraction and took off."
Chebet walked for two days, sleeping at a stranger's house one night, before eventually reaching her parents' home in West Pokot.
The reception she got was hostile. Her father was enraged by her return and made no attempt at hiding his dissatisfaction.
As if the situation couldn't get any worse, her husband's family came 'knocking' a few days later. They insisted that she return to her marital home. Her legs were still swollen from the recent journey but they did not care.
"I wanted to end my life with rat poison but I was not successful. The poison was discovered and taken away before I could use it," said Chebet.
Hope at last
She later sought help from the Assistant Chief of West Pokot (Tamugh area), Christopher Adoywan, who summoned her parents.
Hoping to sway the government officer, her father said that he had received 30 cows in exchange for his daughter's hand in marriage.  
The chief would hear none of it; he instructed Chebet's father to return the cows and let her daughter continue with school.
Thereafter, Adoywan assisted Chebet to report the incident and record the violations at a police station.
Chebet was then linked with World Vision that took her to school and paid the fees. She is now in Class Eight and will be sitting the final exams (Kenya Certificate of Primary Education) at the end of the year before proceeding to secondary school.
"I thank World Vision in this journey in so many ways. To think I wanted to kill myself!" she exclaims.
"When I complete secondary school, I want to become a teacher. I want to tell my fellow girls that it is important to get an education. Some things out there are not meaningful. I stepped on fire".
Adoywan noted that for a long time, the Pokot culture did not value girls' education. To address such challenges, counties have established Area Advisory Councils (AACs) aimed at protecting children's rights.
Its members comprise of child protection advocates from the community, government, civil society organisations as well as the business sector. They work tirelessly to sensitise the community on children rights as well as adjudicate cases that violate those rights.
"In our AAC, we have taken many steps including having a child defiler jailed for 20 years. World Vision Kenya has been a true partner. Without them, these successes would not have been possible", said Adoywan.
Aside from protecting children from forced marriages, the AAC has also saved many girls from Female Genital Mutilation (FGM). As a result, the number of girls completing primary school and proceeding to secondary school as well as colleges or universities has dramatically increased in West Pokot.
World Vision has been supporting the government's work in child protection matters through different interventions including empowering, training and enabling AACs to perform their roles effectively.  
Through such powerful partnerships, girls like Chebet, have a promising future to look forward to.
Join us today to end violence against children. #ItTakesUsAllKE