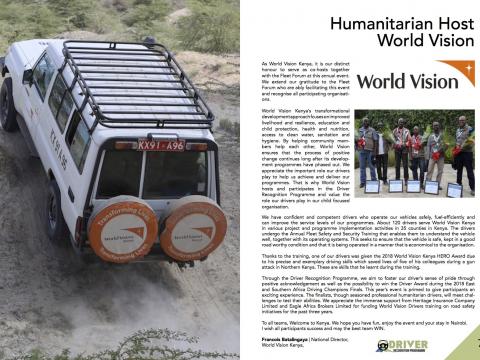 Driver Recognition Program
Wednesday, September 12, 2018
As World Vision Kenya, it is our distinct honour to serve as co-hosts together with the Fleet Forum at this annual event.  We have confident and competent drivers who operate our vehicles safely, fuel efficiently and can improve the service levels of our programmes. 
About 120 drivers serve World Vision Kenya in various project and programme implementation activities in 35 counties in Kenya. The drivers undergo the Annual Fleet Safety and Security Training that enables them to understand the vehicle well, together with its operating systems. Through the Driver Recognition Programme, we aim to foster our driver's sense of pride through positive acknowledgement.
We appreciate the immense support from Heritage Insurance Company Limited and Eagle Africa Brokers Limited for funding World Vision Drivers training on road safety initiatives for the past three years.