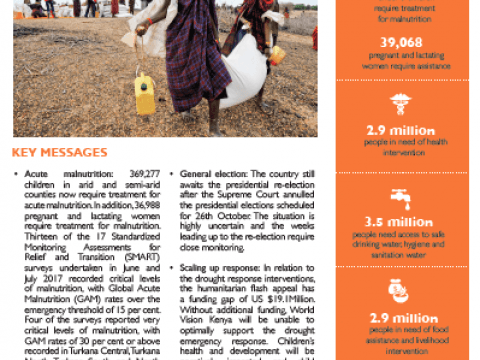 Responding to Kenya's Hunger Crisis - Situation Report #11
Monday, October 9, 2017
More than 400,000 people have been reached since World Vision's teams started responding to the hunger crisis in northern and eastern Kenya. 
Still, there's more work to do. World Vision continues to be concerned that: 
More than 420,000 children

 are malnourished

3.4 million people are in need of emergency food assistance
2.9 million people require health care assistance

3.5 million people need clean water, hygiene and sanitation support

1.2 million school children need education support
To respond, World Vision aims to provide 400,000 more people with life-saving and life-changing assistance to more in the next six months.
Due to the ongoing drought and conflict, World Vision Kenya is requesting an additional US $19 million to reach people who urgently need emergency assistance to access food, clean water, health care, nutrition, child protection, income and employment, shelter and education.