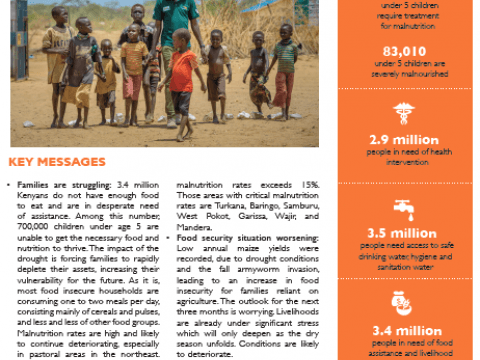 World Vision Kenya - Situation Report 10
Wednesday, September 6, 2017
More than 20,000 children and mothers took part in nutrition programming that is combatting rising malnutrition rates in drought affected areas of the country. Other activities during the past three weeks - from 10-31 August 2017 - help ensure children are able to go to school, that families have enough food to eat and people have clean water to drink.  
Still, there is more work to do. In this hunger crisis, World Vision Kenya is reminding people that: 
Families are struggling: 3.4 million 

Kenyans do not have enough food 

to eat and are in desperate need 

of assistance. Among this number, 

700,000 children under age 5 are 

unable to get the necessary food and 

nutrition to thrive. 



More children are becoming 

malnourished: The number of 

malnourished children under age 5, 

pregnant women and breastfeeding 

mothers is of great concern. In July, 

420,674 children were identified as 

malnourished, an increase of 75,000 

since February. The situation is of 

greatest concerns 

are Turkana, Baringo, Samburu, 

West Pokot, Garissa, Wajir, and 

Mandera.


The food security situation worsening: 

Low annual maize yields were 

recorded, due to drought conditions 

and the fall armyworm invasion, 

leading to an increase in food 

insecurity for families reliant on 

agriculture. The outlook for the next 

three months is worrying. Livelihoods 

are already under significant stress 

which will only deepen as the dry 

season unfolds. Conditions are likely 

to deteriorate.


Drought interventions must be 

scaled up: Due to rising needs, 

humanitarian and government 

responses must increase to protect 

people from starvation. Currently, 

more than 200,000 people are 

benefiting from World Vision's 

activities related to food assistance, 

nutrition, child protection, education 

and water and sanitation and hygiene 

(WASH) services. World Vision is 

appealing for an additional $19 million 

US to scale up the response to meet 

the needs.
For more information about how World Vision is responding to Kenya's hunger crisis, please download our Situation Report.