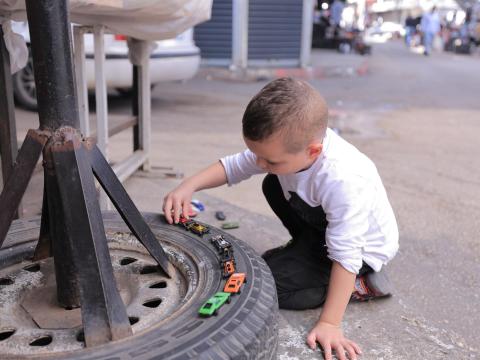 World Vision - Millions of Children facing violations of their most fundamental rights and paying a "horrendous price" in Middle East Crisis
Wednesday, November 1, 2023
NICOSIA, 1 November 2023 - International aid agency, World Vision, today, have released a statement saying that the ongoing crisis in the Middle East is having an unprecedented impact on several millions of children in the region. The organisation's Middle East Crisis Response Director says that we are watching as their most fundamental rights to life and to safety are violated. She said she fears the world has "lost perspective" on its responsibilities to protect the children impacted in several countries by the escalation in violence. The organisation is calling for urgent and decisive actions to ensure children are safe and have access to the protection, food, water and health services they need in the current conflict which started with the dreadful attacks on Israel which killed over 1,400 people.
After three weeks of unprecedented and devastating violence across the region, more than 11,000 people have been killed, an estimated 4,000 of those children, with countless other living through pain and suffering. Close to 1.5 million people have been displaced in at least three countries.
Asuntha Charles, the Response Director for World Vision's Middle East Crisis Response says:
"We are shocked and saddened about the scale of death, destruction and hardship that children are facing in the ongoing crisis which has engulfed the Occupied Palestinian Territory, Israel and nearby countries.  It is clear that children are being failed and forgotten amidst the carnage and conflict.
"Conflict and all humanitarian crises disproportionately impact children, and the current crisis is an awful example of this. Large-scale grave violations of the rights of children have happened and continue to happen—things no child should ever have to imagine, let alone see or experience. Thousands of children have been killed thus far in the crisis, many more injured. Children have lost parents; others have lost entire families. There are children who currently have no or little access to food, or water, due to decisions made by adults. There are children who will face psychological distress from what they are experiencing during this crisis, from which they may never recover. Hundreds of thousands of families have had to make the decision to leave their homes. Children have been kidnapped from their families.
"Childhood should be about love, play and joy. For millions of children in the Occupied Palestinian Territory, Israel and across the region, there is only terror now. Fear of being killed by rockets, missiles or bullets, fear of being attacked at school or at home, the fear that food or water will run out.  
 "We fear the world has lost perspective of its responsibility to ensure that the most fundamental rights of all children are respected. A child's right to life, to be safe, to receive food and water, know no borders and there should be no exceptions for any child to these rights. The failure to protect them is inexcusable. In 2023, how are we still unable to ensure that no child has to experience the heartbreaking violence and conflict? Yet today, in areas impacted by the crisis in the Middle East, children are paying the most horrendous price for the collective failings of adults. 
No one wants their child to endure life, or death, in a warzone today, or tomorrow. We are calling for immediate action to stop children from having to live in a conflict zone, and the necessary measures to be taken that ensure no child ever dies in a conflict zone again."
World Vision is currently supporting vulnerable children in West Bank by responding to urgent family needs, creating safe spaces, and providing psychological services. They are also responding in other areas where displaced people will need help and will continue to support through the crisis. World Vision is not operating in Gaza and has not since 2016.
ENDS
Notes to editor
For more information please contact: World Vision's Middle East Crisis Response Communications Manager Charles Lawley charles_lawley@wvi.org
World Vision started operating in Jerusalem, the West Bank and Gaza in 1975.  Since then, the organisation has developed one of the most extensive community-based presences among organizations operating in the West Bank, with 80 dedicated staff. In 2023 the organisation worked with over 136,000 individuals, including almost 95,000 children residing in approximately 150 villages across the West Bank. World Vision also operates in a number of countries across the region including Lebanon, Jordan and Syria. World Vision is not currently working in Gaza and has not worked there since 2016,
World Vision is a Christian humanitarian organisation dedicated to working with children, families and their communities to reach their full potential by tackling the root causes of poverty and injustice. World Vision serves all people, regardless of religion, race, ethnicity or gender.  For more information, please visit www.wvi.org or follow us on Twitter @WorldVision