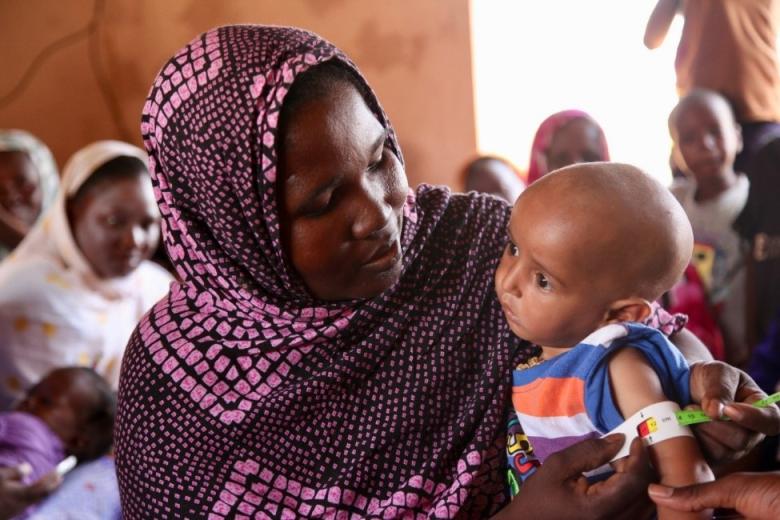 Mother-led MUAC: Empowering mothers to detect malnutrition
Tuesday, November 6, 2018
Despite the presence of effective CMAM programmes, many children with acute malnutrition are still diagnosed too late, significantly increasing their mortality risk. Mother-led mid-upper arm circumference (MUAC) screening is an approach where mothers are trained to screen for acute malnutrition in their children by measuring MUAC and testing for oedema. Involving mothers in nutrition screening activities recognizes the fact that they are best placed to identify early signs of malnutrition and reinforces their role in protecting and promoting their child's health.
This approach was developed and researched by the Alliance of International Medical Action (ALIMA) in Niger. In 2016, World Vision launched this approach within a CMAM project in the Assaba region of Mauritania, including both CMAM and WASH components. This represents the first time mother-led MUAC screening has been used by any organization in Mauritania. Within the first two months of the intervention 1,879 mothers were trained to screen their 6 to 59-month-old children for malnutrition. In 2017, World Vision will build on this success by expanding to other countries.
Aichata says: "I have become a nurse for my children"
Aichata, a mother of four, lives in Mauritania's Assaba Region. During a routine monitoring visit, she was proud to show her skills in malnutrition screening with a colour-coded MUAC tape. She learned to do this just a month and a half ago, and since then has already assisted in a mass screening in her district. At least once a month, Aichata measures two of her children who fall within the age range for screening, and explains that both are in the green range, which means they are healthy. She says that she has become a nurse for her children.
Resources
Summary of 2017 webinar (in English and French) by World Vision and ALIMA, with presentations and recording
World Vision Mother-led MUAC Tools: World Vision developed a number of tools for Mother-led MUAC that you can access in English and French
Guidelines for Training of Trainers: Mother-MUAC: Teaching Mothers to Screen for Malnutrition 
also available in French: PB Mères: Dépistage et diagnostic de la malnutrition par les mères  
ALIMA Video: Mothers can do it: Screening Malnutrition in Niger (1:42)
ALIMA Vidéo: Les couleurs de la vie: dépister la malnutrition au Niger (1:42)
ECHO Video: Combating Malnutrition in Niger: Mothers can do it (3:52)
Journal Articles: 
Alé FGB, Phelan KPQ et al (2016). Mothers screening for malnutrition by mid-upper arm circumference is non-inferior to community health workers: results from a large-scale pragmatic trial in rural Niger. Archives of Public Health.
Blackwell N et al (2015). Mothers understand and can do it: a comparison of mothers and community health workers determining mid-upper arm circumference in 102 children aged from 6 months to 5 years. Archives of Public Health. 
ENN Summary of Research: Mothers understand and can do it (MUAC). Field Exchange 50, August 2015. p18.