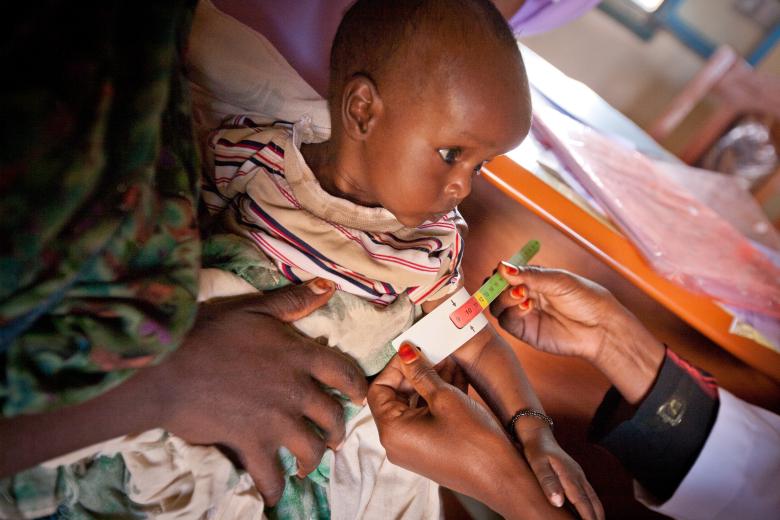 Community-based Management of Acute Malnutrition Model
Monday, December 17, 2012
CMAM is a methodology for treating acute malnutrition in young children using a case-finding and triage approach. Using the CMAM method, malnourished children receive treatment suited to their nutritional and medical needs. Most malnourished children can be rehabilitated at home with only a small number needing to travel for in-patient care. CMAM is one of World Vision's core project models in nutrition.
What is CMAM?
The Community-Based Management of Acute Malnutrition (CMAM) approach enables community volunteers to identify and initiate treatment for children with acute malnutrition before they become seriously ill. Caregivers provide treatment for the majority of children with severe acute malnutrition in the home using Ready-to-Use-Therapeutic Foods (RUTF) and routine medical care. When necessary, severely malnourished children who have medical complications or lack an appetite are referred to in-patient facilities for more intensive treatment. CMAM programmes also work to integrate treatment with a variety of other longer-term interventions. These are designed to reduce the incidence of malnutrition and improve public health and food security in a sustainable manner.
The CMAM model was developed by Valid International and has been endorsed by WHO and UNICEF. CMAM was originally designed for the emergency context, as an alternative to the traditional model of rehabilitating all severely malnourished children through in-patient care at Therapeutic Feeding Centres. However it is increasingly being implemented in the context of long-term development programming, with several Ministries of Health including components of CMAM in their routine services.
CMAM has been implemented around the world by many governments and NGOs. World Vision's first CMAM project started in Niger in 2006. Since then, World Vision's CMAM programming has expanded to 15 countries.
Where should CMAM be implemented?
CMAM should be implemented in any area where at least 10% of children under 5 are moderately malnourished (low weight for height) and there are aggravating factors present. Aggravating factors include generalized food insecurity, widespread communicable diseases and high crude death rate. The NCOE's Measuring and Promoting Child Growth tool explains how to accurately weigh and measure children.
How does CMAM work?
There are four key components to the CMAM approach:
1) Community Mobilisation
Build relationships and foster active participation of the community
Identify and mobilise community volunteers for CMAM
Volunteers measure Mid-Upper Arm Circumference (MUAC) of all children under 5 to identify those with acute malnutrition.
2) Supplementary Feeding Programme (SFP):
Provide take-home food rations and routine basic treatment for families of children with moderate malnutrition but no medical complications
Provide support for other groups with special nutrient requirements, including pregnant and lactating mothers
3) Outpatient Therapeutic Programme (OTP):
Provide home-based treatment and rehabilitation using RUTF for children with severe acute malnutrition but no medical complications (usually 80-85% of children)
Monitor children's progress through regular outpatient clinics
Provide food rations to the whole family of each severely malnourished child
4) Stabilisation Centre/Inpatient Care:
Provide intensive in-patient medical and nutrition care to acutely malnourished children with complications such as anorexia, severe medical issues or severe oedema
Link with OTP to allow early discharge and continued treatment in the community
NB: Typically World Vision does not set up Stabilisation Centres but instead works closely with existing local health institutions or medical NGOs to provide these services.
Who is involved in CMAM?
CMAM targets children under 5 years old and their families, but the whole community is involved. Community leaders, volunteers, health staff and families participate in the screening, care and follow up of children with acute malnutrition. Everybody celebrates as the children enrolled in the CMAM programme gain weight and enjoy better health.
Why does CMAM work?
CMAM is a highly effective approach to rehabilitating malnourished children and reducing the number of children who die from acute malnutrition. There a few key secrets to this success:
Community based – children are cared for and treated in their own communities, without having to travel away from home for treatment. The whole family is involved and can also continue their daily activities, rather than one caregiver needing to leave home for an extended time to accompany a malnourished child to a treatment centre. This increases access and participation in the programme, leading to higher coverage and better results.
Active case finding – community volunteers regularly screen and monitor all young children so that cases of malnutrition can be identified early and treated immediately. This leads to high coverage, faster rehabilitation and lower mortality.
Triage approach – most children with severe acute malnutrition can be treated at home which protects them from exposure to infections at the inpatient care centres. Only those with existing serious medical conditions are referred to Stabilisation Centres, and they are discharged back to the community for follow up by the OTP as soon as possible. This reduces mortality and is cost-effective, as inpatient care is highly resource-intense.
Building community capacity – CMAM programmes work with communities to identify, manage and prevent acute malnutrition. This increases community ownership of malnutrition, which in turn increases participation in treatment and prevention activities.
How can I get help with CMAM?
Download training materials and detailed implementation guidelines, and follow up with your Regional Office or NCOE to arrange training for your National Office or programme.