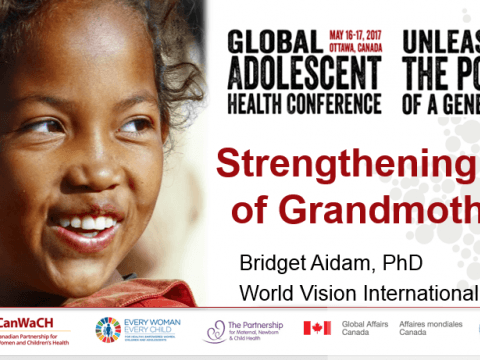 Presentation: Strengthening the role of Grandmothers (Mamanieva)
Tuesday, June 13, 2017
Presentation at Global Adolescent Health Conference in Ottawa on 16 May 2017 as part of a session entitled Behavioural Change Interventions to Address the Health and Nutritional Needs of Adolescents. This session explored new models of outreach targeting adolescent girls to positively influence health-seeking behaviour and nutritional status, including: (1) social media interventions through mobile phones; (2) strengthening the role of grandmother groups in Sierra Leone; and (3) Adolescent-Friendly Health Corners in Bangladesh.
Moderator: Dominic Schofield, President of Global Alliance for Improved Nutrition (GAIN)
Dr. Bridget Aidam, Research and Evaluation Advisory, Nutrition, World Vision International
Dr. Mandana Arabi, Director, Business Platform for Nutrition Research, Global Alliance for Improved Nutrition
Laura Reichenbach, Senior Associate & Deputy Technical Director, The Evidence Project, Population Council
CanWaCH has released video of the sessions: https://youtu.be/pi89JkDnJT
Learn more about the grandmother-inclusive approach and the Mamanieva project!