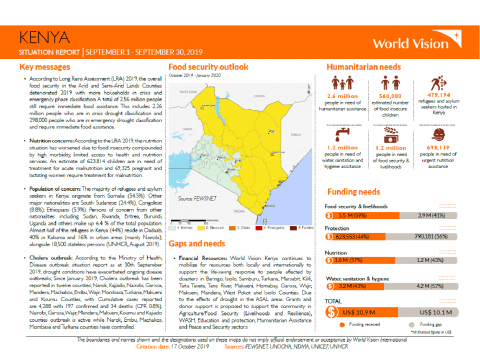 Kenya - September 2019 Situation Report
Wednesday, October 23, 2019
According to Long Rains Assessment (LRA) 2019, the overall food security in the Arid and Semi-Arid Lands Counties deteriorated 2019 with more households in crisis and emergency phase classification. A total of 2.56 million people still require immediate food assistance. This includes 2.26 million people who are in crisis drought classification and 298,000 people who are in emergency drought classification and require immediate food assistance.
Nutrition concerns: According to LRA 2019, the nutrition situation has worsened due to food insecurity compounded by high morbidity, limited access to health and nutrition services. An estimate of 623,814 children are in need of treatment for acute malnutrition and 69,325 pregnant and lactating women require treatment for malnutrition.
Population of concern: The majority of refugees and asylum seekers in Kenya originate from Somalia (54.5%). Other major nationalities are South Sudanese (24.4%), Congolese (8.8%); Ethiopians (5.9%). Persons of concern from other nationalities including Sudan, Rwanda, Eritrea, Burundi, Uganda and others make up 6.4 % of the total population. Almost half of the refugees in Kenya (44%) reside in Dadaab, 40% in Kakuma and 16% in urban areas (mainly Nairobi), alongside 18,500 stateless persons (UNHCR, August 2019).
Cholera outbreak: According to the Ministry of Health, Disease outbreak situation report as at 30th September 2019, drought conditions have exacerbated ongoing disease outbreaks, Since January 2019, Cholera outbreak has been reported in twelve counties; Narok, Kajiado, Nairobi, Garissa, Mandera, Machakos, Embu, Wajir, Mombasa, Turkana, Makueni and Kisumu Counties, with Cumulative cases reported are 4,288 with 197 confirmed and 34 deaths (CFR 0.8%). Nairobi, Garissa, Wajir, Mandera, Makueni, Kisumu and Kajiado counties outbreak is active while Narok, Embu, Machakos, Mombasa and Turkana counties have controlled.