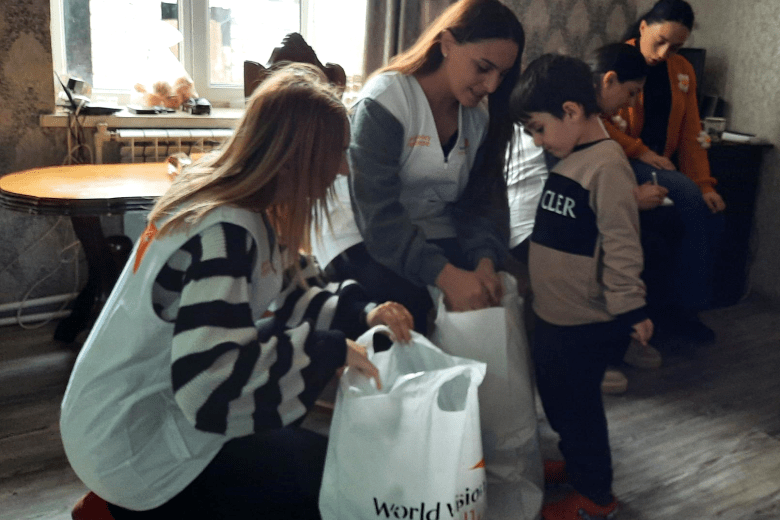 Armenia Displacement Crisis: Facts, FAQs and how World Vision is helping 
Wednesday, September 27, 2023
Almost 120,000 people have been blockaded in Nagorno-Karabakh since December 2022, when the Lachin corridor was closed even for humanitarian aid; the people are already exhausted from the shortage of food supplies and healthcare for over 9 months.  
Since 19 September 2023, the situation for children and families has deteriorated rapidly, due to the military operation which was launched.  As the majority of Nagorno-Karabakh population are expected to leave for Armenia; 35,000 of them are children, the situation remains volatile and highly unpredictable.
"We continue to be troubled by what is happening in Nagorno-Karabakh. The fates of thousands of people remain uncertain, including thousands of children who are fleeing in panic to seek safety and shelter. World Vision Armenia are prepared, have capacity in place and will mobilise resources and our staff to respond to the needs of forcibly displaced people as they arrive to Armenia," said Raffi Doudaklian, World Vision Armenia Director.
How many people have been forcibly displaced? 
Since September 24, following current updates from international and national official sources, around 93,000 people have so far crossed into Armenia from the enclave leaving behind their homes in the fear of ethnic cleansing.  Another 73,000 people are waiting their turn for the long journey. 
Why is the crisis so dangerous for children in Nagorno-Karabakh?
In any conflict like the one escalating in Ukraine right now, children are the worst affected. As well as immediate threats to safety and shelter, conflict threatens children's mental health, access to education, and their ability to achieve their God-given potential.
As a result of the offensive, official sources have quoted 200 people dead, including 10 civilians and five of them children. More than 400 people have been injured, including 13 children.
What is World Vision doing to help those affected by the Nagorno-Karabakh conflict?
As the conflict in Nagorno-Karabakh escalated, the ethnic Armenian population is fleeing to Armenia. 
We are on the ground in Armenia meeting children's immediate needs with:
Aid packages
Child-friendly kits
Psychosocial support
How can I help children and families made vulnerable by this crisis?
Pray for children and families to find safety and be protected from harm.