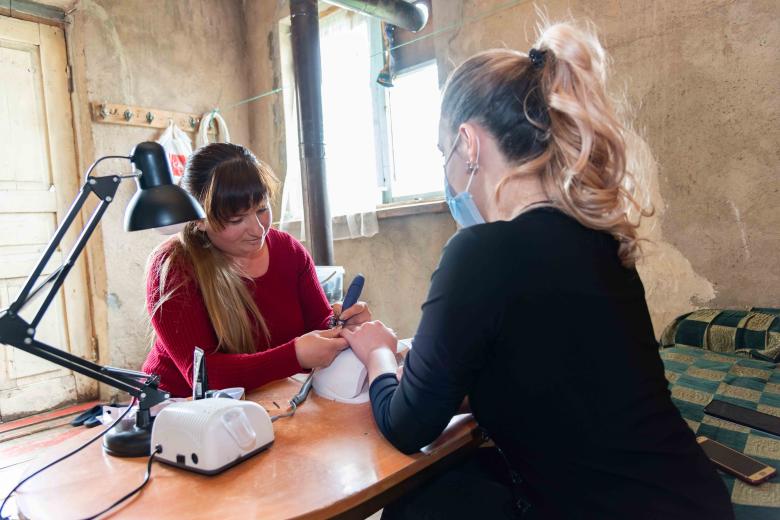 Mariam's dream has come true; she has a stable job now and earns for her family's needs all by herself
Thursday, July 15, 2021
Every family has its own story that is shaped over the years. Mariam's family is quite young, but is full of concerns. Mariam was married in Georgia, and then moved to Armenia with her husband. They did not have a permanent job. The plot of their land is small. The house, where the couple lives with their two young children, is not their property. However, they hope to have their own one day.
"We got married in Georgia, my husband is from there, and then we found it more appropriate to live in Armenia, but we had neither a house nor a job. I attended courses for computer operating and then accounting, but I could not find a job. We used to have many difficulties, but every time we thought that they will pass one day," – remembers Mariam.
"And that was exactly what happened. Representatives of World Vision came to our village; I learnt about it and visited them. There are wonderful social workers there, who included my son in their support program," Mariam says.
Mariam's family was involved in World Vision's 'Poverty Reduction Programme' that helps families overcome extreme poverty and earn for their dignified living.

World Vision's Poverty Reduction Programme is a series of multi-sectoral interventions to help the extremely poor families to combat poverty. The support includes social work with families, financial assistance to meet the most urgent needs, vocational training for family members, and training in the field of parenting skills, provision of knowledge on healthy nutrition and hygiene of children, assistance in the solution of the employment issues.
"Mariam told us that she was studying manicure through the online videos, and that she really wanted to improve her skills and work. We did nօt reject her, and we made calculations of possible income and expenses together with her, and sent her to a specialised course. After the accomplishment of the course we bought necessary equipment for her to start her small business," says Mikayel Tutoyan, Amasia Area Programme Coordinator.
The equipment included an electric file maker, a dryer, a lamp, and other important accessories.
Mariam works as a nail artist in their village, and she has permanent clients now. Residents from the neighbouring villages are also her customers, and she has quite many orders especially on the eve of the New Year holidays.
"There are more customers during the holidays, and the rest of the time, for example, in the neighbouring village, a few customers come together and call me. I visit them, because it is not comfortable for me that everyone comes to our home. I love my job and watch a lot of videos to improve my skills," says Mariam.
World Vision also helped Mariam's family with food, hygiene items during the COVID-19 pandemic prevention interventions.
"I have attended all the courses organised by World Vision – on financial literacy and positive parenting. Here I learnt that the beating a child is not acceptable under any circumstances. Our social worker informs me about every new course available. I never miss any training," says Mariam.
"Laziness is not a good thing. If we do not work but just complain, no one will help," she continues.
The effectiveness of the program is stable. 48% of the participating families have overcome extreme poverty, 90% have increased their annual income, 77% of their children have improved their health and 82% of the families have had a significant change in their quality of life.