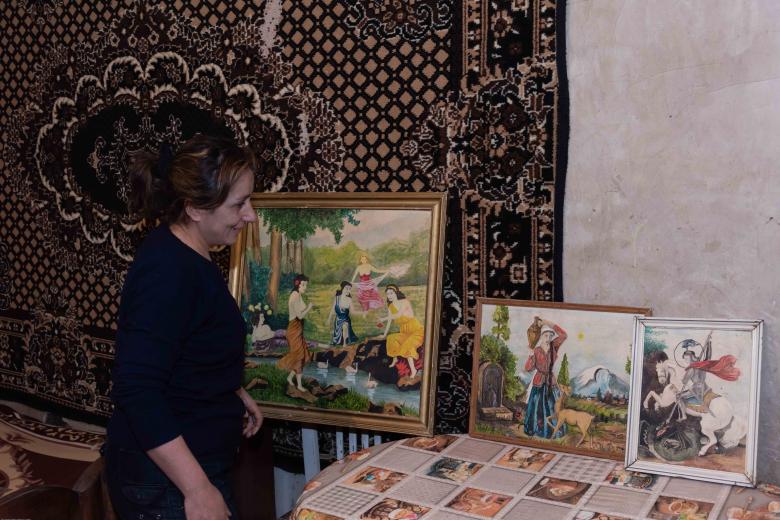 Shaqeh's family is learning to stand on their own two feet
Friday, July 9, 2021
Shaqeh is a Yezidi. Girls get married early in Yezidi families. Shaqeh is only 41, but she already has three grandchildren. Shaqeh's husband is on a seasonal work in Russian Federation, but does not send enough money to cover all household expenses. Her daughters are already married, and Shaqeh lives with her only son Jalad. She used to draw when she was a child, had even participated in competitions and once won a silver medal. However, Shaqeh, who is a talented artist, did not continue her education.
She has no domestic animals and milks neighbors' cows to earn money. She also does not have a plot of land; there are no fruit trees in her yard.
Shaqeh's only son has a visual impairment. "Jalad has a strabismus, he needs a surgery, but now we do not have the money and have to wait for better days. It was really very difficult to raise my son. But one day World Vision's staff visited us; they provided us with food and warm clothes. I could never buy a washing machine by myself because it is very expensive, but they bought it for us together with a refrigerator. The roof of the house was leaking so much in spring that we used to put big buckets in the house, as the rainwater was pouring right into the house. I asked for support, and World Vision helped to renovate the roof. I am very grateful, when I ask for help, World Vision staff is always willing to support," Shaqeh tells with excitement.
"Our psychologist works with Skake's son. He was addicted to the mobile games, and our psychologist helped him to overcome this habit," says World Vision's social worker Astghik Mambreyan.
13-years-old Jalad is fond of literature; he especially likes the poems by Paruyr Sevak (famous Armenian poet). "I like literature very much, but I want to become a programmer. I do not know where I will study, but programming is very important today, everyone says so," says Jalad.
"One day our social worker said that I could attend courses on finance. I learnt a lot during these courses: how to apply to credit organisations, how to be careful not to make mistakes while dealing with finances. I have also attended courses on financial literacy, where I understood that saving does not mean being stingy, you can calculate what you have and spend less," says Shaqeh.
She attends courses with great pleasure. This also lets her forget a little about daily problems.