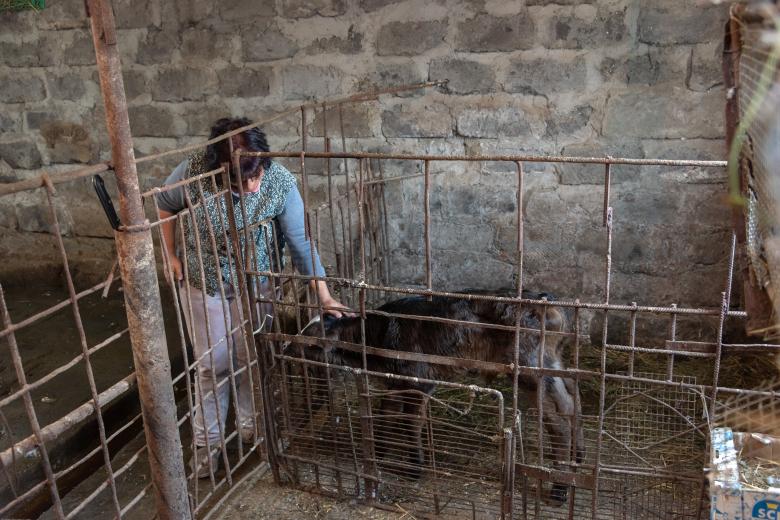 Optimism is half battle won
Friday, July 16, 2021
Ophelia lives with her big family in one of the communities of Amasia, Shirak Marz, Armenia. They have a plot of land in front of the house, where they sow potatoes, greenery, and sometimes tomatoes and cucumbers if there is enough water. Both boys have already grown up and now they have gone to work abroad. She is very strict and demanding towards her three daughters. She speaks about her husband with respect.
"My husband is a good and hardworking man. We have seen many difficulties, but now we are trying to be more optimistic and work harder. We had been through very difficult times, but the Lord saved us," says Ophelia.
In 2018, her two daughters were enrolled in World Vision's sponsorship programme, and then the staff visited to learn about the family's problems. Her family was involved in World Vision's Poverty Reduction Programme.
"They have helped us many times. They even gave beds for my children, helped with food, hygiene items during the quarantine. But our greatest joy was the cow, and I called her Jenny. When they brought it, the milk was already low, but with two liters of milk per day I managed to make cheese, cottage cheese, yogurt and we ate fresh dairy products. This year, our bull, Leo, was born," she says with a definite sense of pride.
"When my mother said the calf's name, we were surprised, then we thought it could be Leo, why not?" says Lianna, Ophelia's daughter.
Ophelia has attended all the courses organized by World Vision. She especially liked the financial literacy course. She tells everyone about it and advises to be careful in spending money.
"We managed to rebuild our barn thanks to the knowledge that we received during these courses. Our barn was very old and dilapidated. My sons built the walls, fixed the roof, and we bought a new cow with the money saved from last year's farming. I always ask our social workers if there is a new course. Soon I will have so many cows that I will be able to give a calf to another family in need… People always need kind words, and if we respect each other, help and work, maybe the life in our country will become better."
The Poverty Reduction Program is a series of multi-sectoral interventions to help extremely poor families to combat poverty. The support includes social work with families, financial assistance to meet the most urgent needs, vocational training for family members, training in the field of parenting skills, provision of knowledge on healthy nutrition and hygiene of children, assistance in the solution of the employment issues.
The effectiveness of the program is sustainable and evolving.48% of the participating families have overcome extreme poverty, 90% have increased their annual income, 77% of their children have improved their health and 82% of the families have had a significant change in their quality of life.