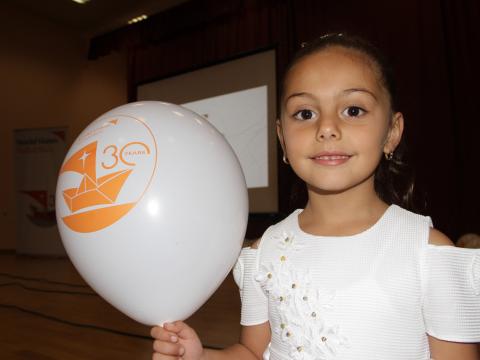 World Vision Armenia's 30th anniversary celebrations kicked off in Gegharkunik marz
Thursday, September 19, 2019
September 18, Gavar – Today World Vision Armenia's 30th anniversary celebrations kicked off in Gavar with the partners and stakeholders in Gegharkunik region of the country.
World Vision Armenia's Marzpet Mr. Gnel Sanosyan congratulated the organization,
The guests also had an opportunity to learn about World Vision's major achievements for the past 30th years, and afterwards they split into three different groups to get acquainted with the new strategic goals and targets of the organization. "The numbers introduced today (World Vision Armenia's accomplishments in Gegharkunik Marz_author) are very impressive. Marz governor's office has always been successfully cooperating with World Vision Armenia. I am sure that our cooperation will further be successful. I wish you more accomplishments in the future," said Marzpet Mr. Gnel Sanosyan.
Later Country Director Zhirayr Edilyan greeted the guests, and thanked everyone for cooperation. "Today, World Vision supports every 7th child in Armenia. In the past 30 years World Vision supported hundreds of thousands of children and their families, and today World Vision announces the start of its new strategy, which will allow us to involve more partners and stakeholders and continue the work for children and their life in its fullness", - said World Vision Armenia's Country Director Zhirayr Edilyan.  
World Vision launched its first project in Vardenis Area of Gegharkunik marz in 2004. Today, projects in this marz include two more areas - Gavar and Tchambarak- reaching out to the children and their families in 65 communities in total.
World Vision implements development projects in 75 schools, 39 preschools and 49 health facilities of the marz.  26,764 directly benefit from World Vision's projects implemented in the area, while day-to-day work is being carried out with 2957 most vulnerable children.
World Vision Armenia's new strategy aims to support the most vulnerable children, including children living in extreme poverty, children with disability,children experiencing violence, as well as children in residential institutions. The number of these children is more than 15000, in Gegharkunik marz the number of the most vulnerable children reaches 2957.  These children are in urgent need of nutritious food, proper clothing, education and development.
To ensure the wellbeing of the most vulnerable children World Vision directly works with them and their families` through "Poverty graduation" programme, as well as by establishing services – daycare centres and after-schools in the communities.
World Vision in Armenia
World Vision Armenia, through its 15 offices in the country, serves to 110000 children throughout Armenia.
World Vision supports every 7th child in Armenia.

50,000 children attended World Vision's summer camps.

World Vision reunified 586 children from institutions with their families.

World Vision daily works with 4000 extremely poor households.

World Vision currently supports 110,000 children in Armenia.

In 30 years, World Vision supported over 650,000 children in Armenia.

World Vision in Armenia established 70 Engineering labs for more than 2000 students.

World Vision established 73 producers' groups in 70 communities of Armenia.