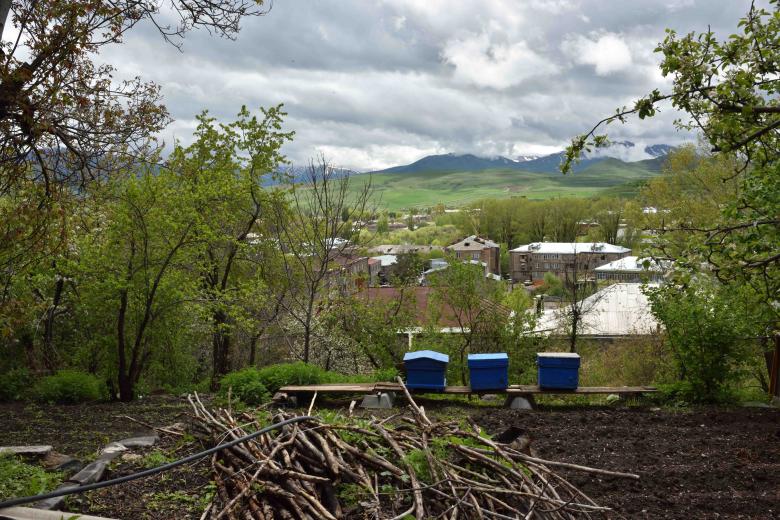 World Vision gives a new start and opportunity to recover to 65 more families affected by Nagorno-Karabakh conflict
Wednesday, September 15, 2021
Armed conflict that erupted on the 27 of September in Nagorno-Karabakh - a disputed territory between Armenia and Azerbaijan, has halted with a ceasefire agreement signed by Armenia, Azerbaijan and Russia on 10 November.
Armenians from Nagorno-Karabakh that have spontaneously arrived into Armenia lacked necessary food, hygiene items, adequate warm clothing and necessities for cold weather. Due to the cease-fire agreement, many of the arrivals could no longer return to their homes in Nagorno-Karabakh, and require long-term support focusing on livelihoods and integration. 
While the Armenian state has been delivering assistance to both displaced people from Nagorno- Karabakh and local families affected by the war, the existing programmes focus on providing financial assistance and do not include specific physio-social support․
Next to series of interventions and in-kind and psychological support initiatives, World Vision Armenia is launching a new 'Recovery of Lives through Income Generation Activities' project that seeks to address the early recovery needs of families affected by the Nagorno-Karabakh conflict.
"As part of World Vision's 'Poverty Graduation' programme we will be engaging families in series of activities to boost their income generation through consumption support, savings, asset transfer, technical skills training and regular life skills coaching. Thus World Vision will be addressing the fundamental needs of affected families and supporting them to start a business/income generating activity through creation of a source of regular income," says Vahe Darbinyan who is managing 'Recovery of Lives through Income Generation Activities' project.
The project will be implemented in Armenia's Sisian, Talin communities and in capital Yerevan and will involve 65 families affected by the Nagorno-Karabakh conflict and living in urgent need. EO Metterdaad funds the project.
"World Vision's social workers work directly with the families, help them identify their specific needs and put together individual development plans. These plans will be based on the families' interests, experience, location and age, while the families will partake in various social and economic opportunities designed within these plans," says Vahe Darbinyan.
Currently, the selected families and social workers have started close discussion to develop individual plans for each family. When these plans are developed, the social workers will identify the asset package and vocational training needed per each family to have sustainable source of income. The training set is intended to develop important life and business management skills for the beneficiary families, including confidence building, healthy lifestyle, positive parenting, as well as understanding basics of business, including financial literacy, planning and management, market demands and more.
World Vision's response to Nagorno-Karabakh conflict

On the very first days of the Nagorno-Karabakh conflict, World Vision mobilised an emergency response team to support all children, their families and communities who are directly affected by this conflict. World Vision targeted 9,000 affected families, with 45 000 individuals as direct beneficiaries. This has been achieved with resources being ensured both by World Vision reallocated funds, grant projects from donor organisations, as well as funds raised from individuals and corporations across the country.